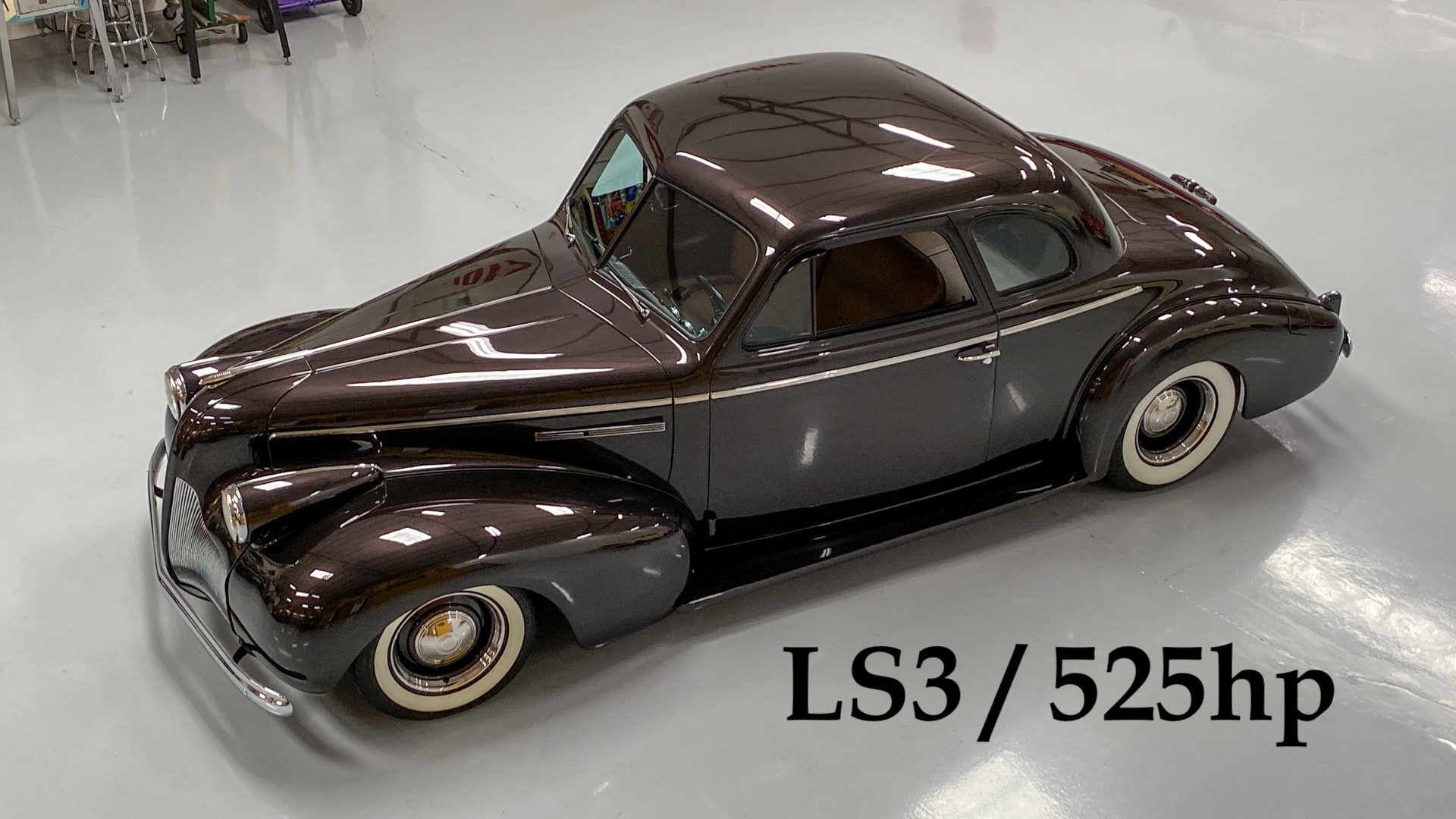 1939 Buick Restomod LS3
SOLD
1939 Buick Special 46 Business Coupe / RESTO-MOD
This build was a collaboration of some of the best-known talent in the greater Dallas area. The owner who commissioned the build was NOT focused on cost, but rather focused on ending up with the prefect blend of "original charm" with hidden modern performance enhancements all with a nod to the American Hot Rod and old-world craftsmanship.
The beautiful lines on the body of this '39 Buick are all the more stunning in the rich Bentley color called Havana (a beautiful metallic dark chocolate hue). The paint job was done by one of the top shops in this area. The build was completed in 2016 and has less than 1,500 miles on it. Events in the owner's life including a recent move have made this car available. Many receipts and build-in-process photos will come with the car as well as a small can of touch up paint with the proper paint code.
I love the cars from the thirties, especially the ones that look substantially STOCK. Unfortunately in their stock form, you cannot do much with them. At a casual glance this beauty looks substantially stock, but it's anything but stock and you can have a blast with it. In my opinion it's one of the most tasteful builds of a car of this vintage that I have ever seen. Not only does it retain the LOOK that we all fell in love with to start with, it has benefited from some of the best automotive talent in the area using some of the best materials available today to create a true top-flight resto-mod. Win major shows with this one. Other than one paint issue on the hood it presents much as it did the day it was finished.
Some of the KEY COMPONENTS used in the build are as follows.
Vintage Air A/C heat (which are practically hidden)
GM LS3 525 (376ci) Crate engine, producing 525 hp and 435 lb-ft of torque
Spectre Performance intake system draws cold air from the rear of the engine compartment through filtered intake tubes feeding a custom throttle body
Polished stainless steel fuel rail covers from American Car Craft dress up the engine
4L70E overdrive transmission (custom driveshaft)
Custom 3-inch exhaust system with custom mufflers
Original frame rails boxed old center X-frame replaced with custom frame
Fatman Fabrications MII Stage II system, with 2-inch drop spindles for a street rod stance and a power rack for effortless maneuvering.
QA1 shocks and springs mounted all around.
Quick Performance Racing 9-inch rearend with 3.90:1 gears and Traction-Lok limited slip differential, spinning 31-spline axles.
Brakes are Wilwood 11-inch discs in front and 11-inch rear drums, plumbed to a reverse 90-degree underdash master cylinder and Power booster setup from Kugel Komponents.
Power Steering
7-inch Snake-Eye headlight lenses
custom LED taillights
Electric Trunk Release
Backup camera
15" Wheel Vintiques 20 Series Solid wheels with vintage style caps and rings (rears are wider than fronts)
BF Goodrich Silvertown wide whitewall tires. Rear are 235/70R15s and Front are 185/70R15
The interior is a true SHOW STOPPER
Compton Custom Interiors installed a leather-covered interior over the original seat and original style door panels along with a custom covered trunk and a custom build of a storage area in the rear interior compartment that looks like vintage luggage..
original seats and original-style door panels covered in tan hides from Replicate Custom Leather
LimeWorks 16-inch 1940-style steering wheel and 1940 Ford-style column
German square weave carpet
Classic Instruments Vintage Series gauges
AM FM Bluetooth radio stereo system with Audison processor, JL Audio amp, and Alpine speakers (substantially hidden)
Sell Us Your Car!
We're always looking for high quality classic cars to buy.
Get our inventory update email!
If you're looking for a classic car and you're as particular as we are, it's our hope that we can be of some help in your search for a high quality KEEPER.