We're a father & son business… and a 3rd generation classic car family.
Learn more about us by watching this video!
This site is an outgrowth of 3 generations of car culture experience by a classic car family in Texas. Although we live in TEXAS (in the greater Dallas area), we have friends all over the world through this wonderful hobby.
We are a farther & Son team and we are serious car guys that have owned, restored, shown, judged and sold hundreds of high quality classic cars to buyers all over the globe. I was born into a "car collecting family" and likewise Tyler after me. Consequently, classic cars has been a "life-long passion and hobby" for us both. With 60 years of experience between my son and I, we know the difference between common "fluffed up" cars and quality cars.
We have been in this business for 21 years. Over the last 21 years my son Tyler and I have sent cars all over Europe, Australia, Canada, the Middle East and of course, the USA. We are constantly getting inquiries from people who have previously purchased cars from us concerning new INVENTORY offerings. This was another motivation behind building this website. It allows our past buyers and our potential new buyers to see our latest hand selected acquisitions. To understand what makes us different and for a glance back to "Our Beginnings" keep scrolling down.
What makes us different?
Many things make us different, some of which are listed below…
No fancy "overhead" to pay for…
Just a simple metal building in our neighborhood.
No dishonest descriptions…
Call with any and all questions.
No mega inventory to sort out…
Just a few carefully handpicked cars.
No commissioned salespeople
Just my son and me.
No blurry low-resolution pictures…
We provide 50 to 75 high-resolution pictures including the undercarriage and a performance video – why don't the other guys supply this type of photo presentation?
No "remote" inconvenient location…
We are an "airplane ride" and 30 minutes from anywhere in the world.
No title issues…
Titles are legally transferred into your name via a Bonded Texas Dealers license. The entire purchase process will be easy, efficient and documented using a PUNCH LIST.
Our Beginnings
Having grown up with a Dad and two uncles that were "car crazy" it was only natural for me to become a certified car nut. These guys lived the "hot rod & factory performance" years of the 1950's to the early 1970's and remain active owners of great classics to this day. In short, they were part of the first wave of an exploding car culture that celebrates all that is GREAT in the American automotive experience.
The extraordinary thing is just how contagious the love for old cars is and how much joy the "car culture" experience has brought to my life. This joy is in the form of meeting people I would have never met and going places I might have never gone. Simply put, road trips in a vintage car make for life long memories. Even a simple drive through the neighborhood in your classic can be equally delightful and, often, just what the doctor ordered. One thing is for sure, everywhere you stop total strangers will come up to admire the car and ask questions or share their memories. I have never seen a better icebreaker between total strangers than a cool automobile.


At the age of 42 (a while back), I left my high stress position as a CEO in the corporate rat race to catch my breath and think about life. During my sabbatical I relaxed by focusing on my car hobby, which had been my constant "go to" for stress relief and family fun. It was a full year later when I finally realized that I would never have to work again, at least not the type of work I was professionally trained to do and had toiled away at for the first half of my adult life. My exposure at an early age to "all things automotive" was the trigger for a life long passion that allowed me to accumulate significant car knowledge. It turns out this knowledge had value. I never dreamed I would someday be free to use this knowledge to pursue my passion full time and it would actually pay some bills.


Over the past two decades my greatest joy in my new found freedom has been working with my oldest son, Tyler. We have become best friends with a shared goal of "gaining and promoting" classic car knowledge and car culture fun. I have watched Tyler go from my sidekick to indispensible helper and now all around equal contributor to a shared objective. Oh, the power of three people to get things done! I say three because the third person in our trifecta from the beginning has been my wife who makes all things in life easier and more pleasant.

Without Tyler by my side much of what you see on this site would not be possible. With the ever-increasing advancements in technology and a son who is both creative and tech savvy, we are finding it easier to share our car life journey through videos, photos, and blogs like this one. We are committed to staying current with technology in order to provide some high lights from of our car life journey and to offer superior presentations of the high quality cars we purchase and ultimately offer for sale. Here, the "secret sauce" in our success is our true passion for "all things classic cars" and our growing reputation for finding the uncommon high quality cars.
It all started with my dad, passed on to me then my son and it will no doubt pass to some grandkids. It is impossible for me to convey how much we as a family have been positively effected by our passion for classic cars. Our hope is that somewhere along the way we will somehow inspire others to find a way to enjoy life and realtionships more fully through a simple drive in an old car.
Be sure to check out our blog page!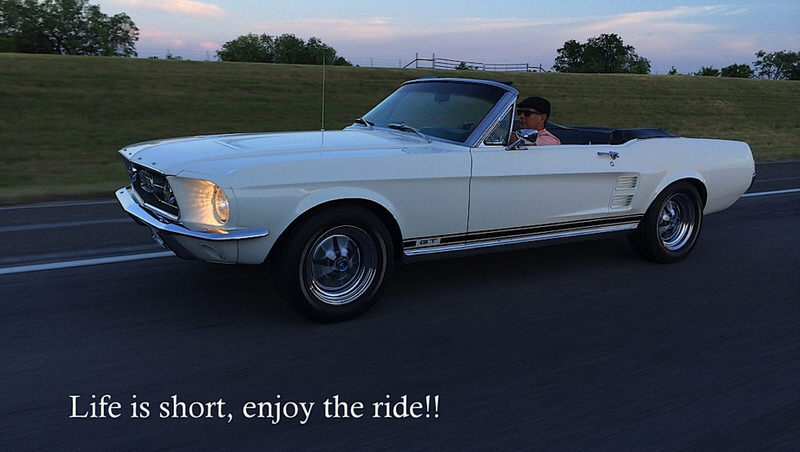 Get our inventory update email!
If you're looking for a classic car and you're as particular as we are, it's our hope that we can be of some help in your search for a high quality KEEPER.
Sell Us Your Car!
We're always looking for high quality classic cars to buy.