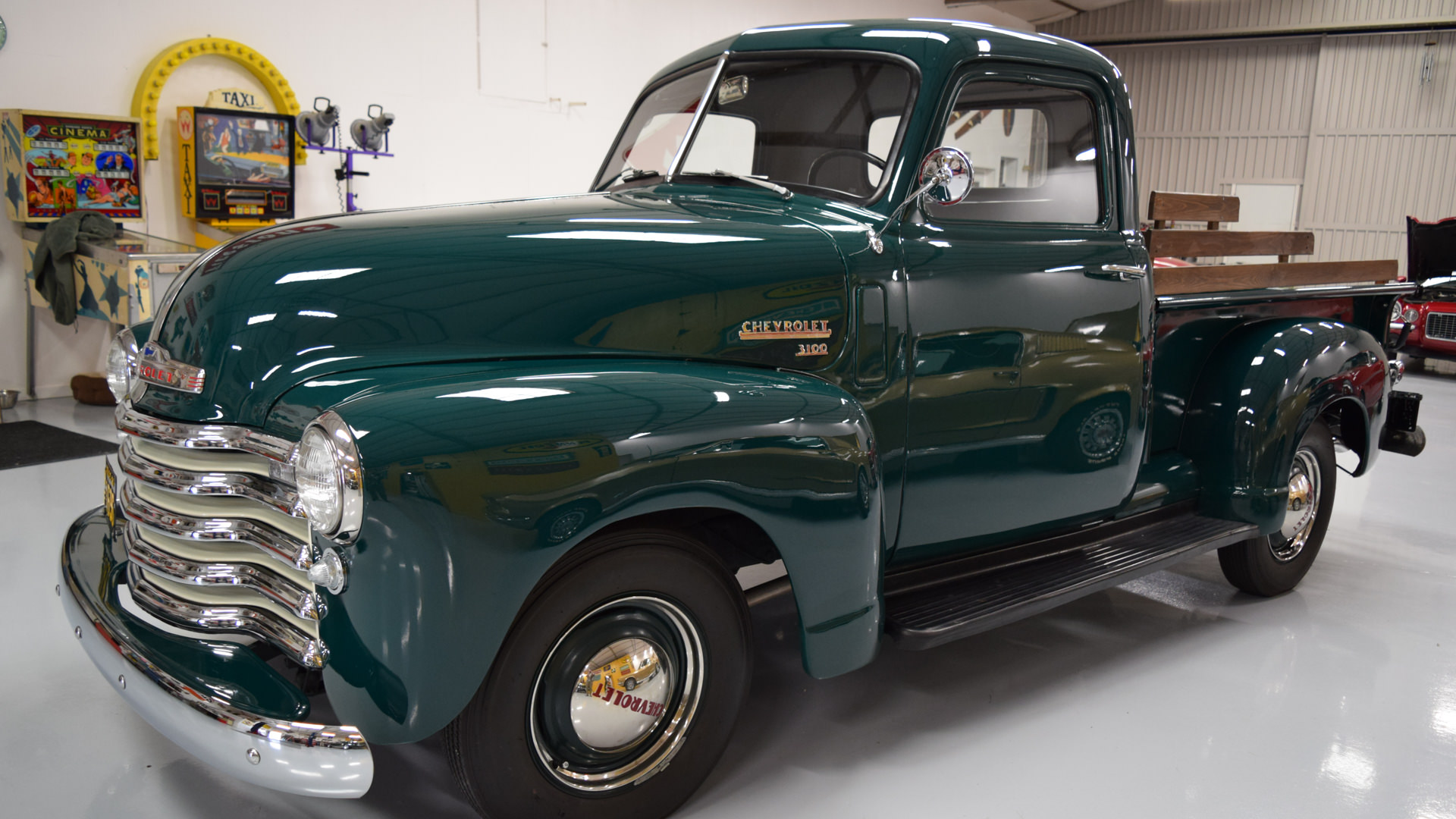 1950 Chevrolet Truck
1950 Chevrolet 3100 Pickup Truck
SOLD
With UPDATES for drivability
This beautifully restored 1950 Chevy truck belongs to local friends of mine who also own a 1958 GMC pickup. They have decided to sell this one and get down to one classic truck. This little gem has benefited from a "frame-off" restoration and while appearing substantially original it has been given the right mechanical UPDATES to make it much more drivable than its factory bone stock configuration (i.e. was a 216, 4:11gear, 6-volt, etc.). It now has a higher horsepower and higher compression engine (235) along with a better road gear (3:55), which allow for higher speeds. Additionally, the electrical components and ignition along with carburation have all been updated for better reliability and performance. Seat belts, as well as LED brake lights were added for safety. A second set of LED bedrail brake lights were added to make sure you are seen when breaking. If you know these trucks, you know that these upgrades make a significant difference over the stock configuration all the while keeping it very close to its charming original character. The cumulative cost of all these upgrades is fairly significant but worth it if you plan to actually drive this era truck anywhere other than your neighborhood. The 4-speed transmission is believed to be original and has been rebuilt and a new clutch installed. There are no mechanical issues with this truck, it starts easily and runs great …. breaking and steering are what you would expect from this year truck. The body is excellent, and the correct Forrest Green paint is very nice and the stainless and chrome are show quality. The tires, interior and wood bed all appear as new. There is very little evidence of wear on the restoration. It has some nice extras like the sun visor, side mount spare, blinkers, bed rails, and trim rings.
Sell Us Your Car!
We're always looking for high quality classic cars to buy.
Get our inventory update email!
If you're looking for a classic car and you're as particular as we are, it's our hope that we can be of some help in your search for a high quality KEEPER.