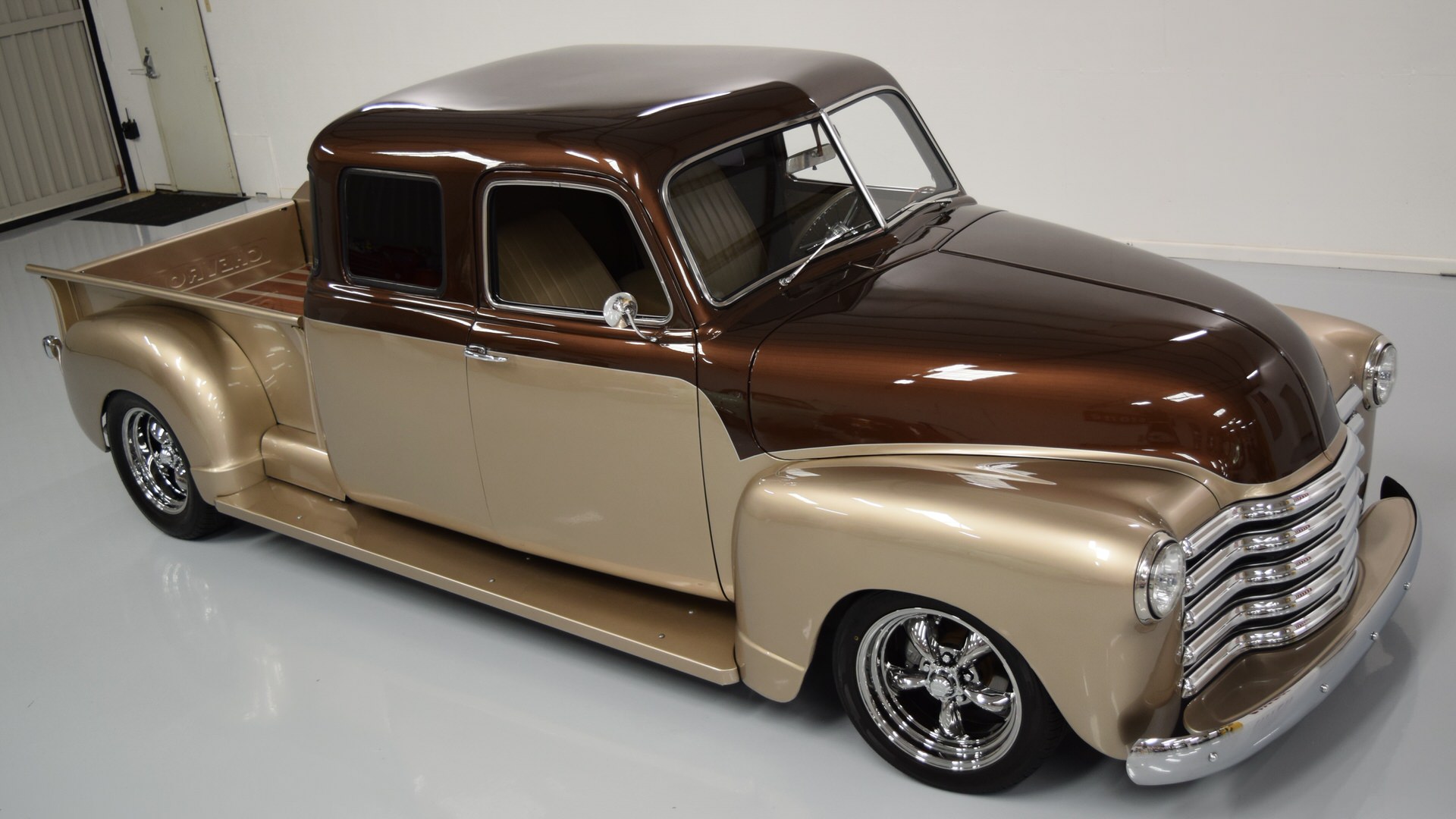 1950 Chevrolet Truck 7-window Custom Stretch Cab
1950 Chevrolet Truck 7-window Custom Stretch Cab
Sold

Only 173 miles since truck was completed
1950 model Custom built/stretch from a 5 window to a 7 window …..LOOKS every bit like the factory model …. The one they never built but should have.
Purpose built to haul friends and family
Rear seat with adequate leg room for adults
Split bucket style bench with arm rest (seats fold forward to allow access to rear)
Show quality two-tone paint
Show quality custom Bed
Show quality engine bay
Very clean undercarriage

Many modern upgrades
Modern "Air & Heat" system by Vintage Air / blows COLD
Dakota Analog Gauge System
Remote start, unlock and security alarm
Power Windows
Aftermarket TILT Steering Column
2nd Gen Camaro Front Clip
Throttle bottle Fuel Injected Chevy 350 …. Less than 200 miles on rebuild
700 R4 OVERDRIVE automatic transmission …. Less than 200 miles on rebuild
Front Runner Pulley System
4-Wheel Disc brakes (Power) …. See NOTE below
Power Steering
high torque starter
Dual Driveshaft
Wheels are new (less than 200 miles) American Racing Torque Thrust
Tires are new (less than 200 miles) directional Toyo Extensa HP
front …. 245/45 R17
Rear …. 275/55 R17
This 1950 Chevrolet Truck is stunning and with a unique appearance that will command attention no matter where it is, AND is being offered at less than HALF of what it would cost to duplicate.

NOTE:   I am selling this unique truck for an airline pilot who is relocating to the Caribbean and unable to take his toys. While I would say this truck seems to be an outstanding build, it has only just recently been completed and has only logged 173 shake down miles. In my test drive (….. see video) I was generally impressed with the truck overall but wanted to point out a few additional things I noticed after videoing. The brakes stopped the truck in a straight line and without issue in the normal stop and go driving I did. However, when testing them under a "panic or emergency braking", the brakes did not stop the truck as quick as they should. I am not a mechanic, but I guess it is possible that just a bit more tweaking could improve this. In any event, I would highly recommend that this be addressed right away. It is a 4-wheel Disc brake set up and the owner believes the disc components to be GM so what ever it needs is probably something any competent shop can address. Other more minor things noted are things I have seen many times before with after market components, that being the electric windows go up fine but come down "too fast" and nest slightly lower in the door than they should, in my opinion, which to me means they may need a window stop installed, or if the stop is already there, it needs to be adjusted upward just a touch. Also, the aftermarket accelerator pedal seems a little too tight, meaning that you have to use a little more foot pressure when initially accelerating from a complete stop. I also noted that there are no seatbelts installed. It is completely normal to have a few items to "further sort out" when building these vehicles and seems to be at about 99%. These "button up" items will be left to the new buyer as the owner is focusing on major life changes and thus liquidating his toys.
Sell Us Your Car!
We're always looking for high quality classic cars to buy.
Get our inventory update email!
If you're looking for a classic car and you're as particular as we are, it's our hope that we can be of some help in your search for a high quality KEEPER.