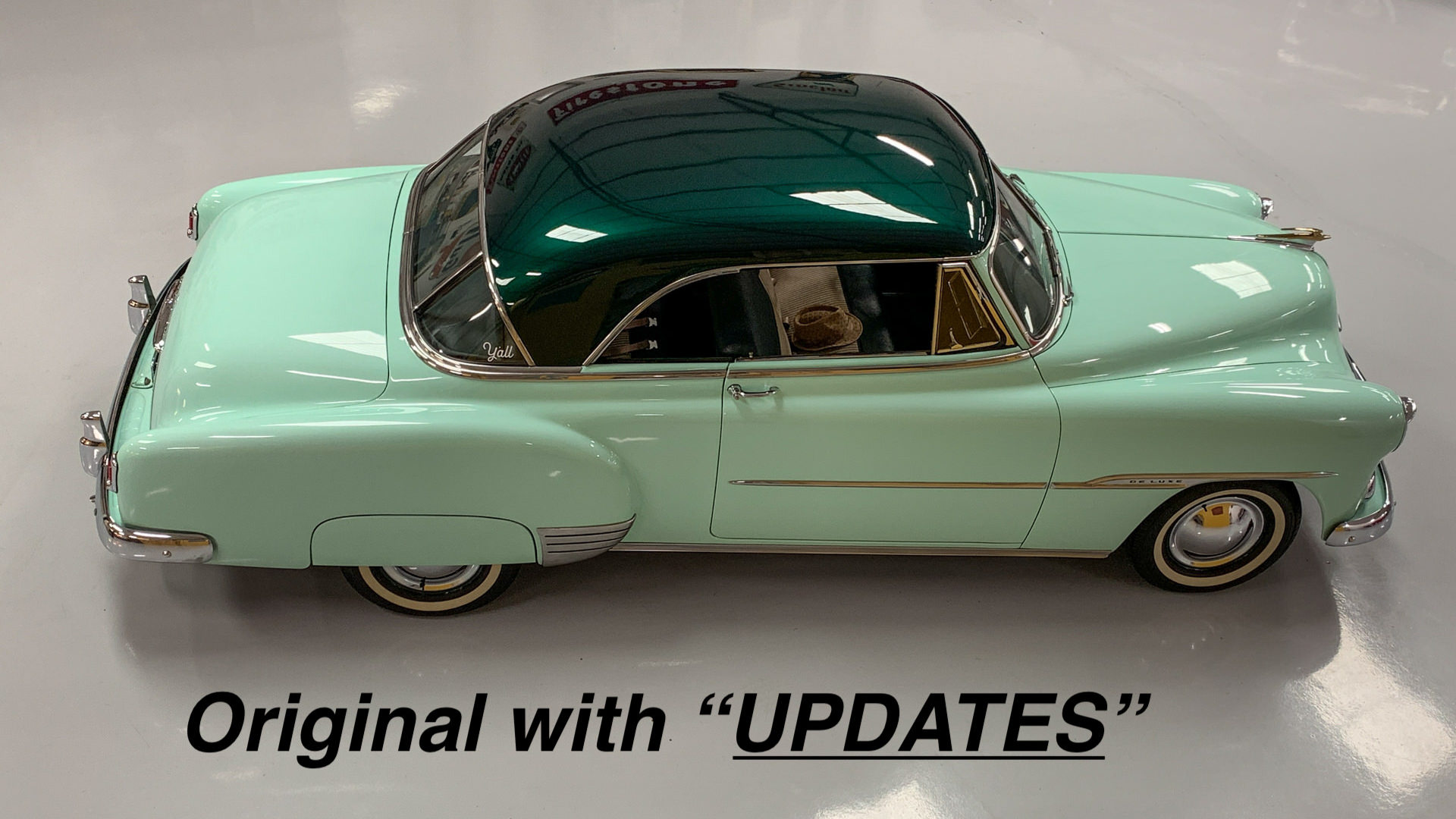 1951 Chevy Bel Air
1951 Chevy Bel Air:
– 261 straight six
– Turbo 350 transmission
– Nova 10 bolt rearend
– Rack and pinion steering
– Power steering
– Power brakes
– LED tail lights
– Complete cosmetic restoration
– Read more details below
SOLD

Drive it across the USA!
PURPOSE BUILT for real world drivability while "carefully maintaining" the original "period look" everywhere possible.
This 1951 Bel Air has a near "perfect blend" of being mildly updated to that "just right point" where most of the original limitations have been addressed while, "retaining the sole and classic nature of the car".
With only 4,000 miles on the BUILD, it shows little to no wear and has years and miles of life left in it. It is fun to drive and has impressive torque. It will accelerate like a V8 and cruise effortlessly at 65 and above.
NOT an over modified classic built to some individuals unique taste. In fact, to the non-trained eye it looks completely original (which was the goal). To the trained eye it looks substantially original with only a couple of the updates being noticeable only after more critical inspection.
What is unquestionably noticeable is the driving experience. You can drive this beautifully refined Bel Air anywhere with the greatest of ease. Below is a long list of "period performance" upgrades and "modern tweaks" that combine to make a SIGNIFICANT DIFFERENCE in the performance and real world drivability of this car.
Period upgrades & modern tweaks
261 Engine – "Holy Grail" of vintage Chevy inline 6's ! 
261 engine has long been considered by many to be the "Holy Grail" of the six's from this time period. It's the motor everyone looked for back in day the when beefing up their in-line six cylinder cars to compete against the early V8's.
The 261 is a true "sleeper"….. although outwardly it appears identical to the 235, the larger bore and stroke and the high-lift camshaft in the 261 makes much better power allowing it run with the V8's of the period with no problem – including the mighty 283 V8.
The 261 when properly set up and mated to the right transmission and rear-end (as done with this Bel Air) will accelerate quickly to highway speeds and maintain them all day long with little strain.
The 261 engine in this particular car is one of the last in the line of production having been built on April 17th, 1965 as a "service replacement block". This last run of 261 service replacement blocks were the best of the group having been refined over time with ever improving machining and assembly techniques. Being a later 261 it also has the factory large line "full flow oil filtration" system.
More on the venerable 261
The coveted 261is identifiable by its casting # AND the "Captain's Bars" cast into the outside of the block. Today this rare motor is even more sought after by knowledgeable builders but unfortunately has long been near impossible to find. The good news is that there are many inline-6 specialists that can support any need you may have for this rare platform.
Vintage "Period Performance" Upgrades
 Upgrade to 261 engine – rebuilt by former owner approximately 4,000 miles ago
Upgraded with Offenhauser dual Intake Manifold
Upgraded with Dual Rochester Carbs ( …. freshly rebuilt with "ethanol friendly" gaskets and "ethanol friendly" internal components)
Upgraded with Fenton split Header for true dual exhaust system (…. Cherry Bomb mufflers).
Modern Updates for drivability 
Updated with Turbo 350 "automatic" Transmission (& transmission Cooler)
Updated with Nova 10-bolt 3:55 gear Rear End, excellent combination with tranny (open driveshaft of course)
Updated with a Rack & Pinion Steering rack 
Updated with Power Steering  
Updated with Power Brakes
Updated with Tilt Steering Column 
Updated with modern Heat unit that is further "upgradable" to AC if desired  
Updated with VDO gauges – custom fitted…. all working
Updated with 12 volt with new Wiring as needed
Updated with Alternator
Updated to Pertronix Electronic Ignition 
Updated with bright LED tail/brake lights for safety
Updated with Seat Belts (made in America)
Freshly rebuilt "original" Radiator with the correct "look"
Freshly rebuilt carburetors for TODAYS ETHENOL GAS
New correct Gas Tank & all new Gas Lines
INTERIOR is 100% new & correct
The Bel Air was the top of the line model and came with a unique special interior that was much more attractive than the interior in the rest of the Chevrolet lineup. A correct all new, top to bottom "Hampton Coach" Interior was installed. This is an expensive step in correctly restoring the Bel Air and most owners opt to go with a far less expensive customer interior. In my opinion you cannot beat the factory look and charm of the original Bel Air interior.
PAINT & BODY (outstanding in BOTH categories)
 The finish on this car is show quality and the soothing Surf Green "color" really makes people smile.
NOT your typical repaint ….. this was a BARE METAL repaint by a 40-year paint man who blocked the body to a LASER straight finish. The end result is truly beautiful with the only notable flaws being the paint reaction on the rear roof pillars at the factory lead seams (common problem – google paint issues on lead seams).
The car lived most of its life in California and has ALL of its factory original metal including the untouched original floors and trunk pan which are rock solid.
Options of the Period
* optional GOLDEN GAZZEL hood ornament (rare & expensive)
* optional Fender Skirts
* optional Bumper Guards
* optional Power-Glide trunk Emblem (only came with PG option)
A great 1st series Bel Air to own
If you have read all the above, looked at all the photos and watched the video then you know that this is NOT a low budget build. Rather, it was built with very specific goals in mind. It would be hard to find a comparable 1st series Bel Air that is as refined and drivable as this one ALL THE WHILE retaining the essence of what we fell in love with from the beginning.
As far as price goes this car is easily worth every penny. Please understand that I do not need to sell it and in fact I am very torn about selling it. If cheap is what you need I understand …. there are lesser cars out there for less money. On the other hand if you are looking for a FUN 1st series Bel Air that started as a great car and was made even better by its former owners then this little jewel deserves serious consideration.
Sell Us Your Car!
We're always looking for high quality classic cars to buy.
Get our inventory update email!
If you're looking for a classic car and you're as particular as we are, it's our hope that we can be of some help in your search for a high quality KEEPER.