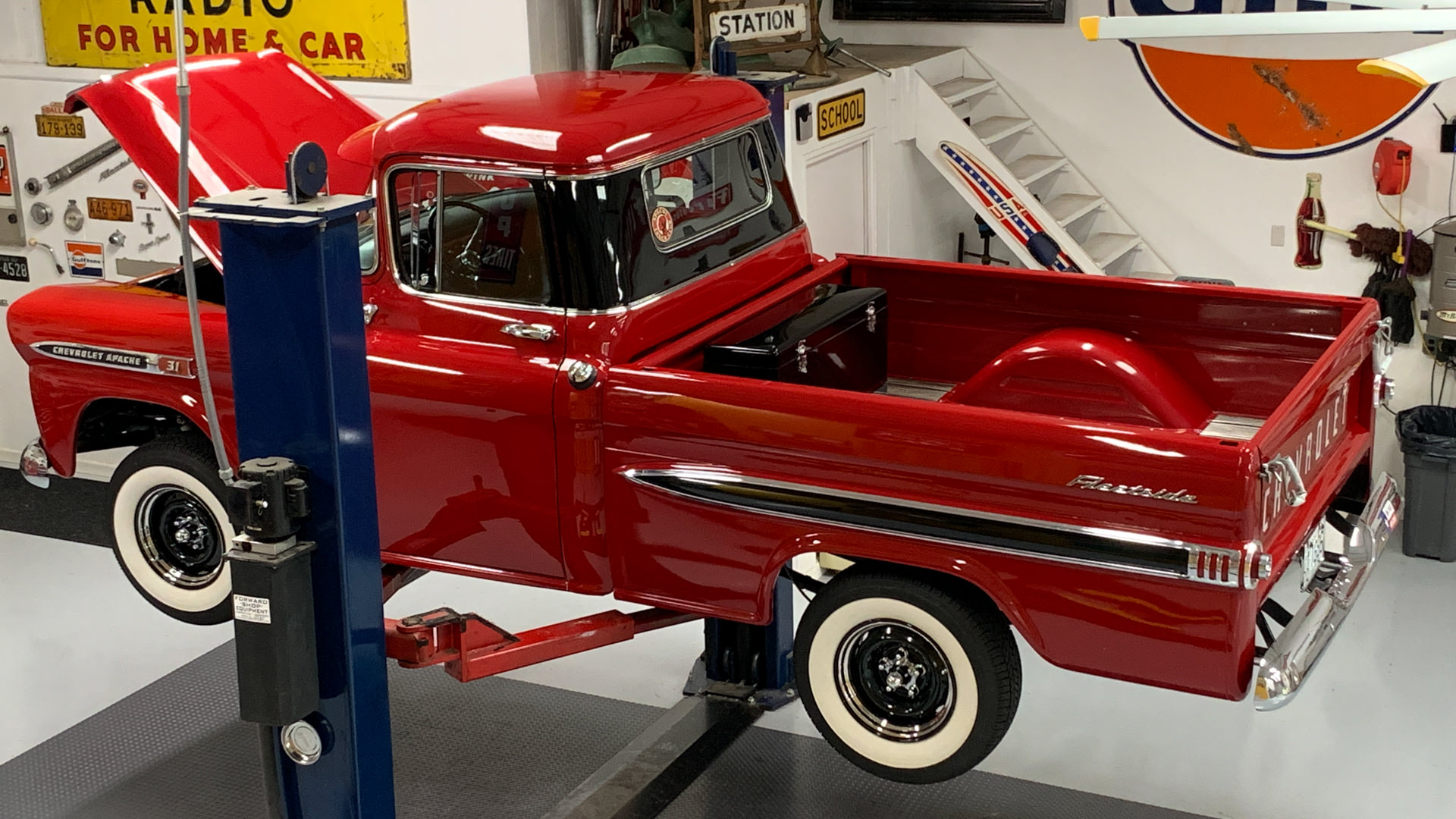 1959 Apache Double Deluxe
SOLD
1959 Apache double deluxe short bed
This is the RAREST and most expensive model available in the 1959 truck line … the "DOUBLE DELUXE" with a 283 V8
WHAT IS a "double deluxe"
The 1959 double deluxe Fleetside was the de facto replacement for the Cameo which had been the top of the line trim model starting in 1955 and ending in1958. In 1959 Chevrolet offered a one year only specially trimmed out "deluxe" fleetside BED featuring the stainless trim the full length of the bed that terminated with scallops … it looks like a long rocket, and is sometimes referred to as "spears" and is usually painted in a two tone scheme. The 2nd part of the deluxe package is of course the deluxe CAB. The deluxe cab includes a chrome trim outline around the back window area, around the side window glass, around the windshield as well as chrome dash knobs, chrome grill and chrome bumper. When you have BOTH a deluxe trimmed fleetside bed and a deluxe trimmed cab you have a "double deluxe" which was the fanciest top of the line trim model you could buy in 1959. It's the last of the 50's look and in the opinion of many including me, the best of the lot.
SIGNIFICANT UPDATES
Since purchasing this truck I have invested over $10,000 in updates in an already excellent build. Please take time to read though the UPDATE categories' below which are critical enhancements that dramatically separate the "driving experience" in this truck from the very antiquated experience the bone stock example would deliver. Here we are talking EVERYTHING from safety, comfort, performance and enjoyment.
I have owned over a dozen of this vintage truck and have made numerous videos on the topic of owning vintage Chevy Trucks. Please note that it takes knowledge, time and a fairly significant investment to take a truck of this vintage from its very antiquated original configuration to one that is more reliable, more comfortable, safer and all around more fun to drive. This is especially true when the intent of the build is to KEEP the stance, appearance and character as original as possible. All of the updates below were carefully blended in so as to NOT take away that charm that is unique to the "original period look".
PERFORMANCE UPDATES
Power Pack Heads
Holley 4bbl Carburetor with automatic Electric Choke (installed 2018)
Aluminum intake
Dual Exhaust
DRIVABILITY UPDATES
Power Assisted Steering Rack (turn with the palm of one hand)
Power DISC Brakes (front … rear drums)
Full Synchromesh transmission (original 3 on the tree shifter)
Modern highway geared / 2.73 10 bolt rear end from a 1985 Chevy truck
Radial Tires – Coker American Classic wide whites (installed 2018)
HEI Ignition
Alternator (one wire)
COMFORT UPDATES
COLD – modern Air Conditioning, heat & defrost from VINTAGE AIR (installed 2018)
Modern "factory fitting" programmable radio with speakers in kick panels and original location between the visors
Seat buddy console
Custom full floor carpet
Extra Storage (note water tight metal trunk mounted in the bed)
SAFTY UPDATES
DISC Brakes
L.E.D brake lights
"Shoulder Harness" Seat Belts and one center belt (i.e., 3 positions)
Well hidden anti theft KILL SWITCH
Locking gas cap
THE DRIVING EXPERIENCE
The goal with this truck was to use a restrained approach in updating it to address the worst of the shortcomings while preserving as much of the original character as possible. It was my preference to leave the suspension, ride height, steering wheel, seat, gauges and column shifter original to keep the "feel and general look" as close as possible to its original while addressing performance, drivability, comfort and safety shortcomings. While there is no doubt the driving experience has been dramatically enhanced in this truck, you are still in a 61 year old truck in terms of handling so naturally you have to be fully engaged when driving a truck of this vintage regardless of the speed.
The ultimate test of a truck of this vintage is, can you drive it on the highway at todays speeds AND is it rewarding to drive for hours at a time (i.e. on a long trip)? For me, the answer for any 100% "stock configured" truck of this vintage is no way can you do either. With this truck I would say yes to both. It was built with this in mind.
If you are the adventurous type, I would say feel free to fly in and drive this truck home regardless of where you live. I have driven it at 65/70mph for long periods of time and with the modern gearing from the late model rear end the engine is far from over revving. This sweet little 283 is a magnificent engine with plenty of power that will easily run down the road at highway speeds.
ALSO, you will love the wide ratio gearing in the later model transmission which allows you to stay in the first two gears longer than the original transmissions. Additionally, the transmission is a 1966 which is the FIRST year for the "full Synchromesh" transmission in Chevy trucks. This makes a big difference in that you can down shift into first with out having to bring the truck to a full stop.
FRAME OFF RESTORATION
This truck benefited from a frame off restoration by the former owner. I purchased it a few years back from the deceased owner's estate sale and did not get any history as to when the restoration was done. Although the restoration has some 10 plus years on it, the truck has always been stored indoors and kept out of harms way. There is very little to no wear on the paint, which still presents very nicely. Even the paint on the tailgate and inside the bed remains outstanding as is the paint under the hood. The wood in the bed was originally refinished with a non-marine grade stain so the finish did not hold up (see pics). I have grown to appreciate the patina of the wood but had planned to eventually refinish with better materials. The chrome and stainless look great and glass and the weather-strip as well as all rubbers are excellent as well.
While not a prefect fresh trailer queen, it is without a doubt a super nice driver that will present very well at your local car shows and look like a million bucks going down the road. No matter how many show cars its surround by it always seems to be a crowd favorite. I have had many folks tell me it's the most beautiful truck they have ever seen.
It is a reliable get in and go truck that is a blast to drive and be seen in. I cannot begin to tell you the positive reaction it gets every time my wife and I get out in it.
Sell Us Your Car!
We're always looking for high quality classic cars to buy.
Get our inventory update email!
If you're looking for a classic car and you're as particular as we are, it's our hope that we can be of some help in your search for a high quality KEEPER.