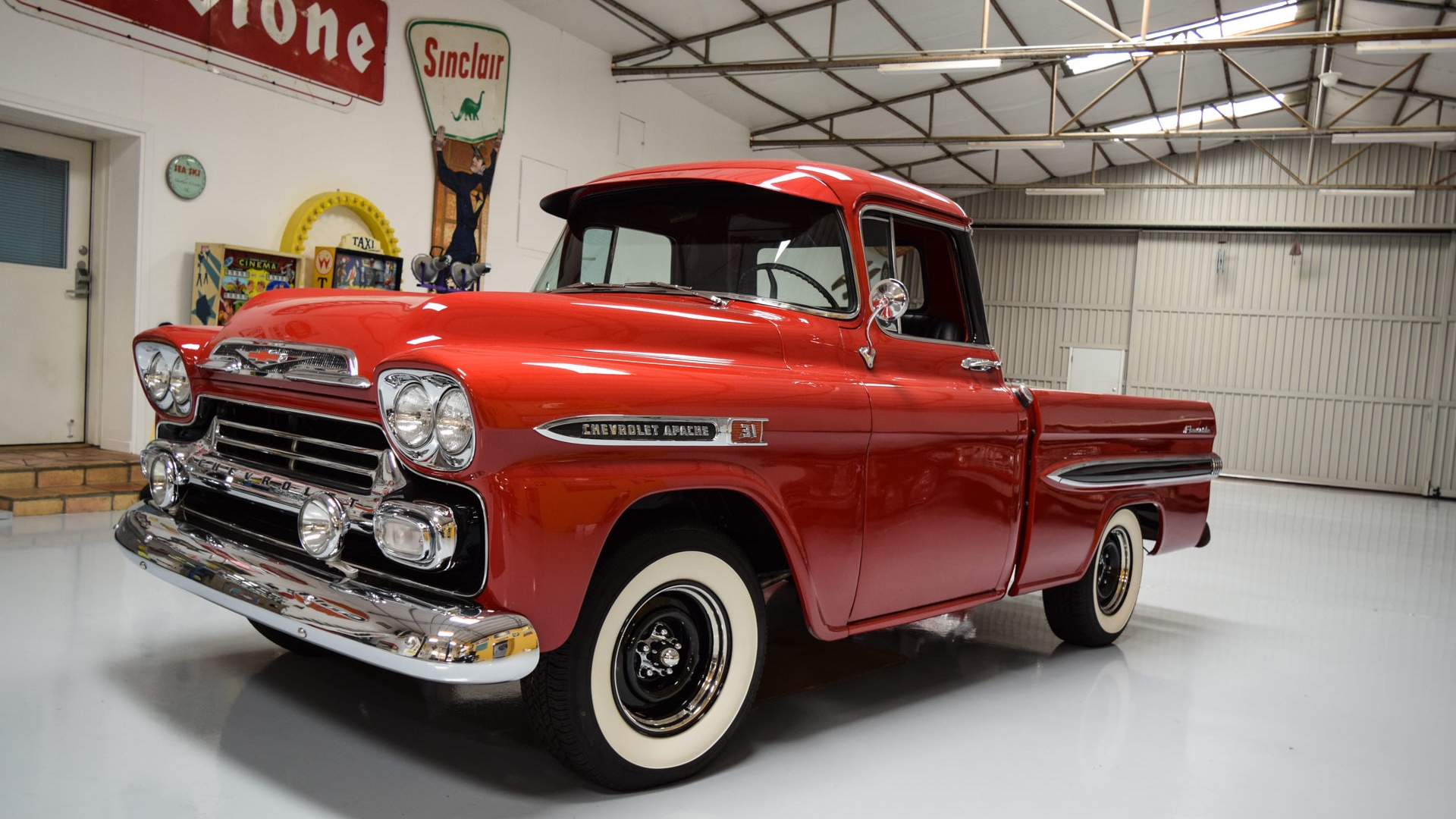 1959 Apache Truck
1959 Apache Truck
Drive Anywhere
Upgraded for real world drivability Drive it anywhere. In fact I would say that if you are the adventurous type, you could fly in and drive it home. See UPGRADES listed below – it is a "get in and go" classic that needs nothing I can find. I have been driving it and find it to easy to drive and a pure JOY.
Ultra RARE model – the "DOUBLE DELUXE"
The ONE year only "deluxe bed" trim is found on less than 1% of total production. It was rare 60 years ago and super rare today. The only ones I have ever seen where always mated to a "deluxe cab" (deluxe cab is defined by Chevrolet sales literature as cabs with optional external stainless trim and optional interior chrome knobs).
Until 1959, the only deluxe rear bed came on the Cameo. The Cameo was eliminated. In 1959, the Cameo was no longer available – however for those wanting a fancy truck from front to back, you could order a "Double Deluxe".
This is one of those rarely seen double deluxe models. Many people mistake it for a Cameo, however it is rarer than a Cameo and was a one year only model.

Upgraded in key areas
The updates on this 1959 truck make a SIGNIFICANT difference in the on demand "real world usability", safety and fun factor. It is so much more "driver friendly" and safe than a 100% stock version. The updates were done with the goal of keeping it as close to ORIGINAL as possible.
– Power Steering
– Power DISC brakes (front only)
– Modern Elebrock Carburetor with electric choke
– updated 3rd member, with highway friendly gear
– updated Full synchromesh Transmission (factory 3-spd column shift)
– 5 Lug Wheels (15 inch)
– Radial Coker "wide white" tires (less than 500 miles)

RARE "factory"  V-8 truck
Not only is it a rarely seen "double deluxe", it came from the factory with a 283 V8. The vast majority of these trucks are 6cly trucks. The "V" in the vin number AND the "V" on the hood emblem document this truck as a true factory 283 truck. It now has the Power Pack heads with an aluminum intake and 4bbl carb. It has very good power and has NO problem with keeping up with traffic – in fact it is a strong running truck.

Very attractive color combo
Simply put, there may not be a better looking truck than the "double deluxe" 59 Apache. This is especially true when the colors are as handsome as the red and black combination on this one.

Frame off restoration by former owner.
This is an older frame off restoration that is holding up extremely well. Other than the wood in the bed needing a new coat of varnish, it has almost no evidence of wear. I purchased it from the estate of an older collector who passed away so I do not have any history to hand off other than it was always garaged and WELL cared for.
The paint has a high gloss slick look over a very straight body. The CHROME and STAINLESS of which there is a lot, is equally nice making for a very nice show/driver.
The drivetrain is EXCELLENT and the tires are new. It steers and turns with one hand and stops with confidence. It starts immediately and does not run hot. The radiator is the original style but looks new. It is clear this truck was built by a knowledgeable person.
Sell Us Your Car!
We're always looking for high quality classic cars to buy.
Get our inventory update email!
If you're looking for a classic car and you're as particular as we are, it's our hope that we can be of some help in your search for a high quality KEEPER.