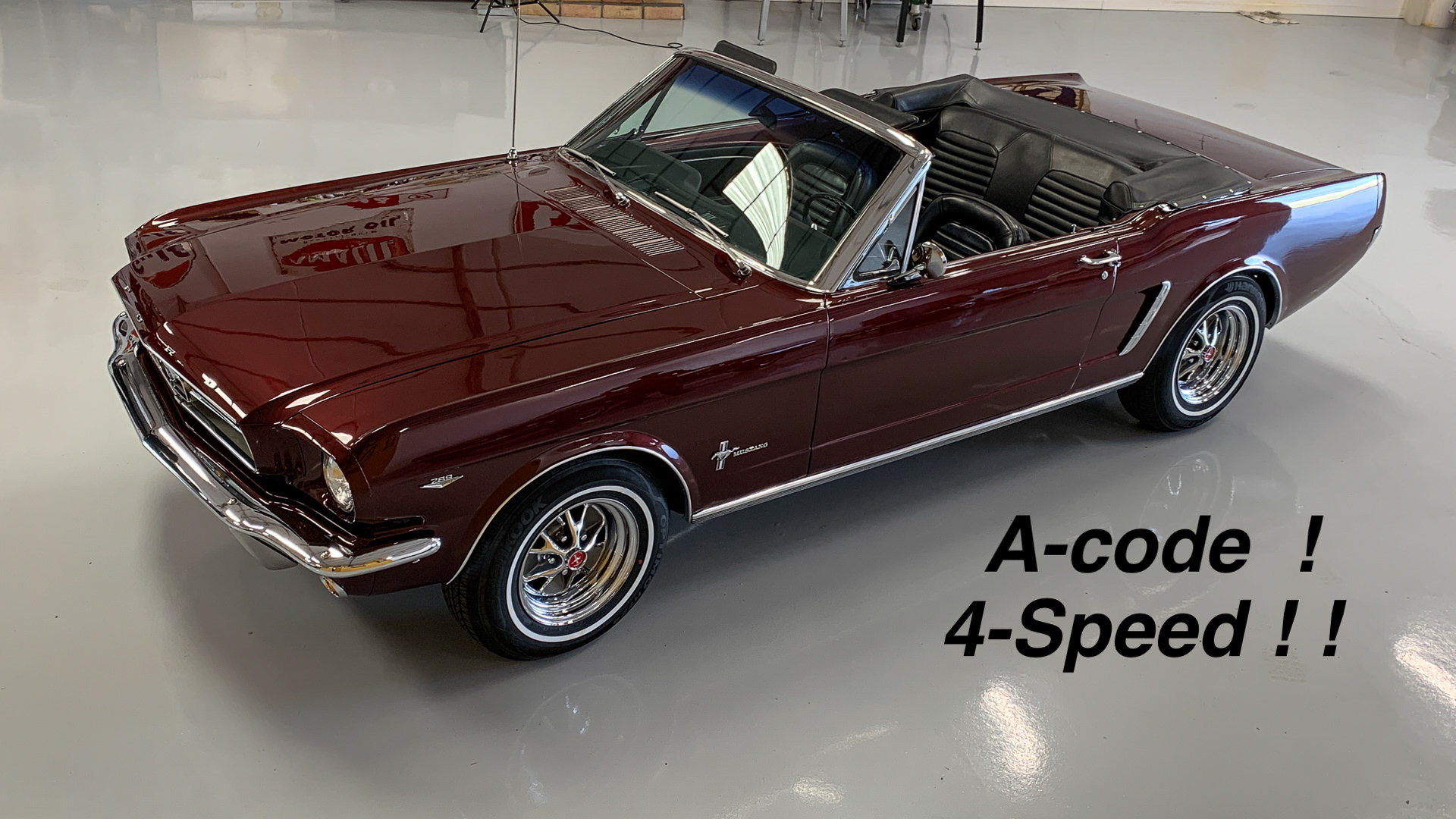 1965 Mustang A-code convertible 4-speed
1965 Mustang A-code Convertible 4-speed
Sold

[button type="bd_button btn_large" url="https://myrod.com/contact-us/" target="" button_color_fon="#3fc2da" button_text_color="#ffffff" ]Contact Us[/button]
Collectors take NOTE:
The 4-speed with the 225hp 289 A-code motor in a Convertible body is one of the hardest to find of the vintage Mustangs. This rare combination is highly sought after by collectors and investors alike for both the rarity and value as well as the simple fact they are a BLAST to drive. When you do see this rare option combination it is usually in a GT.
Hard to find example
* A-code (4bbl/225hp 289 …. the one everyone is looking for)
* 4-Speed !!!
* Convertible
* Power Brakes
* Power Top
* Air Conditioning – blowing strong & COLD
* Style Steel Wheels
* GT dual exhaust (added for that extra SIZZLE)
Condition
Mechanical
This jewel is in excellent mechanical condition with everything working. It has no bad habits, including the fact that it does not run hot even here in TEXAS with the AC blowing. My wife and I recently took it on a weekend trip and it performed flawlessly. Yep, it turned heads the whole time and boy did I enjoy shifting those gears and listening to those pipes.
The A-code 289 pulls strong in every gear and it has an excellent exhaust note. Please take time to watch the Test-Drive-VIDEO .
Paint
Far nicer than the typical driver, this is more of a show-driver. The paint is super slick, with that high gloss deep wet look. Simply put the car is visually striking and will stand out where ever it goes. I do not know when it was painted but I can tell you there is NO evidence of wear on aging in this paint. I took a picture of the most notable flaw which is a very small touched up chip.
Body
Far better than the vast majority of these cars, this one is as straight as when new with possibly as good of "Fit and Alignment" of body panels as you will ever find on a mass produced 53 year old Mustang. The fenders, floors, rear quarters and doors all appear to be original to the car.
Interior / Top / Boot
The interior was replaced at some point in the past and has no noticeable significant wear. The top is in great condition in both looks and performance – it is a power top and performs exactly as it should. The boot cover is in great condition as well.
If there is a specific picture you would like or if you have some specific questions please do not hesitate to contact me.
Original DNA
In addition to it being a hard to find (A-code, 4-speed, convertible) example it has been well maintained and freshened up as needed with a focus on keeping it substantially original. It still has its original engine and is still wearing its original vin number stamped front inner fender and original Ford installed door trim tag AND the car remains original to the door trim tag;
76A ….. Convertible
X ……… Vintage Burgundy
26 …….. Black Std Interior
09Q …… March 9th 1965
25 …….. Richmond
1 ……… 3.00:1 rear axle
5 …… 4-Speed
Major Service just completed
This is a do nothing, GET IN & GO car. Everything works and it is ready for on-demand enjoyment.
There is a difference in these cars …. they are never "apples to apples". The experience behind the wheel in this car is what you would expect from a very well sorted high quality "tight" driver (it is all of those things).
In addition to previous restoration work performed by a prior owner, we just performed a Major Service. The major service included change of all fluids, tune up, installation of new tires, new high flow radiator and complete replacement of entire FUEL System from the Gas tank to the Carb (due to the car setting) . Also performed some upgrades on key components for better real world drivability and performance.
UPGRADED carburetor with Holley's wonderful 4160 square bore, electric choke carburetor. If you have the A-code 289-225hp Mustang this is the 4-barrel carburetor to use for reliability and excellent performance.
UPGRADED radiator with factory fitting and "original looking" MaxCore larger capacity .75" / 3 row Aluminum Radiator with more efficient cooling and corrosion resistance. Painted Black for that factory look.
UPGRADED with a Hurst shifter for better shifts. The shifts are tight and crisp.
Sell Us Your Car!
We're always looking for high quality classic cars to buy.
Get our inventory update email!
If you're looking for a classic car and you're as particular as we are, it's our hope that we can be of some help in your search for a high quality KEEPER.