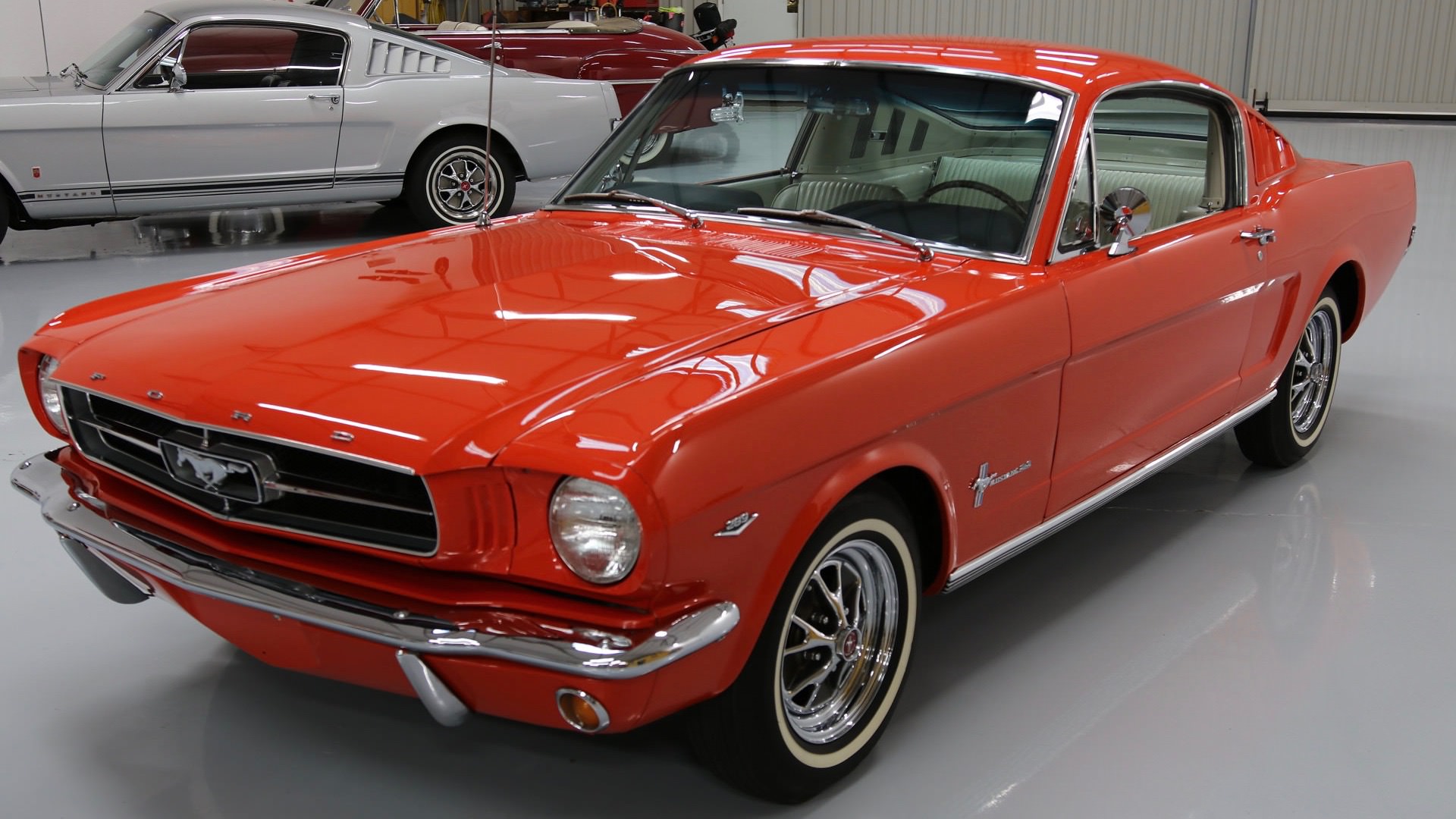 1965 Mustang A-code Fastback (High Option)
1965 Mustang A-code Fastback 2+2
ONLY 2,000 miles since restoration
Restored in 2005 by a former owner with the goal of showing it in "CONCOURS" class competition. Some 12 years later it has only been driven 2,000 miles and it remains visually stunning with very little evidence of wear, inside or out. The restoration was top to bottom resulting in a car that car looks much like it would have if you went back in time and drove it off the "show room floor" in 1965. Of course the paint is much nicer than when new.
I was told the odometer was set to ZERO when the restoration was finished. It has since traveled 2,000 very GENTLE miles. While not a perfect car (they where far from perfect when new) it is a serious "show quality" car that can be shown and potentially WIN at any level show.
OPTIONS, OPTIONS   &   "more" OPTIONS    
This is a option "loaded" 1965 fastback in one of the most sought after 1965 COLOR COMBOS …… Poppy Red with White interior …. simply put, it is eye-popping beautiful and steals the show where ever it goes.
In the real estate world the key to value is "location, location, location" …. in the collector car world the key to value is "Options, Options, Options" …… and this fastback has the options!
* A-code "higher horse power 289" with 4bbl Carburetor
* Correct factory style DUAL EXHAUST
* C4 automatic transmission
* Power Steering
* Power Brakes
* Air Conditioning   (…. COLD and updated to run the modern R34 coolant)
* Rally Pack Gauges   (…. TACH & Clock – not sure if the clock keeps accurate time)
* Floor Console
* Am/Fm Radio (…. modern replacement, an original is in the trunk and comes with the car
* Factory Door Speaker Grills
* Deluxe PONY interior which includes;
– special seat covers
– special door panels
– special lights in doors
– special interior door handles
– special simulated wood steering wheel
– special simulated wood instrumentation
* Deluxe Rocker Molding
* Style Steel Wheels, mounted with correct period style bias-ply whitewall Tires (see note below)
* Remote Control Mirror
* Day-Night Mirror
* Manual CHOKE pull (like found on the HiPo's)
You will see very FEW fastbacks like this one.
Strong running 289
This car is not just a pretty face, it is also a blast to drive. It has two personalities, one being a very docile cruiser and the other being a very spirited performer that pulls like a K-code Hi-Po. I am not sure why but it is a very happy little 289 that likes to rev.
All the mechanical components on this car appear to have been restored (from the carburetor to the rear transaxle). In my test drives I noted that everything was working and the car did not run hot or exhibit any bad habits. The only negative is the typical fluid leaks you get on these 50 plus year old Mustangs when they set too much. It otherwise starts easily, idles good, runs strong and drives much like you would expect a restored 1965 to drive. The tires, are bias-ply and ride like bias-ply tires do. I prefer radials but people that "like showing these cars" tend to prefer the original style tire which is what these are. The tires while appearing like new with only 2,000 miles are most likely 12 years old and should be considered for show use only.
The power steering, power brakes and AC provide a lot of comfort and ease.
Fun and a great Investment
This jewel is the tri-fecta of early Mustang collectability (very desirable model / lots of desirable options / in excellent restored condition), not to mention extreme eye appeal. In the world of collectable Mustangs it does not get much better than this.
Sell Us Your Car!
We're always looking for high quality classic cars to buy.
Get our inventory update email!
If you're looking for a classic car and you're as particular as we are, it's our hope that we can be of some help in your search for a high quality KEEPER.