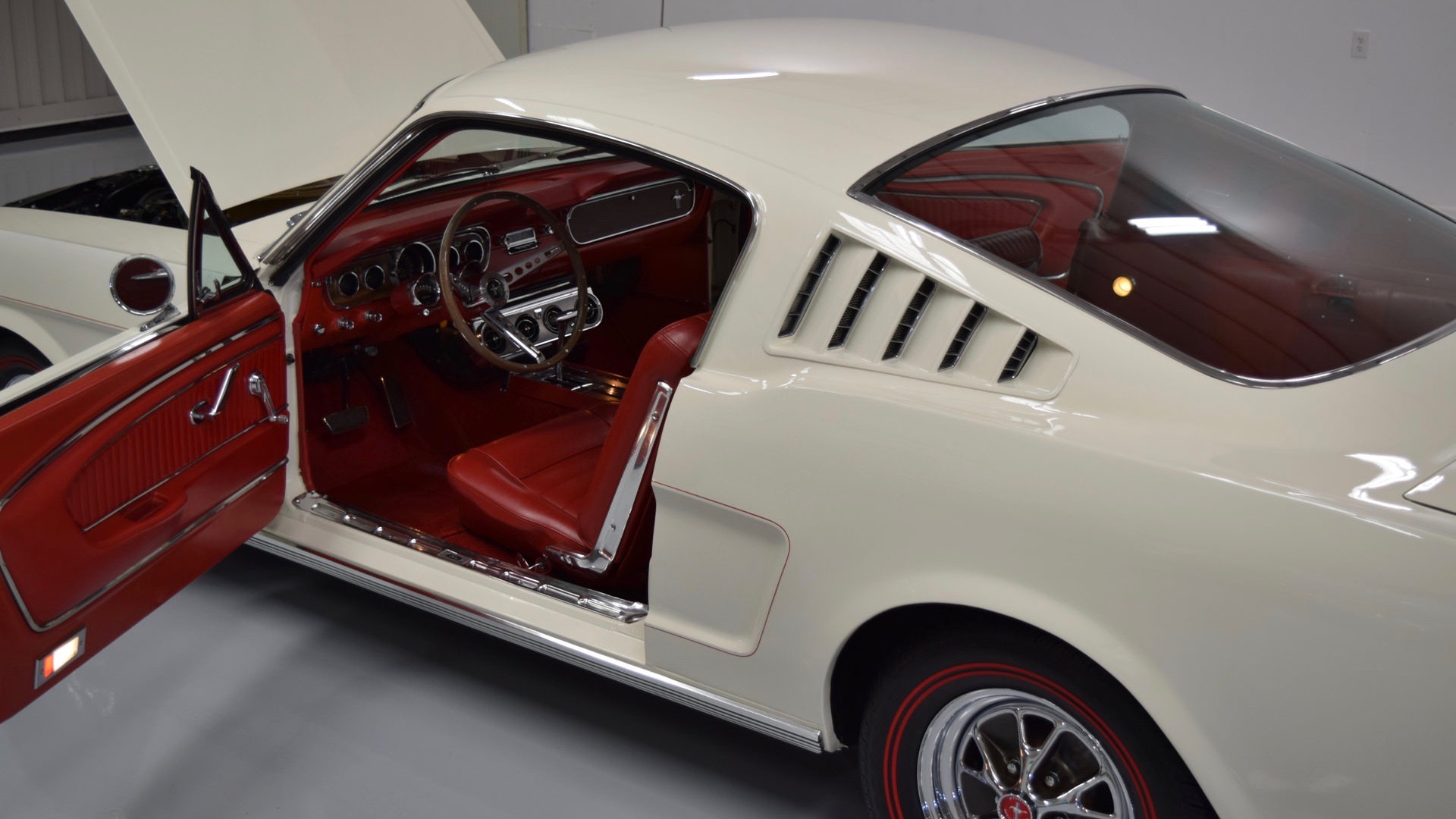 1965 Mustang Fastback 2+2
1965 Mustang Fastback 2+2

CONCOURS level restoration
Please take time to look at the photos. This car has been maintained in show condition and driven very sparingly since its CONCOURS level restoration approximately 20 years ago. "Original presentation" at a show quality level was the goal when restoring this Mustang fastback and it remains ready to compete at a national level show should you desire …….., or, if you are like most buyers and just want a great investment quality fastback Mustang to enjoy this might be the one you have been waiting for.
It truly looks much like it would have the day it rolled off the show room floor (…. that does not mean its perfect, they were not perfect when new). There is no notable evidence of wear anywhere on the car. The body has no issues of any kind that I can see and the paint is stunning. In terms of paint flaws the only notable thing is a "minor paint chip repair" on the edge of the hood and fender where the two must have come in contact which each other when first reassembling the car. The rear quarters and floor boards where professionally replaced during the restoration thus eliminating any rust issues it may have had.

LOADED with desirable OPTIONS
In the world of collector cars OPTIONS make a "significant difference" in the VALUE. In addition to making a car more desirable, options also have a positive impact on the drivability comfort and visual appeal. This beautiful Mustang is loaded with options, some of which were added like the highly sought after GT components.
* Deluxe PONY interior ….. its just stunning !
* Deluxe simulated Wood Wheel
* Rally Pac Gauges (….. tachometer & clock)
* Floor Console
* Air Conditioning  (it blows strong & COLD)
* POWER Steering
* POWER drum Brakes
* 289-V8 ….. correctly up-graded to the 4bbl option
* Style Steel Wheels
* Redline radial Tires
* GT Fog Lamps
* GT dual exhaust, GT tips and GT rear valance panel
* Deluxe Seat Belts
* Emergency Flashers
* Day-Night Mirror
* Am radio
* Rocker Chrome

Mechanics
The car runs, shifts, steers and stops like a quality original 1965 Mustang should. Everything on this car works including the Air Conditioning. According to the 17 year long mileage log kept by the former owner (see picture above) this car was only driven an average of 65 miles a year over a 17 year period. Like all 50-year-old Mustangs that set parked most of the time, the gaskets tend to shrink and swell thus it has some minor fluid drips.
We updated it to Electronic Ignition for better reliability over "points & plugs" and changed the gas tank to insure against any varnish issues from long periods of setting.

Your CHOICE of tires
I purchased the car with the period correct "Bias-Ply" white wall tires. As you can see in the photos they look great. However, I personally prefer the ride of modern radial tires and the look of the Redlines so I purchased a new set of BF Goodrich (P205/70R14) tires from Coker. I think the Redlines look great with the Red pin stripe on the car and the Red interior. You may prefer the White wall tires – the CHOICE is yours. Please note that the Redlines are new and that while the Whitewalls look new I have no idea as to how old they are.
Sell Us Your Car!
We're always looking for high quality classic cars to buy.
Get our inventory update email!
If you're looking for a classic car and you're as particular as we are, it's our hope that we can be of some help in your search for a high quality KEEPER.