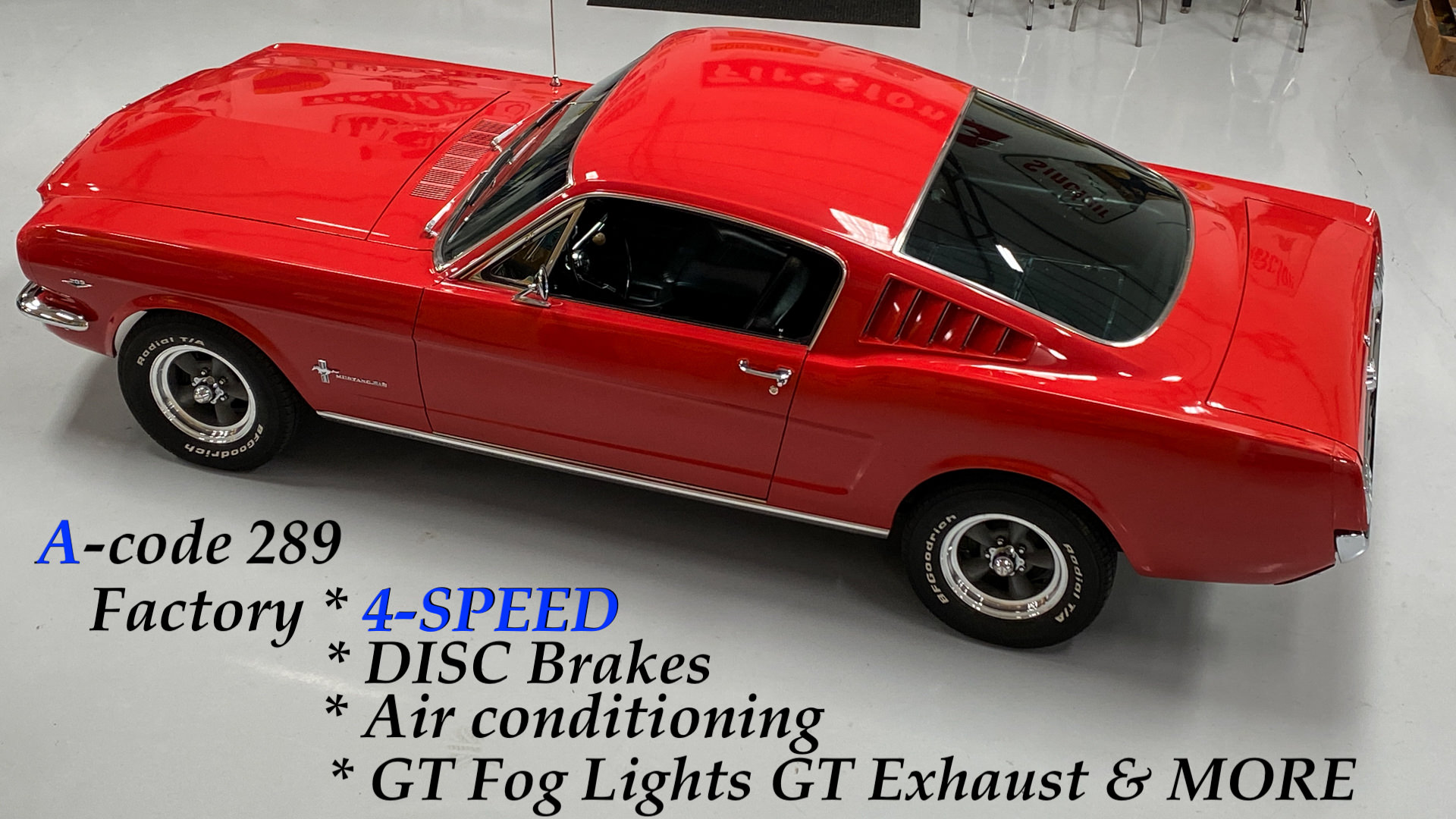 1965 Mustang RARE Pre-GT Fastback 4-Speed
1965 Mustang Fastback RARE "Pre-GT" Model
SOLD
Excellent original body including floors.
Nice paint (in original color, Rangoon Red)
Excellent, VERY hard to find "factory OPTIONS"
A-code 289/225hp
4-speed transmission
Disc Brakes
Quick Ratio Steering
Heavy duty front sway bar
Air Conditioning
Console
Back up lights, interior day night mirror, passenger door mirror
SAFTY UPDATES include brighter LED taillights, running lights, blinkers, back up lights, and much louder HORNS. Easier to be seen and heard.
UPDATED Sound System very nice updated sound system with a OEM appearing upgrade that is Blue tooth, iPod compatible, Aux Input, "hands free calling", JL audio Amp, 6 speakers and a sub woofer (all tastefully blended into the car including the uncut original dash).
This is a super desirable PRE-GT fastback, meaning that it basically had all the GT "performance options" (A-code engine, Disc brakes, Quick Ratio Steering, Sway Bar) and was really only lacking the GT 'visual design elements' which were not installed on similarly equipped cars until the following months when the GT option became available – April of 1965 (this car was built in January 1965). IT has now been updated to include working GT Fog Lights and the proper GT rear trumpet exhaust through rear panel treatment.
This EARLY high performance example is easily one of the hardest to find models in the 1965 fastback, which is the original fastback and the Granddaddy of them all.
Some nice performance upgrades including… Koni shocks, rear sway bar, Edelbrock aluminum heads, aluminum radiator, electronic ignition, and mild cam. This car runs STRONG and sounds fantastic.
This is an older restoration that still looks very nice. It benefited from an expensive BARE METAL repaint back to its original color, Rangoon Red. The body is solid with good gaps and high gloss slick paint. It has had a few chips touched up and some minor paint flaws like most cars but it is otherwise a very nice show driver.
The important thing and almost IMPOSSIBLE thing to duplicate is the RARE option combination all wrapped in a near 100% original Ford body with the only replacement panel noted being the lower section of the drivers side rear quarter panel. The interior was completely restored and changed from White to Black.
Sell Us Your Car!
We're always looking for high quality classic cars to buy.
Get our inventory update email!
If you're looking for a classic car and you're as particular as we are, it's our hope that we can be of some help in your search for a high quality KEEPER.