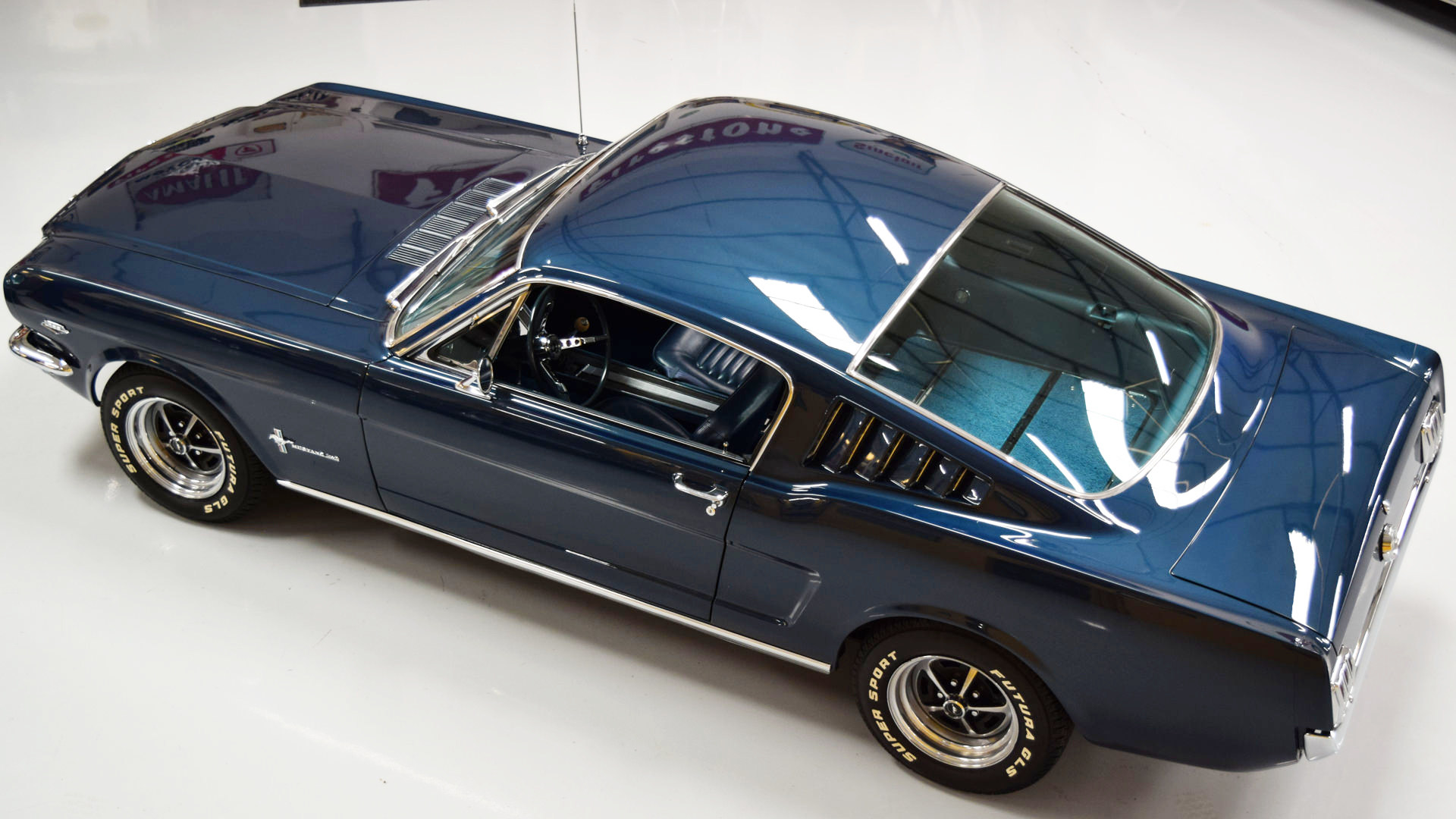 1965 Mustang Fastback Caspian Blue
1965 Mustang Fastback Caspian Blue
Rare "Pre-GT" fastback
The Ford marketing department developed the "GT" to promote its 1st anniversary of production. The FIRST "GT" models did not get built until late March to mid-April of 1965. This fastback was built PRIOR to that on January of 1965, therefore it lacks the external GT markings but came from the factory equipped with ALL of the "performance options" that would be later required in the GT ….. thus, it is one of the handful of early fastbacks considered by the Mustang faithful as a PRE-GT.
NOTE: The Fog lights and Trumpet dual exhaust with rear panel "cut outs" were added to this car for that extra GT sizzle, but it was otherwise equipped with all the GT "performance options" listed below.
– Disc Brakes with correct GT master Cylinder that came in GT's
 – "A-code" 289 4bbl higher horse power motor that came in GT's
 – HCC-AX "quick ratio" Steering Box that came in GT's
 – 13/16 "heavy duty" front Sway Bar that came in GT's
 – Stiffer Springs that came in GT's

Original VIN STAMP & original DOOR TAG
This is a Los Angles California built car that still has BOTH the original inner fender Vin Stamp and the original Door Trim Tag installed by Ford in 1965 …… refreshing to find on any 53 year old Mustang and especially comforting on one that is rare like this performance equipped Caspian Blue on Blue fastback.

Caspian Blue on Blue / stunning
Caspian Blue on Blue is highly sought after by collectors and in my opinion is the most striking of all 1965 color combinations. Simply put, once you have seen a really nice Caspian Blue on blue fastback, you never forget it. Even in a large gathering of vintage Mustangs this one always stands out as a crowd favorite.

Rewarding & FUN to drive
The experience behind the wheel is very satisfying. From going through the gears and feeling the 289 winding out to slow relaxed cruising, it does not disappoint. There is a reason (actually many reasons) the "entire world" fell in love with this car 54 years ago and still loves it today. It is a "hall of fame" design of a simple timeless machine that provides a very personal and rewarding driving experience – and in the case of this one, a "one car / car show" wherever it goes.
Condition:

Paint & Body
The car is very impressive for a 53 year old Mustang. Where most of these first gen Mustangs have had extensive metal work this one appears to be far more solid than most. I noted that the front section of the floor pan was replaced but other than that it appears to have most of its original metal including the inner and outer rear quarters, which almost always require full replacement. The body itself is super straight.
The Caspian blue paint is the correct color for the car and it is slick with that wet "high gloss" look. There is little (to almost no) evidence of wear or aging in the paint, not even a notable door ding, chip or scratch (note 2 photos of only notable flaw). While not at fresh pristine concurs level finish, it is far nicer than the typical driver and will present extremely well at local shows. It is not freshly "show detailed" under the hood but is clean and presentable.

Interior is beautiful
The entire interior looks substantially new with no evidence of wear. The dark blue color contrast nicely with everything and it is correct to the car. There is some very light staining on the carpet beneath the driver's side pedals but its hardly noticeable, especially with the floor mats.

Mechanical / Everything works
It has no mechanical issues that I could find. It starts easily, idles beautifully and runs great. The motor does NOT run hot or have any issues running on pump gas. The car drives, steers and stops as you would expect from a Mustang of this vintage. The shifting is better than stock with the Hurst shifter and the clutch exhibited no issues.

This A-code 289 will get it
This is a strong running A-code 289 combined with the 4-speed tranny and the 3:00 real axle, provide a very satisfying experience. Other performance enhancements include the very desirable and (somewhat rare) factory high rise FORD performance aluminum intake manifold (FORD pt# C90X-9424B), same as would have been on the Shelby GT350 of the period, except it has FORD letters cast into it instead of SHELBY or COBRA. The carburetor is a Holley 4bbl with "electric choke" for performance and reliability. The exhaust note and sound under hard acceleration is great from the tube hedders which flow into Flow Master mufflers.
Sell Us Your Car!
We're always looking for high quality classic cars to buy.
Get our inventory update email!
If you're looking for a classic car and you're as particular as we are, it's our hope that we can be of some help in your search for a high quality KEEPER.