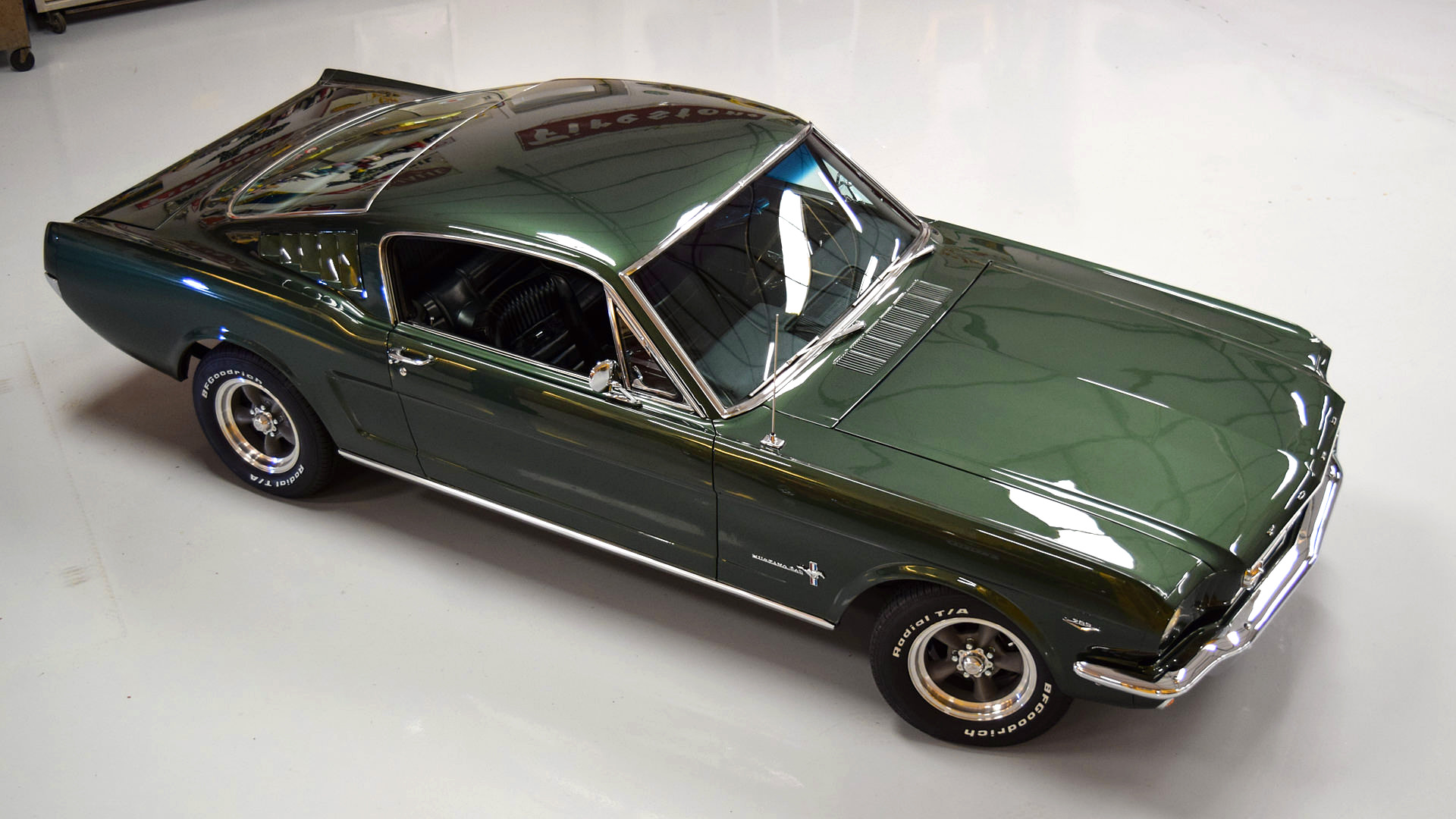 1966 Mustang Fastback
1966 Mustang Fastback
SOLD
– Air Conditioning (Updated to modern R134… and it works)
– Code "R" Ivy Green
– C-code 289 V8 … updated with 4bbl performance
– Automatic transmission
– 1″ drop Shelby front springs
– Black Pony Interior
– Center console
– Rally Pack Gauges
– GT Fog Lights
– GT Trumpet Exhaust out rear panel
– LED tail lights, backup lights, and blinkers
– Power Steering
– DISC Brakes
– Factory 8-Track Am Stereo Radio
– Factory door speakers
– Hidden modern sound system in glove box (iPod, bluetooth, cd player)
Please take time to watch the TEST DRIVE video
Beautiful high option fastback in the rarely seen factory color – code "R" IVY GREEN.  
This fastback has been garaged and fussed over since its' freshen up and remains a high level show/driver. All the exterior bright work (chrome & stainless) appears new or in very good condition. This car is not only beautiful, it is also loaded with most of the factory available options of the day (some added).
* 289 V8 … C-code updated to A-code performance and beyond.
* Automatic Transmission
* DISC Brakes
* COLD Air Conditioning
* Pony Interior with deluxe simulated Wood Steering wheel
* Rally Pack Gauges
* Am/ 8-Track "STEREO" …… (hidden CD BLUETOOTH iPod … great sound)
* Factory Door Speakers
* GT Fog Lights
* GT Trumpet Exhaust with special rear panel
* Console
* Style Steel Wheels … OR, YOUR CHOICE Classic Torque Trust II's mounted with NEW 14" BF Goodrich TA's
The BODY appears to be original 1966 Ford metal including the floor pans and rear quarters – this is a VERY RARE find on a 1966 Mustang. I noted only one place where a portion of the passenger front pan had been replaced. This is extraordinary for a 50 year old Mustang to have a body of this quality.
The PAINT has that deep wet, high gloss look of a show car. Although the car has been driven there are NO notable scratches, dings or chips. While the paint is without a doubt outstanding and far nicer than the average show/driver, it is not 100% flawless (none are).
Updates and Upgrades include taking the 289 from a 2bbl C-code performance to a 4bbl A-code performance level "plus" with the addition of an Edlebrock performance aluminum intake and Holley 4-bbl performance carburetor with electric choke. Additionally the Air Conditioning has been converted from R12 to run modern R134. For added safety, LED bright light conversions were done to the Brake & running lights, backup lights and front blinkers. There is also a HIDDEN modern sound system with CD player, Blue Tooth and iPod compatibility. All of these enhancements were done with an eye towards PRESERVING the original look that we all fell in love to begin with.
On my test drive I found this beauty to be a strong running car with no bad habits noted (please WATCH the Test Drive video). It performed as would be expect any well cared for and sorted out 50 year old Mustang. It is easy to start, idles beautifully runs smooth and strong and did not overheat. The exhaust note has that signature sound of a healthy 289. According to the former owner, the restoration included the rebuild of the motor and transmission. Everything I noted supported that claim. Additionally, in my examination I noted that all the high wear items like tires, exhaust, belts, hoses, brakes, etc appear to be NEW or newer.
Invest in FUN
This is a very special car that is not only FUN to drive and be seen it, but it also represents an excellent investment that has a high probability of continuing its long history of appreciation. The color, options, performance and the quality of the body and paint separate this fastback from the pack. If this is the one you have been waiting for, or you have questions, please note my PHONE NUMBER is embedded in the last photo.
Sell Us Your Car!
We're always looking for high quality classic cars to buy.
Get our inventory update email!
If you're looking for a classic car and you're as particular as we are, it's our hope that we can be of some help in your search for a high quality KEEPER.