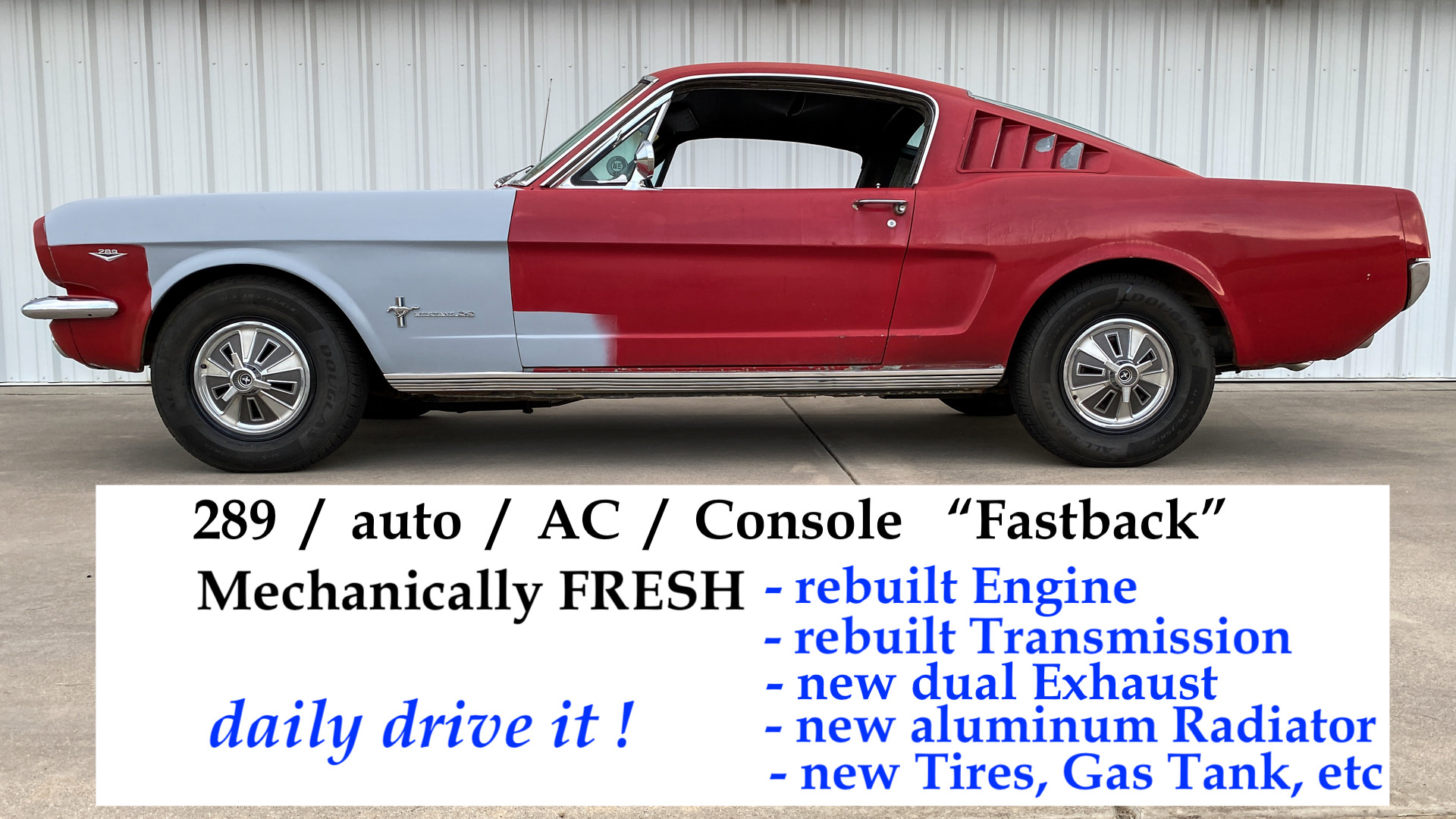 1966 Mustang Fastback
1966 Mustang Fastback / Red
SOLD
289 V8 …. C-code ( but updated to A-code performance with New 4bbl aluminum intake and new Holley 4bbl Carb)
Automatic transmission
Console / remote mirror
Air Conditioning (not currently working)
Original COLOR was code Z Sauterne Gold / Black interior
Fresh "Mechanical Restoration" with RECEIPTS for,
REBUILT original motor
REBUILT original transmission
New 4bbl aluminum Intake Manifold
New 600cfm 4bbl Carburetor
Fresh tune up (new coil, plugs, wires, etc)
New Gas Tank, Sending Unit, and Gas line
New dual Exhaust
New Exhaust Headers
New Aluminum Radiator
New Shocks
New rear Springs and Shackles
New Water Pump, Belts & Hoses
New Alternator
New Starter
New Brakes (all around)
New Tires
Less than 200 miles on an extensive mechanical refresh. It runs strong, sounds great and ready to be your vintage fastback "daily driver". It's the perfect car to DRIVE and enjoy while you finish the cosmetics to YOUR TASTE. It was born code Z Sauterne Gold with Black interior but got a cheap repaint to Red sometime back in the early 1980's. The Black interior is original and usable (couple seams have let lose). The car needs paint and cosmetic updating as you might see fit (I personally would go back to the original Sauterne Gold color which is rarely seen and really looks good in today's modern materials). The body is better than average for a 55 year old never restored Mustang. Structurally it's impressive with excellent front frame and excellent front and rear "frame rails". The floors themselves are ALL original with only a couple spots having rust issues potentially requiring small patch repairs (photos provided). The front fenders were replaced with original Ford at some point in the past and the passenger rear QTR was in a fender bender and hammered back out and bondo filled, typical repair of the day. However, in my opinion from what I can see I believe the quarter panel could be properly body worked and SAVED thus ending up with a car that has both its original quarter panels (very unusual for a 55 year old Mustang).
History as told to me is that the original Fort Worth TX owner sold it in 1976 to a young man who drove it his high school senior year and then on to college … it has a vintage BAYLOR sticker on it, as well as a couple early 1980's TCU stickers as well as the inspection sticker dated 1987. It went into storage in 1987 where it stayed for 33 years until purchased by the gentleman who did the mechanical refresh.
Sell Us Your Car!
We're always looking for high quality classic cars to buy.
Get our inventory update email!
If you're looking for a classic car and you're as particular as we are, it's our hope that we can be of some help in your search for a high quality KEEPER.