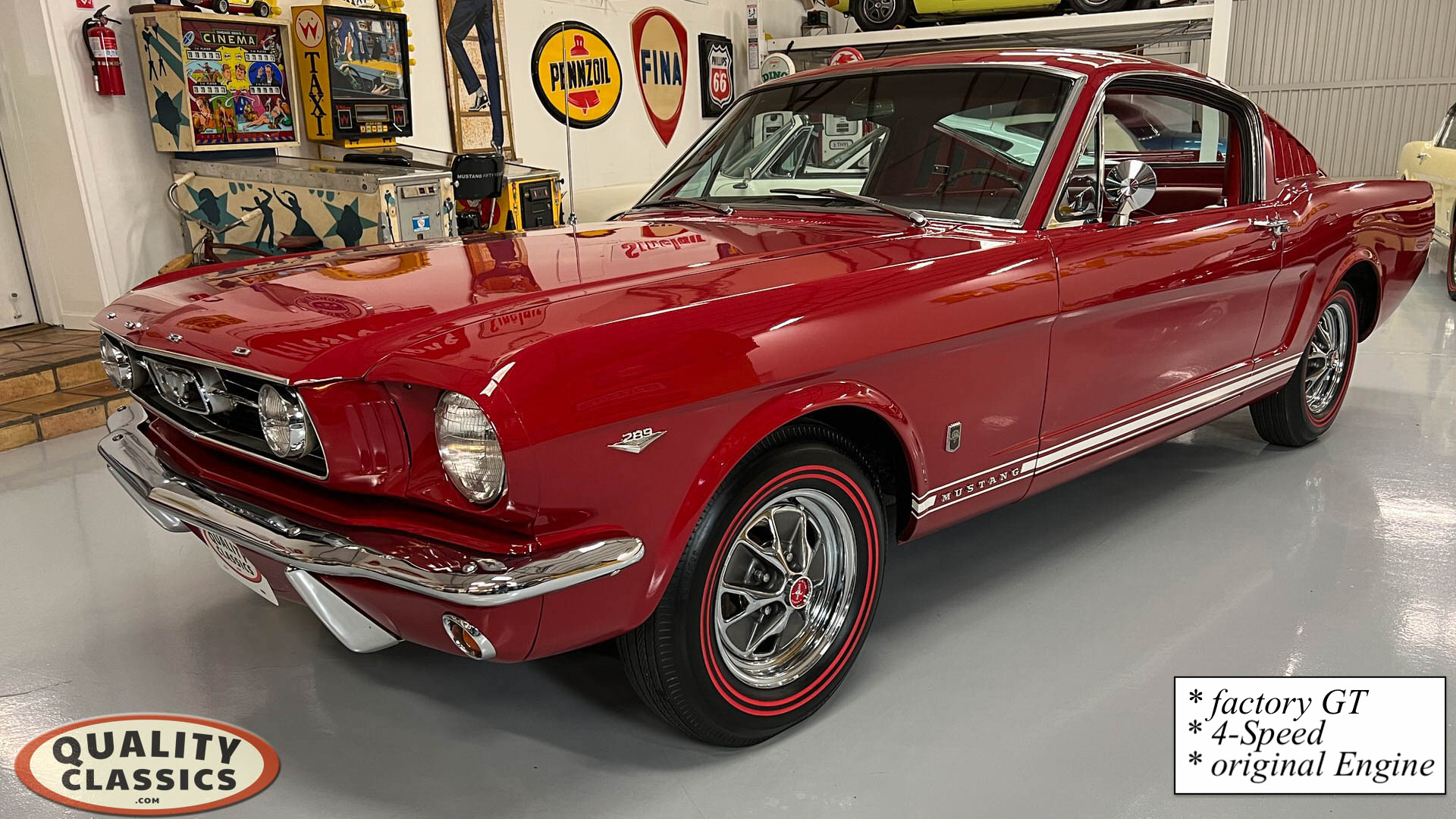 1966 Mustang Fastback GT 4-speed
True factory GT ( …. NOT a clone)
Things that really matter
This Candyapple Red on Red GT/4Speed fastback is not your typical Mustang offering. Seasoned enthusiast and collectors know to look beyond shiny paint and focus on value attributes that really matter. This car has significant value attributes that separate it from pack. I have over 40 years experience in dealing with vintage Mustangs and have developed a keen eye for things that really matter. This car is very strong and represents the prefect blend of investment grade potential with guilt free drivability.
• 100% guaranteed to be a FACTORY built GT ( … not a clone)
• Extreme body integrity including ORIGINAL floors and Quarters
• Original engine that came in the car
• Original Door TRIM TAG ( … not a reproduction tag)
• Original Vin Stamped inner fender
• San Jose California built car
• Substantially original presentation with excellent factory options
• Beautiful appearance and mechanically excellent. While the paint is possibly as much as decades old, we did a paint correction which resulted in a vibrant highly reflective gloss over a near laser straight body.
Options 'ABOVE & BEYOND' the GT package
4-speed
Console
Rally Pack – Tach & clock
Style Steel wheels
Deluxe simulated Wood Wheel
Deluxe Seat Belts
Original Radio
Remote driver mirror
Day Night interior mirror
Emergency Flashers
GT Performance package
– A-code 289/225hp 4bbl engine
– Disc Brakes
– Special Suspension & Quick Ratio Steering
– GT only Fog Lights
– GT only emblems, stripes and
– GT only gas cap
– GT only Factory Dual Exhaust with rear ported Trumpet Exhaust Tips
History
This is an original California (San Jose plant) built car.
It is still wearing its key factory DNA identifiers including the original Vin stamp and original door Trim Tag ALONG with all the factory 'GT specific' items both visible and hidden. We have just completed a major sorting and enhancement process on this incredibly solid and original factory GT. It had already benefited from an older restoration that had no evidence of significant wear. The car is now ready for on demand enjoyment and local show presentation.
The history passed on to us was that it has been owned the past three decades buy two brothers, one of which is said to have purchased it from the original California owner. At some point during their ownership the car was restored cosmetically and mechanically. The car is said to have only been driven approximately 5,000 miles since the refresh. During the refresh, the car was treated to a few mechanical updates to enhance reliability and performance. The rebuild of the engine included the addition of a mild cam along with a double-timing chain, exhaust headers, performance intake, better performing carb and Pertronix electronic ignition. We recently put this car though a major sorting process to insure it was ready for on demand reliable enjoyment.
Sell Us Your Car!
We're always looking for high quality classic cars to buy.
Get our inventory update email!
If you're looking for a classic car and you're as particular as we are, it's our hope that we can be of some help in your search for a high quality KEEPER.