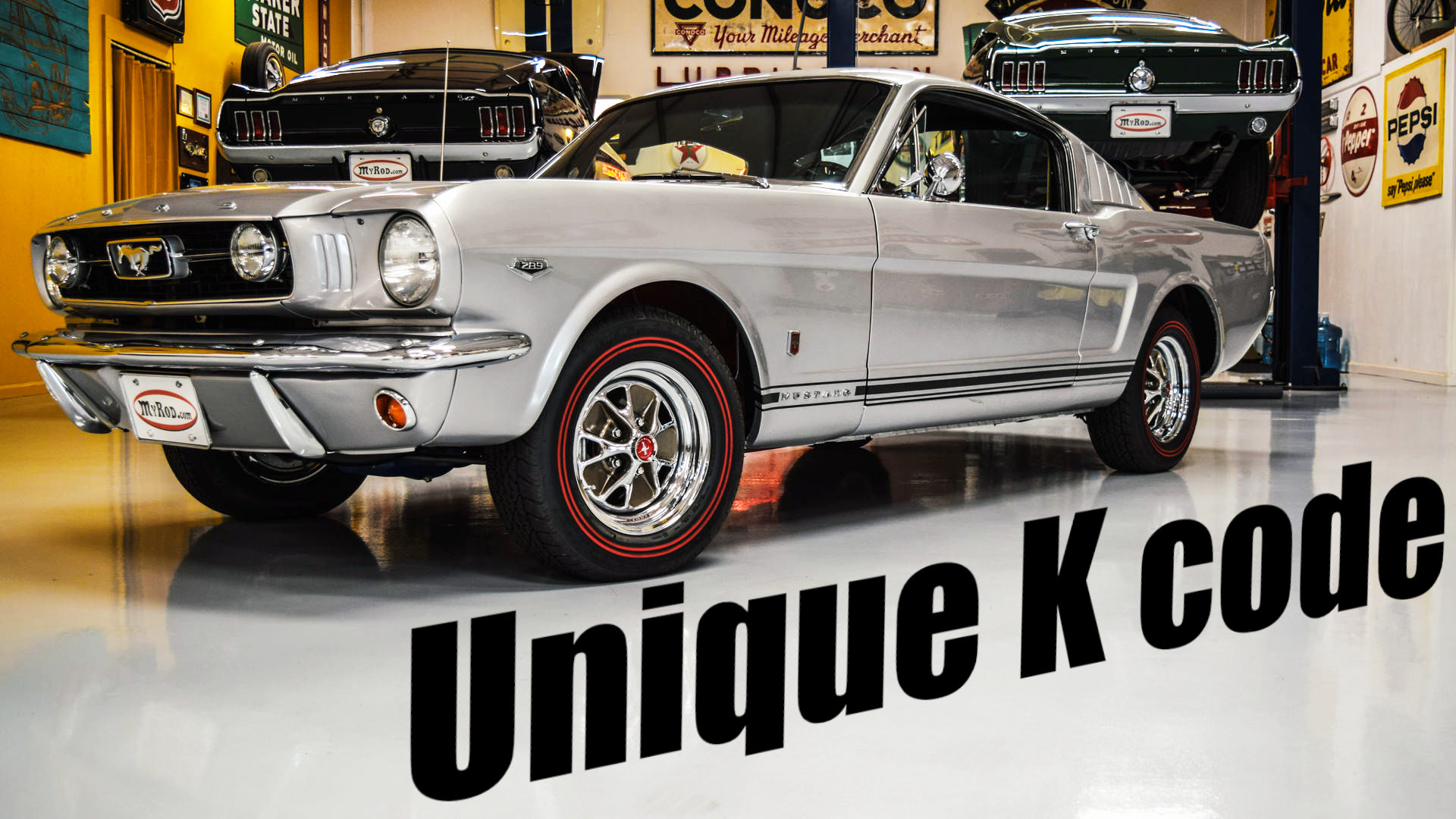 1966 Mustang K-code Fastback Silver Frost
1966 factory original HiPo K-code and factory GT fastback
SOLD
IMPORTANT NOTE: I am representing this car for the gentleman that purchased it from me a couple years back. The car is no longer in my possession, rather it remains in the hands of my previous buyer who is located in Los Angles California. It was driven very little over the last couple of years and remains in the condition I sold it in. The car will SHIP to its new buyer from Los Angles.
This may be one of the most beautiful and unique examples of a NUMBERS MATCHING HiPo K-code fastback available today.
* mega dollar Rotisserie Restoration
* Concours show quality presentation – no wear
* Engine Vin #'s matching 271hp "HiPo 289"
* code #4 Silver Frost
* K-code / High Performance drive train with Automatic
* Special Handling Suspension Package
– quick steering gear box
– heavy duty front & rear springs
– thicker front sway bar
* Disc Brakes
* Rally Rack – HiPo 8000rpm
* Deluxe simulated wood wheel
* Style Steel Wheels ………. all 5
* BFG Redline radial tires …. all 5
* GT "design elements" and Pony seats were added for that extra sizzle (it is not a factory GT)
* Safety upgrades include LED lights and louder horns
How rare is this ONE ?
1966 saw 30% fewer K-codes built than in prior year 1965 with only 5,469 units being built comprising coupes, convertibles & fastbacks.
Of that amount approximately 2,818 were "fastbacks", 1,729 were coupes and 922 were convertibles.
The special HiPo automatic
1966 was the 1st year you could get an Automatic Transmission in the HiPo. This was a special beefed up unit with stronger internals to take the punishment Ford knew these cars would have to endure. HiPo transmissions are easily identified by the large "C" cast into the servo cover.
While the exact number of K-codes with automatics is unknown, it is possible to estimate that number using statistical extrapolation.
All that is required is a representative sample and fortunately using the "known cars" listed in the HiPo Registry we have a rather large representative sample to work with.
Based on the population of known HiPo's, it is estimated that only 25% came with the automatic transmission and further estimated that less than 700 of those would have been installed in fastbacks – here we are talking about non-Shelby K-codes.
In a year in which 607,568 Mustangs were built, you can appreciate how exceedingly rare a K-code fastback is…. then couple that with an automatic transmission and it's even more rare, AND finally, on top of that this one is Silver Frost, one of the rarest colors.
RARE, code #4 SILVER FROST
The color Silver Frost is one of the rarer colors for 1966 Mustangs. Best estimates have always put it in the 3% to 4% of total production. These estimates are backed up in the HiPo Registry in which their population of known cars shows 4% of the cars registered to be Silver Frost. Based on statistical modeling my best guess for Silver Frost K-code fastbacks would be 85 cars, reduced to 28 cars if we are talking "automatics".
The likelihood of finding an exact match that is also this original and in this condition is probably zero. In the highly coveted world of K-codes, this one qualifies as one of the more unique and in my mind one of the most eye-popping examples possible.
Performance / Condition
Please take time to watch the TEST DRIVE VIDEO above.
This is a get in and go machine that performs exactly like a fresh, well built "high winding" HiPo should. It's a super tight machine that delivers the same experience you would get if you could time travel back to 1966 and drive it off the show room floor.
Simply put, the car is visually stunning with a better than new finish. It has been driven very little and kept in concours condition with no evidence of wear inside or out. No matter how many show quality Mustangs it is surrounded by, it is likely to get more than its share of attention. People are attracted to "unique looks" they haven't seen before and very few have ever seen a better than new Silver Frost HiPo fastback Mustang.
PRICE
If you have been following K-codes at this level of finish and originality, you know there have been examples that have sold at my price point and beyond. You also know that restoration cost alone, at this level, can easily equal or exceed my price point. If price ends up being the a deal breaker there are always lesser examples out there for less money. However, if you have been thinking about investing in K-code GOLD, this Silver Frost beauty deserves serious consideration.
Sell Us Your Car!
We're always looking for high quality classic cars to buy.
Get our inventory update email!
If you're looking for a classic car and you're as particular as we are, it's our hope that we can be of some help in your search for a high quality KEEPER.