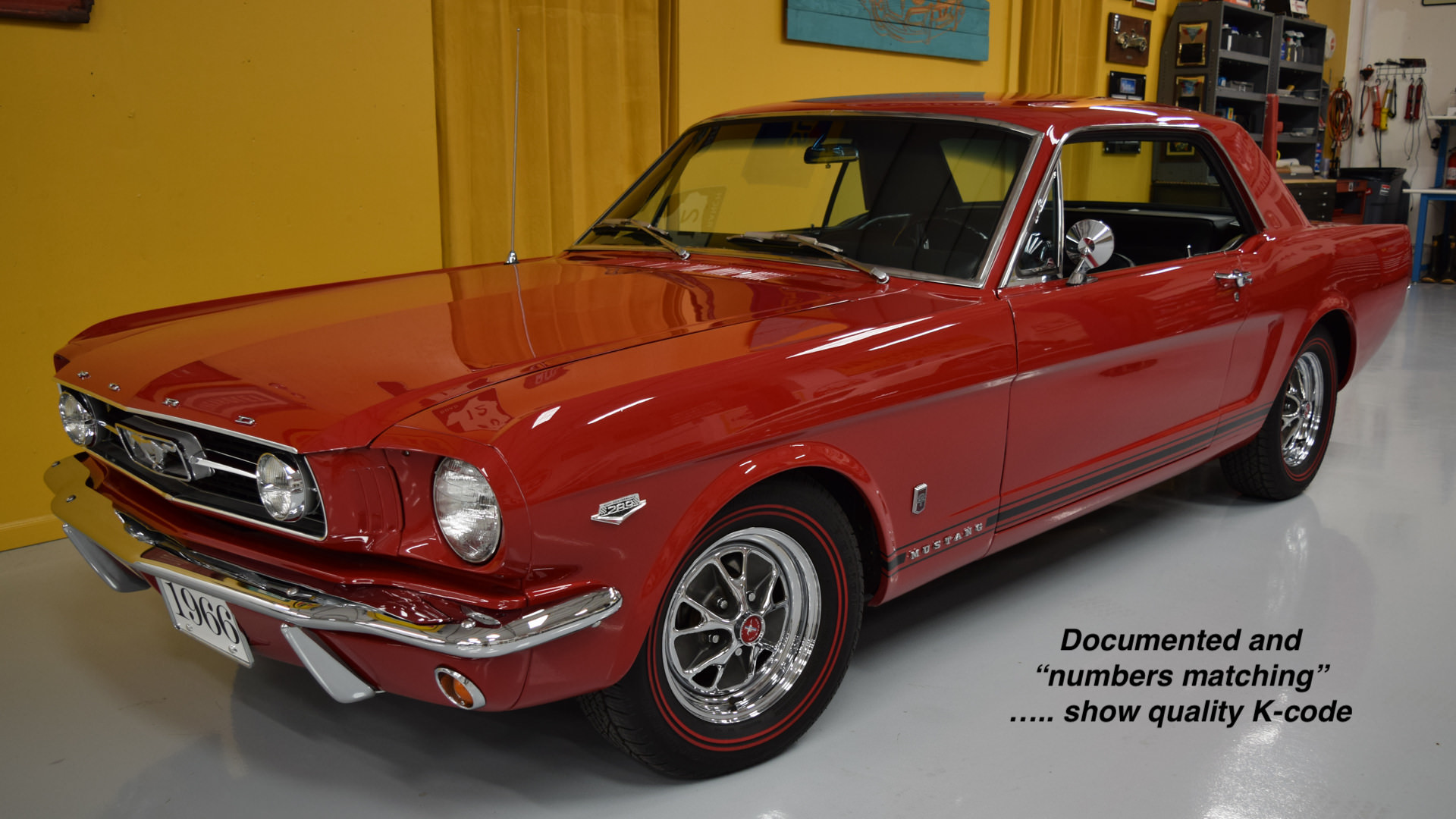 1966 Mustang K-code GT
1966 Mustang K-code GT
Real K-code and Real GT
Please take time to read EVERYTHING before asking questions … this will help us both.

Documentation & Provenance
Original Owners Warranty Card
 Original Owner Manual "Identification Page"

Title copies from all 3 of the follow-on owners, establishing the very small chain of ownership since new. This car has not been passed around and its ownership history is known. Knowledge of the identity of former owners is called "living documentation" which is the strongest kind.

Registration Receipts from the original owners family
This is a VIN #'s matching car and has its correct factory Castings , Stamps and Tags. Note photos of the hidden VIN#'s on both of the original inner fenders and on the engine block.

Critical documenting Photos were taken during the assembly of the motor documenting important castings and stampings.
ALL of the ABOVE items come in a Documentation Binder that will also include a DVD of the Video and the photos in this presentation. This Documentation Binder is GOLD to the "investment minded" collector in that it establishes BOTH authenticity and history which are key to bullet poor provenance, especially on a K-code.
You may not know that the Hi-Po K-code is the "MOST often faked car" in the world of collector Mustangs. Very few of the "so called" K-codes out there can be confirmed with iron-clad documentation like this one making this K-code / GT a true blue-chip investment .

History of  Hi-Po/GT # K258000
One family owned for 41 years
The history of this 1966 K-code Mustang is documented with factory and dealer documents as well as registration documents.
On 5-27-66 Mr. David P Tillie purchased Hi-Po/GT Mustang # K258000 from Dub Richardson Ford in Oklahoma City, Oklahoma.
Mr. Tillie would keep the car for the next 27 years before transferring ownership to another Tillie family member who would go on to keep it another 14 years. For 41 years K258000 was kept and preserved in its original factory condition by the original owner and his family. It would only change hands a couple times after this, all of which is documented by copies of old titles. This very special Hi-Po/GT Mustang has survived 51 years with its rare Hi-Po components in tact and over the last few years was given a professional show quality restoration to MCA specs. It is a like new example of one of the most sought after of all first series Mustangs – the Hi-Po K-code/GT.
Complete original "Hi-Po" drivetrain – SEE parts list below and photo documentation.
– correct Hi-Po Engine Block
– correct Hi-Po Engine internals (everything)
– correct Hi-Po Harmonic Balancer
– correct Hi-Po deep groove alternator Pulley
– correct Hi-Po Dual Point distributor
– correct Hi-Po 9" Rear End
– correct Hi-Po beefed up C4 auto trans # C "on servo"
– correct Hi-Po Hedder Exhaust manifolds
– correct Ford Quick Ratio steering box
– correct High cool Radiator

Also a   FACTORY   "GT" with;
Disc Brakes
Quick Ration Steering
Fog Lamps
Special Trumpet Exhaust Tips
Etc.,

ORIGINAL
This 1966 K-code Mustang was kept bone stock in the restoration with the only deviations being replacing the single reservoir master cylinder to a dual reservoir master for safety purposes and a color change from Poppy Red to Candy Apple Red.

Body
All stampings are readily visible on this substantially original panel car. I was told the quarter panels were replaced but the work is of such a high caliber that it is virtually undetectable. The Floor pans are substantially original with only a few minor metal patches.

Paint
Paint is SHOW QUALITY. The paint has that highly reflective, deep wet look. It is not perfect. It has a few minor flaws that can be detected under very critical examination, but it is otherwise truly STUNNING. There is almost NO evidence of wear….. a real testament to the quality of the work as well as a testament to the care given to preserve it.

Invest in a RARE & enjoyable Mustang
Classic cars have proven to be among the most resilient and rewarding investments in for decades now with the Historic Automobile Group Index (HAGI) jumping 39% in 2013 and posting gains of 395-percent over the last 10-years. Demand will always be strong for rare quality cars like this, and supply will always be very limited.
Sell Us Your Car!
We're always looking for high quality classic cars to buy.
Get our inventory update email!
If you're looking for a classic car and you're as particular as we are, it's our hope that we can be of some help in your search for a high quality KEEPER.