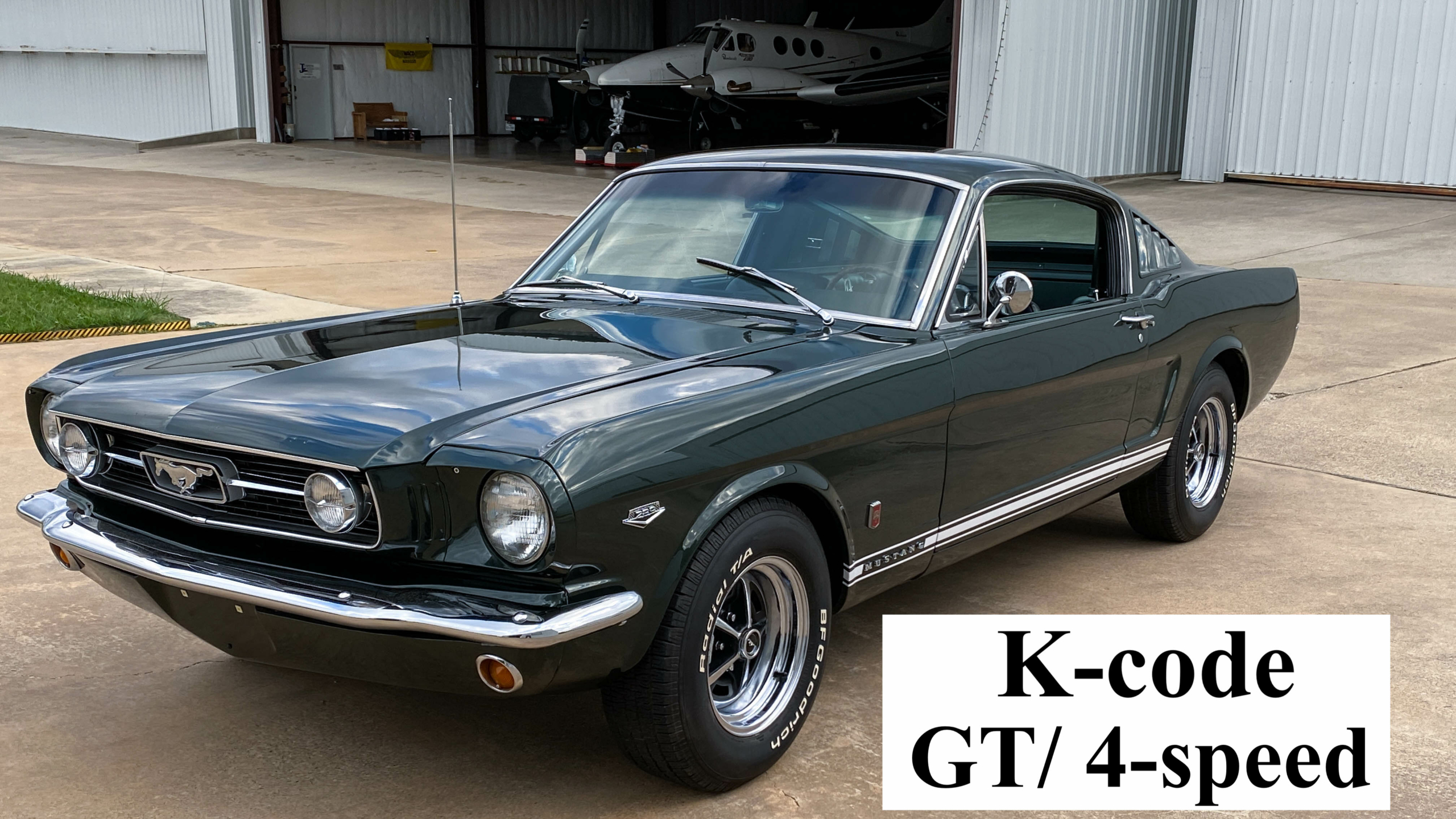 1966 Mustang K-code HiPo FASTBACK
1966 Mustang K-code HiPo FASTBACK
SOLD
Real deal factory HiPo K-code fastback
Real deal factory GT package
Original vin stamped inner fender
Original door Trim Tag
Show Quality paint in original Ivy GREEN
Show Quality new interior
Show Quality presentation under the hood
High Performance Engine with impressive Dyno results
Excellent body including super clean floors (one small patch panel on floor).
ADDED Air Conditioning for year-round useability
PURPOSE BUILT for on demand "guilt free" drivability with modifications to ENHANCE comfort, safety and Performance. This car was built to be driven and enjoyed. It's nice enough for any show and the motor is built to take pedal to the metal fun.
If 100% originality is a must have for you, then this is not the car for you …. HOWEVER, if you want a high quality "real deal K-code / GT" that provides a superior experience to the original and can be enjoyed year-round then this stunning Ivy Green example deserves serious consideration.
The car underwent a quality professional restoration between 2015 and 2019 with very few miles on the car since completion. There is no notable evidence of wear or fatigue anywhere on the car.  The interior, paint and engine bay present as show quality fresh.  It has been well maintained and garaged stored since its completion.
It has a pro-built non-matching engine easily exceeding the original K-code horse power and fun factor. The engine appears substantially stock but has been stroked out internally to a 347 representing that perfect balance of power and reliable daily street use. The engine is from BLUE PRINT ENGINES and comes with its dyno sheets showing it producing 331hp – that's a lot! This is a full 60 more horsepower than the original HiPo engine and its built with much more modern components and techniques for reliability.
I have already adjusted the price downward to reflect the lack of an original engine. If you must have an original HiPo engine, then take your time looking for one to "put on the shelf" as the likelihood of anyone ever wanting to pull this engine is very low. Why would you when you can have guilt free on demand enjoyment in the most widely sought after Mustang ever built without the concern of blowing up an original motor. This K-code will not be left setting in the garage and at car shows ….. it's meant to be driven and driven hard.
Simply put, if it's your desire to cruise around (or maybe BLAST around) in a show quality 1966 HiPo fastback, this is likely one of the best examples you could hope to find. It is a "get in and go" high quality car that can be immediately enjoyed and certainly valuable enough that more money could be spent securing original mechanical components should you, or a downstream owner chose to do so.
Find another REAL DEAL Ivy Green 4-Speed "GT" K-code HiPo fastback no matter what condition.
Safety & Comfort updates include:
Dual Master Cylinder
Air Conditioning
Aftermarket console & radio
Brighter headlights … planned
LED brake lights …….. planned
LED blinkers …………… planned
Louder Horns …………. planned
ALL updates are bolt on and can be reversed should a future owner desire to do so.
Sell Us Your Car!
We're always looking for high quality classic cars to buy.
Get our inventory update email!
If you're looking for a classic car and you're as particular as we are, it's our hope that we can be of some help in your search for a high quality KEEPER.