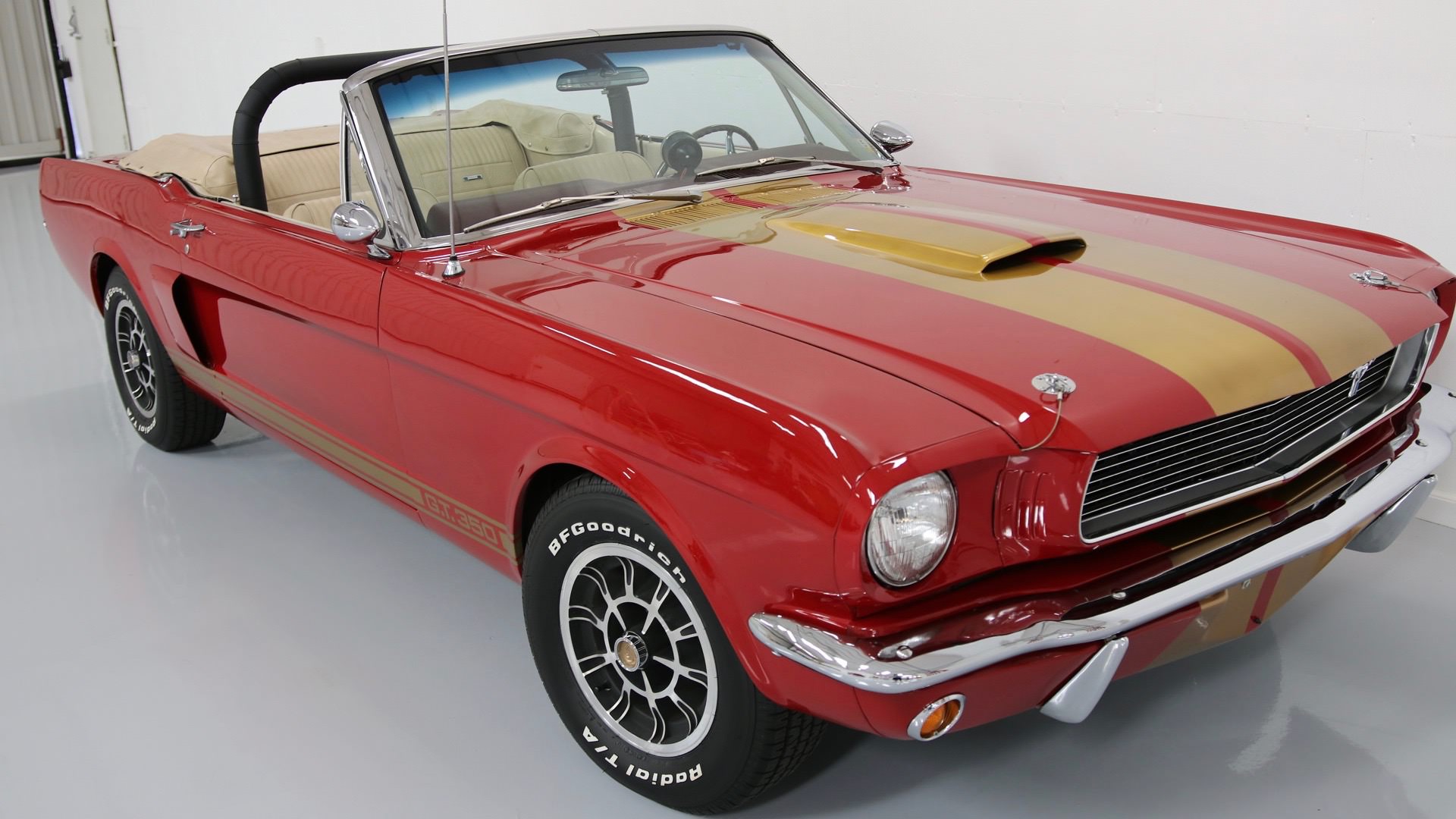 1966 Shelby GT350 Mustang Convertible
1966 Shelby GT 350 Mustang Convertible (Best tribute in existence!)
PROVENANCE
Ultra low miles convertible (…very interesting "documented" history…) that is loaded with ultra valuable authentic SHELBY and Ford Hi-Po parts, including a complete authentic "Hi-Po" drivetrain from the carburetor to the differential – SEE parts list below.
Please take time to read EVERYTHING before asking questions … this will help us both. Thank you in advance for your interest in this truly special ONE-OF-A-KIND car.
History …. it is AMAZING
Purchased new in 1966 by a Texan named J. Yancy who would fuss over it and drive it very sparingly (…only 22,239 miles through May of 1994…) and then in 1996 would start using rare authentic Shelby and authentic Ford Hi-Po parts from his collection to support the build that he would ultimately finish sometime in the 1999, 2000 time frame.
Mr. Yancy started his build with his 23k mile "C-code" convertible he purchased new in 1966 and ended up with what you see today – a 29,750 original mile example of what may well be the best 1966 Shelby GT 350 "convertible" tribute in existence.
2 owners over a 50 year period
Mr. Yancy would keep his beloved convertible for 37 years before it went through 2 different brokers who would have it approximately a year before selling to the 2nd owner, whom I purchased it from. The second owner had the car for 13 years of very gentle ownership, during which time the odometer only reached 29,700 miles. That's only 2 owners in 50 years, both of which intentionally PRESERVED this beauty in mint condition.
Documentation Binder
The car comes with a documentation binder that includes various items including a 2004 detailed write-up of the cars history by internationally known classic car dealer in Georgia, Fraser Dante. Mr. Yancy had relocated from Texas to Georgia and was selling his collection and this car ultimately ended up with Fraser Dante. Mr. Dante used information provided by Mr. Yancy along with some of his own research in drafting his write-up of the car.
The following is an excerpt from the July 14th, 2004 Fraser Dante write-up: ……. "A show condition, gorgeous, full build of a 1966 SHELBY GT 350 convertible tribute built to exacting standards from the original and the continuation model in the early 80's, this is a fabulous car with terrific Ford body, wonderful original fenders, quarters and floors ….. information supplied from the man who had the car built and kept in his collection… this great car was 1 of 1, built in Southwest Texas starting back in 1996 using information supplied by Shelby in the article from Hot Rod magazine, Mustang special edition, printed in the early 80's, the builder (J. Yancy ) who owned the car from NEW is a long time Shelby and Mustang collector who used extensive NOS parts to make this an exacting tribute of one of the most drivable and famous cars ever, even the wheels are from Shelby America ….. the quality of this car exceeds the original standards used by Shelby while keeping all the proper parts and pieces …. this convertible is one of the best bodies one can imagine, a rust free 'C' code car was used, mileage at that time was about 23,000 and this car with VIN# 6R08C123457 shows only 23,363 miles in July 2004 and has less than 500 miles on the build, all of the floors, quarter panels, and fenders are original with Ford stampings as appropriate …….."
Inspiration… the Shelby nexus
Inspired by the 4 original GT350 convertibles, Mr. Yancy's "final inspiration" to take his low miles convertible and build a GT350 tribute came from an article in a 1981 Hot Rod Magazine ("Mustang special edition") announcing the Shelby sponsored "pending build" of 12 tributes of the 4 original convertibles. These cars are known today as "Continuation Cars". The 12 continuation cars were built in the early eighties by J. Brunk, president of Beverly Hills Mustang after being tasked by Carroll Shelby and team with sourcing 12 donor convertible bodies to build cars with select performance parts including NOS Hi-Po motors. (…it is interesting to note that one of the original 12 continuation cars is currently located just around the corner from this car on the same private airport here in Texas…).
AUTHENTIC Hi-Po & Shelby parts used
Mr. Yancy was a man on a mission "with the goal" of building the BEST Shelby GT350 convertible in existence.
He gathered REAL DEAL authentic Shelby and Ford Hi-Po parts with various "date-codes" from the 1964 to 1966 period and built what I think may be the one of the best, if not the best, tributes of the vaulted GT350 convertible there is. Certainly he started with the best possible platform – his 23k mile never wrecked, never rusty convertible that he bought new.
Below is a list of the valuable parts installed on this car that if gathered today "part by part" would cost over $25,000, if you could find them.
– correct Hi-Po Engine Block, casting # C40E – 6015 C
– correct Hi-Po Engine internals (everything)
– correct Hi-Po Harmonic Balancer # BTC C8ZE – A S.D.
– correct Hi-Po Autolite 4100 Carburetor # C40FAL
– correct Hi-Po deep groove alternator Pulley
– correct Hi-Po Dual Point distributor
– correct Shelby Nodular 9" Rear End # "N"
– correct Shelby beefed up C4 auto trans # C "on servo"
– correct Shelby Tri-Y hedders
– correct Shelby aluminum Intake
– correct Shelby aluminum deep slump Oil Pan
– correct Shelby aluminum hollow letter Valve Covers
– correct Shelby racing mirrors / Rotunda # DS-100021
– correct Shelby welded "cowl reinforcement brace"
– correct Shelby heavy duty suspension & Koni Shocks
– correct Ford dual piston front DISC brakes
– correct Ford Quick Ratio steering box # HCC – AX
– correct Manual Choke "dash pull" for HiPo carburetor
– correct High cool Radiator
– correct welded on "cowl reinforcement" for Export Brace
Parts used from CONTINUATION SERIES cars
While this car is not one of the 12 Continuation Cars built by J Brunk, it was built using some unique parts sourced directly from J Brunk in the early 1980's at the time his Shelby sponsored project was active.
– correct J Brunk  Roll-Bar (from continuation series)
– correct J Brunk rear Window Cranks (continuation series)
– correct Shelby America Wheels (from continuation series)
– correct Hood (from continuation series)
Rare N.O.S parts used
BOTH mirrors are original authentic ROTUNDA RACING mirrors. They are NOT reproductions. They have the J-AX-4 code etched in edge of the glass and DS-100021 cast on the insides of the base – reproductions have neither. These mirrors are impossible to find and highly sought after by owners of original Shelby Cobras and as well as owners of original Shelby Mustangs. They were NOS when installed on this car and remain in excellent condition. The last NOS set I heard of went for $2,500. You can only imagine what an owner of an original $1mm Cobra would pay for these.
I removed both of these mirrors to confirm the castings and the etched date code on the glass. I photographed both and added the photo to the documentation binder… note that photo is also presented above.
Another insanely rare item on this car is the NOS Ford AmFm radio. Mr. Yancy is said to have paid $2,000 for it. Like everything on this car – it works.
Full Shelby specked Suspension
– Ford GT quick ratio steering box (code HCC AX)
– Heavy-duty 620 lb front coil spring
– Heavy-duty 200 lb 2.5 inch wide rear springs
– Traction Master traction bars, welded on under riders
– Koni Shocks front and rear
– DISC Brakes (front)
– Shelby front stabilizer bar
– 14×7 inch 10 spoke Shelby Wheels
Also loaded with the COMFORT options
Factory Air Conditioning (COLD)
Power Steering
Power Top
Power DISC Brakes
PONY Interior
AmFm Radio (NOS original)
Automatic Transmission
Etc.,
ORIGINAL ultra low miles – documented
The last time this car was registered and inspected in TEXAS was 1994. The original stickers from that inspection remain on the car to this very day – love this! The backside of the 1995 inspection sticker is dated as 5/23/94 and documents the mileage to be at 22,239 (NOTE photos above)! Additionally, there are other items in the Documentation Binder, including registration documents and the "write-up" itself, that document the ultra low original miles.
Body
The body appears to be as described by its original owner – 100% original FORD. All stampings are readily visible and I found no evidence of any panel replacement or patchwork, including the floors. Needless to say, that's the Holy Grail for any Mustang lover who dreams of finding a virgin body on a 51 year old Mustang convertible.
Paint
The paint has that highly reflective, deep wet look. It is not perfect. It has a few minor flaws that can be detected under critical examination, but it is otherwise truly STUNNING to be approximately 17 years old. There is almost NO evidence of wear….. a real testament to the quality of the work as well as a testament to the care given to preserve it. The most notable issue is in the corners of the "scoop openings" which have tiny cracks (typical on virtually all of these scooped hoods).
Invest in a RARE & enjoyable Mustang
Classic cars have proven to be among the most resilient and rewarding investments in recent years with the Historic Automobile Group Index (HAGI) jumping 39% in 2013 and posting gains of 395-percent over the last 10-years. Demand will always be strong for quality cars like this, and supply will always be very limited.
Sell Us Your Car!
We're always looking for high quality classic cars to buy.
Get our inventory update email!
If you're looking for a classic car and you're as particular as we are, it's our hope that we can be of some help in your search for a high quality KEEPER.