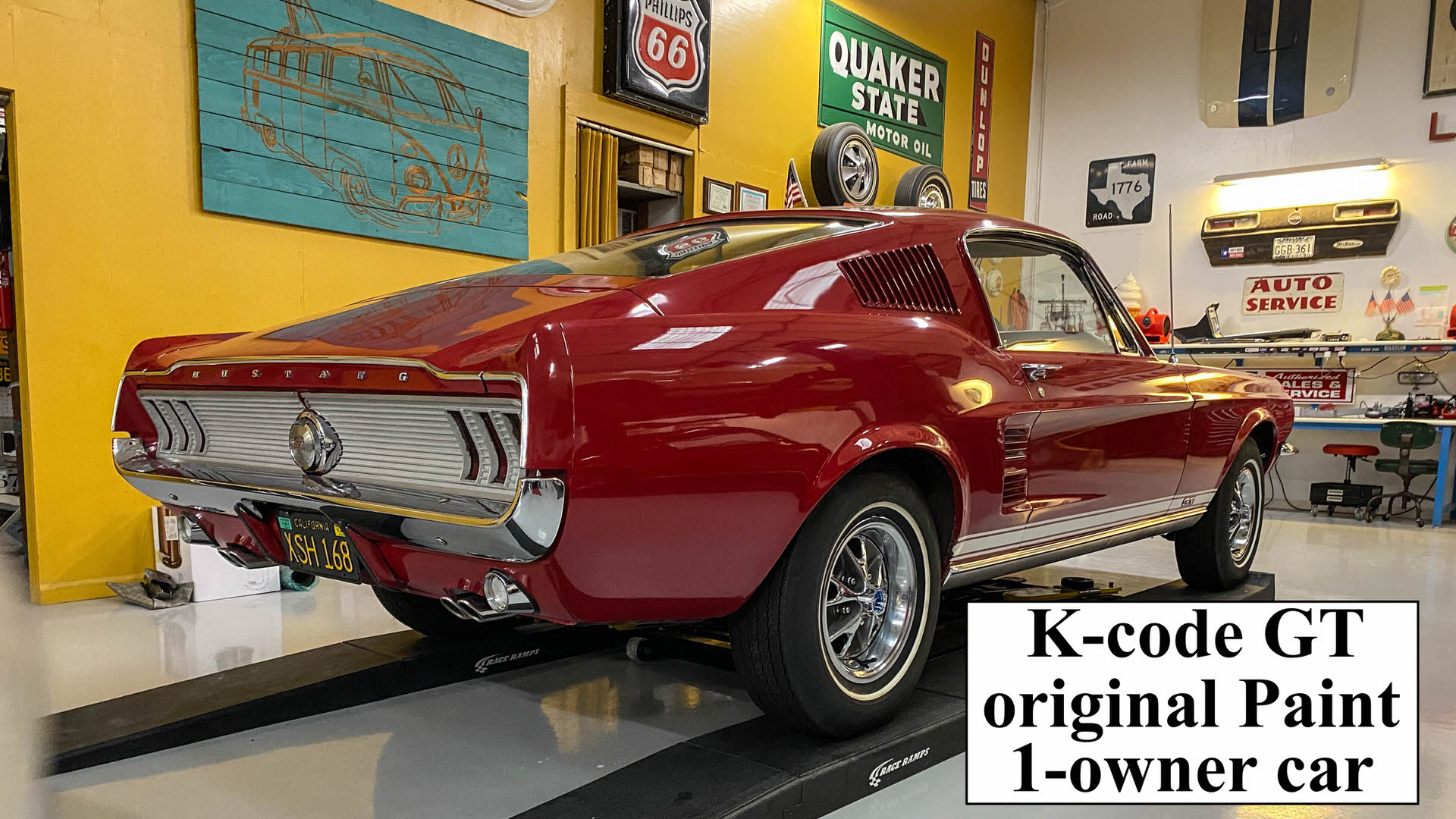 1967 K-code (HiPo) GT Mustang Fastback
1967 K code (HiPo) GT Mustang Fastback
SOLD
ONE OWNER from new …. (TITLE remains in name of original owner)
ORIGINAL PAINT
Incredible PROVENANCE
Incredible DOCUMENTATION
Incredible ORIGINAL CONDITION
Incredibly RARE MODEL
This one owner 1967 K-code (Hi-Po) fastback is believed to be the "best original example" in existence. It is a one owner car with original paint and retains ALL of its critical original Hi-Po components.In the world of vintage Mustangs, this is the most sought-after Year, in the most sought-after Body, with the most sought-after Drive Train "all" in the most sought-after Condition – "a true survivor of the highest order".
I view this car as the ultimate time capsule of the ultimate Mustang. Fantastically preserved by one man until his death at 92. The body is ALL original and virtually as straight as the day it was delivered with no notable dings, dents, deep scratches or body rot and the paint is simply fantastic. The interior is also all original and also in fantastic condition. The engine bay is substantially as it left the factory with the exception of the obvious engine rebuild.
The Candyapple Red paint is the best 54 year old original paint I have ever seen. After my sons paint correction process the paint is now even more impressive. On anything less than a close critical inspection of some light patina, the paint looks substantially like a well preserved newer respray. One minor driveway ding to the drivers' rear quarter was repaired decades ago, otherwise the paint is 100% original and as such, super impressive.
Ultra Rare
1967 GT K-code fastback 4-speed cars are like GHOST, nearly impossible to find. Even the most hardcore Mustang fanatics will go their entire lifetime without ever actually seeing one in person. Out of 472,209 Mustangs built in 1967, there were only 205 (non-Shelby) Hi-Po fastbacks 4-speed examples ever built. Of this exclusive rarified group, this is likely the best original survivor.
A Brief History
The original owner ordered this K-code new while stationed at a US Air Force base in Germany. After placing the order, the car was built at the San Jose California Plant and then delivered through Pacific Auto Sales in Long Beach California. Since taking delivery 54 years ago this car remained the prized possession of one man who loved, fussed over and preserved it until his passing in his nighties. The car is still titled in the original owner and spouses' name.
All original documents including the factory Window Sticker, Owner Warranty Card, original "dealer endorsed" Owner's Manual, all maintenance invoices, etc. came with the car. All documents are saved in clear plastic pages in a large binder.
Receipts and "personal notes" from the owner document that the original motor was overhauled in 2001, 20 years ago when it only had 87,800 original miles ….. since the overhaul it has only been driven 3,122 miles. So, that's only 3,122 miles put on a refreshed drivetrain in the last 20 years. There is also documentation from the same time period that the heads were rebuilt with harden valve seats, the 3rd member (rear end) was rebuilt and the transmission opened, inspected and serviced with new seals. My son and I pulled the valve covers and it's so clean it looks like it has no miles on it .
The car is not only visually impressive, but also mechanically impressive and runs and drives much like when new. The drive train is strong and sounds fantastic.
I named the car "The Colonel" in honor of its' long term owner who was an US Air Force Colonel "over all of maintenance" for various Air Force bases. He really was the "ultimate preservation minded / maintenance mined" owner possible.
A true FREAK in the world of vintage Mustangs.
Sell Us Your Car!
We're always looking for high quality classic cars to buy.
Get our inventory update email!
If you're looking for a classic car and you're as particular as we are, it's our hope that we can be of some help in your search for a high quality KEEPER.