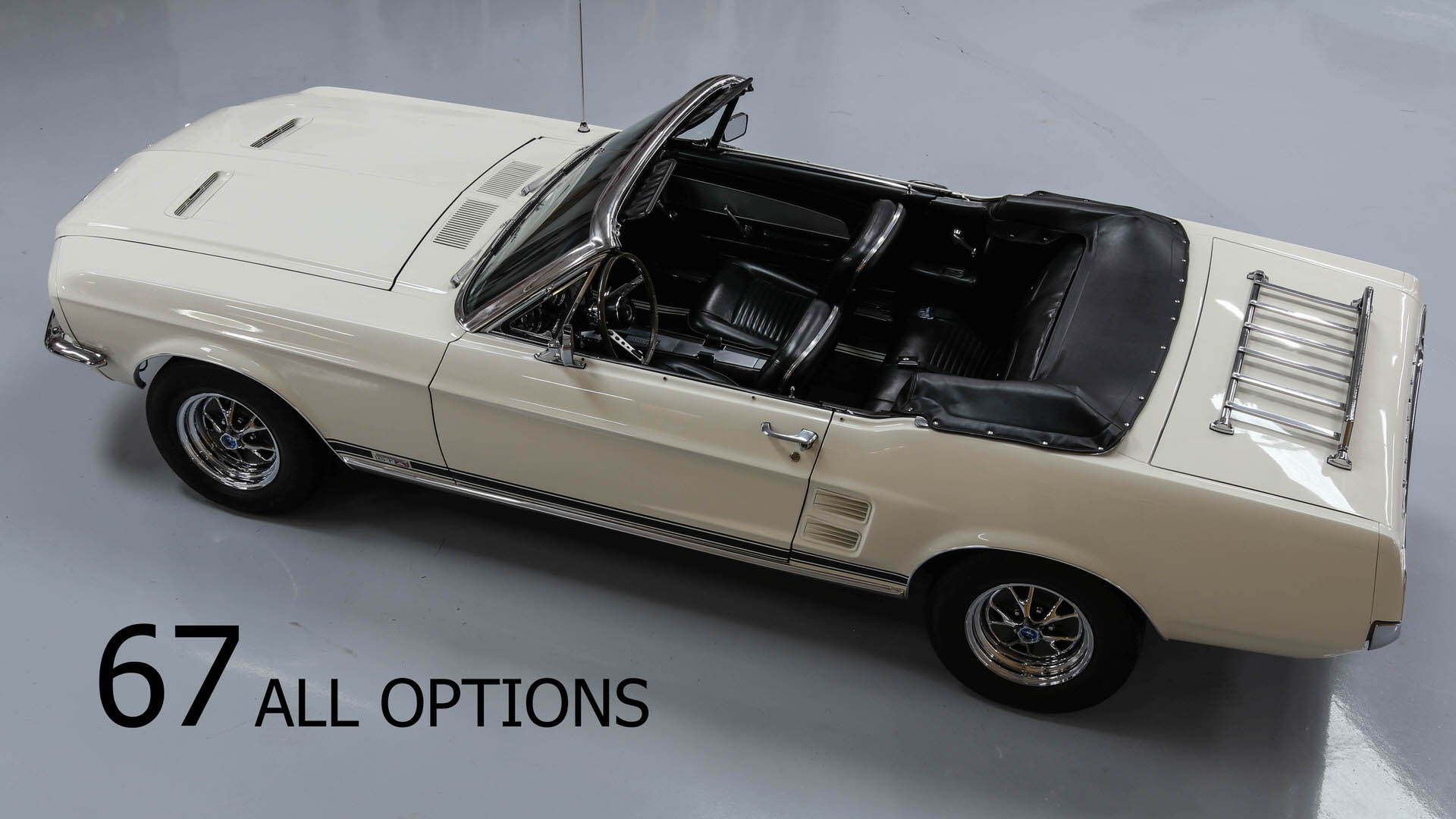 1967 Mustang Convertible
1967 GTA "convertible" – LOADED!
SOLD
IMPORTANT NOTE: I am representing this car for a gentleman who purchased it FROM ME a few years back. The car was purchased for occasional drives and has only been driven 600 miles since these pictures were taken. It has been garaged and well cared for with no issues. The car is in the San Clemente California area.
Please take time to watch the Test Drive VIDEO above.
TOTAL top to bottom build with very few miles since being finished.
It would be difficult and expensive to duplicate this 1967 Mustang "as built". It started life as a factory C-code 289 convertible that was UPGRADED to have nearly "every factory option" available in 1967 including the PERFORMANCE options.
This Mustang has two personalities … one is a comfortable full luxury boulevard cruiser and the other is a high winding thrill machine.
Everything WORKS including the COLD air conditioning.
Options, Options and MORE Options
– 289 … BUILT to "Hi-Po" level performance
– C4 Automatic transmission
– Factory Shelby / Cobra aluminum high rise intake manifold
– Ford / Shelby Cobra Engine valve covers
– GT package (Fog lights, special exhaust & rear panel, stripes, badges, Disc brakes, etc)
– Deluxe Interior components
– COLD Air Conditioning (updated with modern AC/heat system & electric engine fan)
– ALL "POWER OPTIONS"
* Power Disc Brakes
* Power Steering (UPDATED with modern BORGENSON Power Steering)
* Power Convertible Top
– Special factory Instrumentation – TACH & Clock
– Console
– 8-Track / Am Radio (UPDATED with modern internals, now iPod compatible and Am/Fm )
– Rear Grille
– Rear Deck Luggage Rack
– Remote Mirror
– Blinker Hood / Exterior Décor Option Group
– Style Steel wheels
Extensive and expensive top to bottom build approximately 10 years ago with VERY LITTLE use. There is very little evidence of wear of any kind since the restoration. Everything presents much like "a very low miles original car" would. Any metal needing replacement was replaced during the build including a complete new floor. I purchased it from an elderly (lady) owner here in Texas who mostly "trailered" it to car shows and stored it in the garage. It is a great running (and FUN) classic 1967 Mustang convertible that really turns the heads.
Sell Us Your Car!
We're always looking for high quality classic cars to buy.
Get our inventory update email!
If you're looking for a classic car and you're as particular as we are, it's our hope that we can be of some help in your search for a high quality KEEPER.