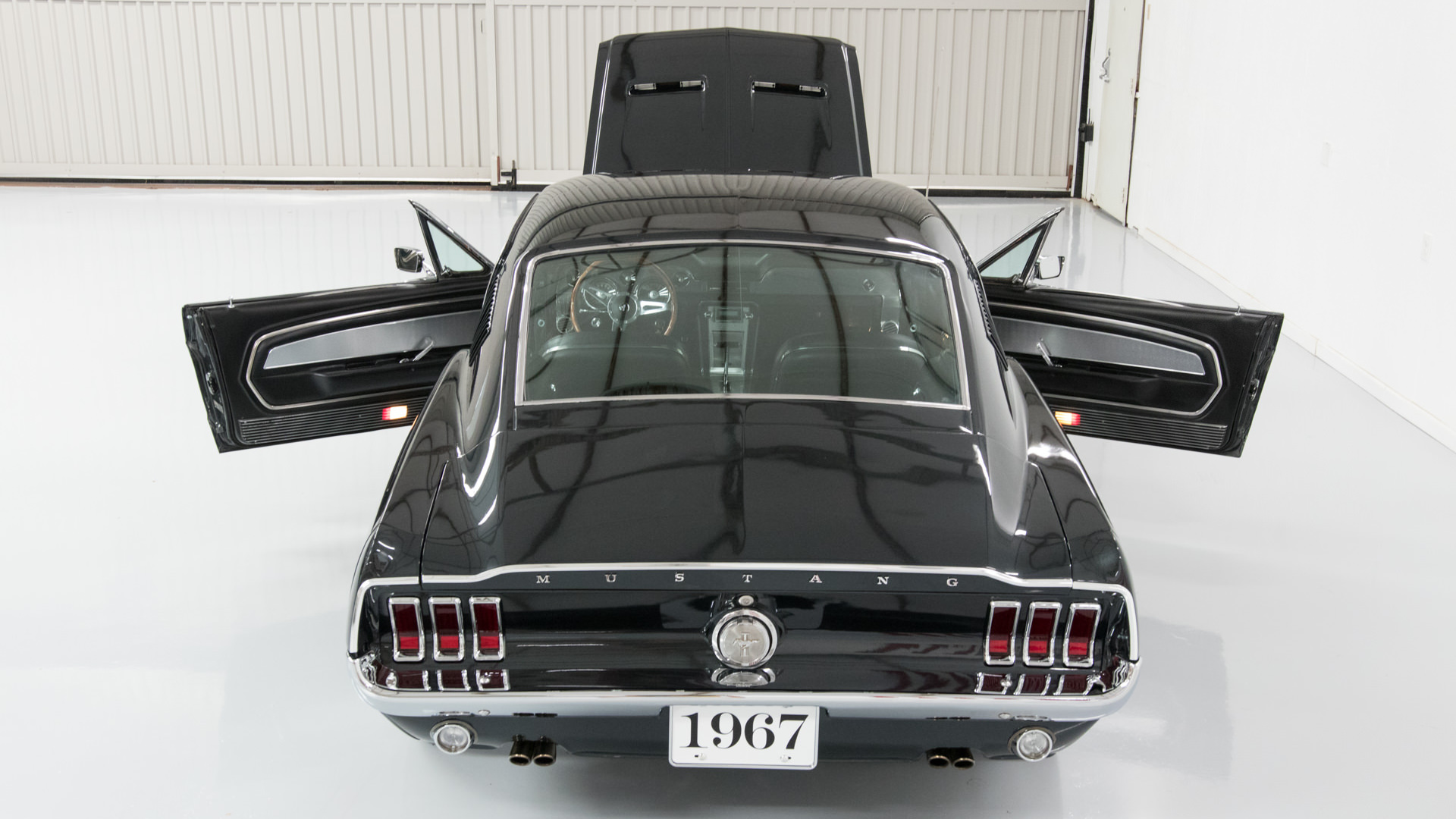 1967 Mustang Fastback
1967 Mustang Fastback
SOLD
– Mild resto-mod, enhanced with performance and safety UPGRADES
– 351 Cleveland, open chamber heads, 4bbl carb
– New (not rebuilt) 9 inch 3rd member/rear end from Quick Performance
– 2.5″ Magnaflow exhaust
– 4-wheel Disc brakes
– Updated Vintage Air AC system
– Borgeson power steering converstion
– Deluxe interior with upper AND lower consoles
– quality Blue Tooth and iPod capable Sound System
– SEE MORE DETAILS BELOW PHOTOS
"MILD" Resto-Mod that was purpose built to provide a superior experience to stock while staying close to that stock look we all love. It's a excellent blend of new and improved with old and perfect.
Enhanced with performance and safety UPGRADES.
–  351 Cleveland with open chamber heads and 4bbl Carb  (NOT over built, very steet'able. Documented with receipt showing it was not a low budget build) …. WOW! …. is all I can say. It will cruise with no fuse, or be an all out street brawler if the mood hits. Does not run hot, starts easy … in short, it does not seem to have any bad habits.
– upgraded with "4-wheel" Disc brakes
– New (not rebuilt) 9 inch 3rd member/rear end from Quick Performance. Has 3:70 open gears and 32 spline axles. Looks like a factory 9" you would see in a 1967 S-code Mustang.
– C4 automatic tranny freshly built to handle the performance of the motor with a 2500 stall and mild shift kit (documented with receipt)
– 2.5″ Magnaflow exhaust running out through "factory style" 1967 GT tips and rear panel (perfect exhaust note…awesome under hard acceleration)
– quality Blue Tooth capable Sound System, with a "factory fit" right into the factory console (looks good and sounds amazing)
– Deluxe Interior, AND it has  "upper" and "lower" CONSOLES  …. this rare full deluxe interior package is highly prized and adds about a $5,000 bump in value on 1967 Stangs …. Simply put, the "brushed aluminum" adds a lot of sizzle to the look and experience making the inside just as exciting as the outside.
– 67 "Factory Air Conditioning VENTS" are in place but the AC system has not yet been installed. Plans are to install an all new modern system from Vintage Air.
– Fold Down Rear Seat option
– Blinker Hood option … working blinkers
– Deluxe Exterior Body Trim option
– Wheels … Torque Thrust II
– Nice wood Steering Wheel
– Dark Gray metallic paint ….. WOW !! The color beautifully complements the classic lines of the fastback body. In low lighting the color can look black. The body is Laser straight and the paint is super slick with very little evidence of wear. It has that deep wet look. While outstanding, like most paint jobs it is not 100% flawless. The most notable flaw is really only noticeable under critical inspection and stems from the hood having once had "hood pins" installed. This flaw does not draw the eye and in my opinion, and does take away form the overall stunning appearance.
The car was built in 2015 and has very little evidence of use or wear. It has been fussed over and cared for while driving it less than 1,500 since its completion.
Sell Us Your Car!
We're always looking for high quality classic cars to buy.
Get our inventory update email!
If you're looking for a classic car and you're as particular as we are, it's our hope that we can be of some help in your search for a high quality KEEPER.