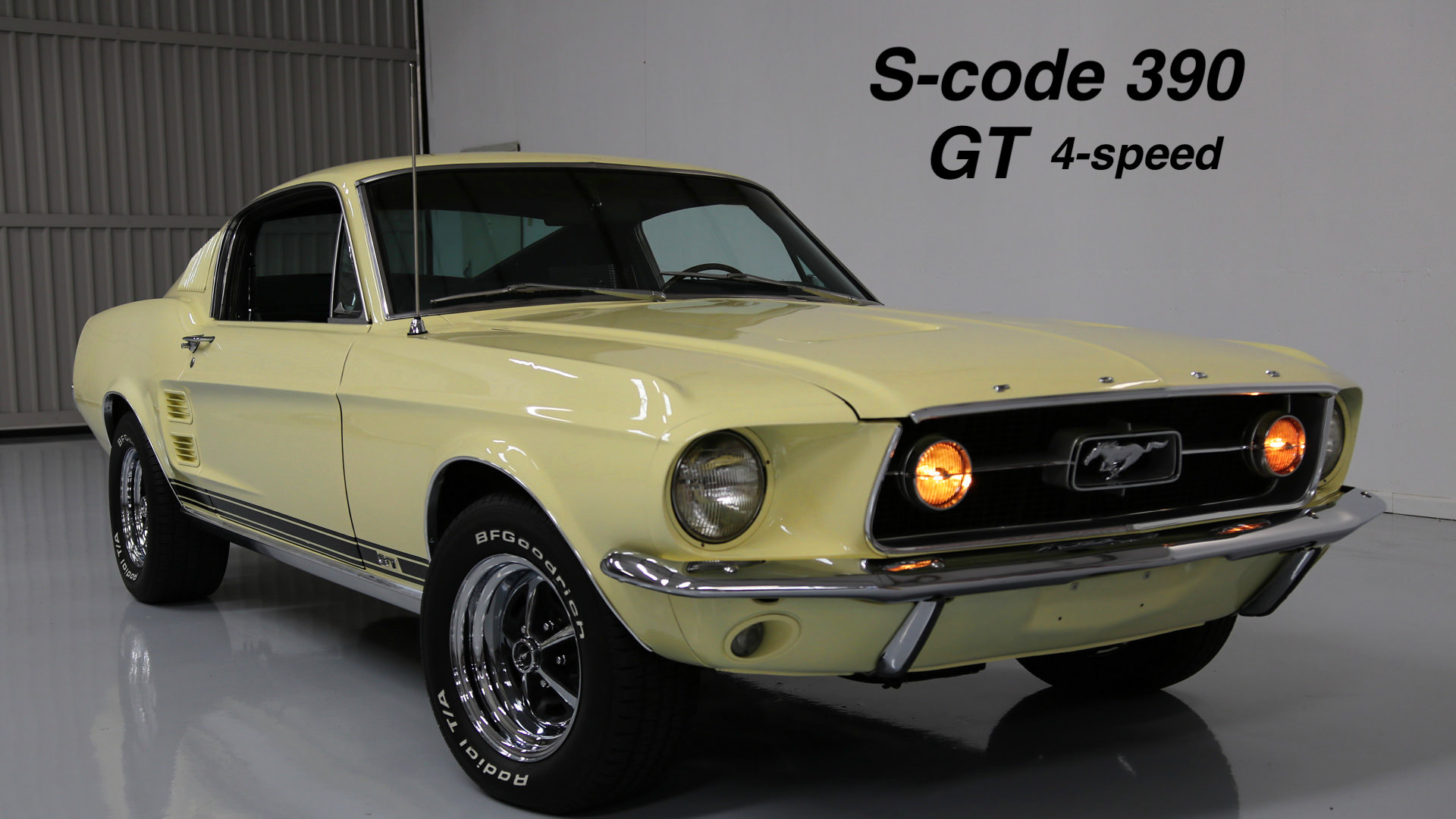 1967 Mustang GT 390 S-code Fastback
1967 Mustang GT 390 S-code Fastback
SOLD
Outstanding original BODY
Excellent OPTIONS:
390 S-code
Limited Slip 9" Rear End
4-Speed
Air conditioning (… modern & COLD)
Tachometer
Power Steering
Console
GT "performance package" … includes:

4-Speed Transmission
Fog Lamps
Power Disc Brakes
Special heavy duty Suspension
Special dual Exhaust with special Tips
Special GT Badging and Stripes
Special cut out rear body panel for exhaust

Amazing body / Arizona car / amazing FLOORS
The MARTI Report documents that this car was sold new at Read Mullan Motor Co in Phoenix Arizona (the driest state in America !! ).
Body
The body is at the very high end of the scale in terms of a quality factory original 50 year old Mustang – In my opinion, much of this is due to the fact it started life as an Arizona car and the rest is apparently due to very good care and of course some good luck.
Knowledgeable Mustang enthusiast know that a 50 year old Mustang with an original body and floors of this quality are near impossible find and it speaks volumes for the integrity of this car.
Floors
If you could win an award for the "best original untouched floors", this fastback would be a serious contender. Simply put, most of the undercarriage of this car could serve as a "bench mark" for a correct concours restoration. You can still see the original CHALK MARKS on various mechanical components, it has a near perfect original red oxide primmer surface with the proper paint drips and even the original Yellow OVERSRPAY in the "correct spray pattern" that came from the factory. Most people are not aware that when they painted these cars at the factory they would have overspray on the floors just like you see in the photos above – CONCOURS restorations duplicate this same effect.
Paint and Interior
This is a restored car that was refinished to be driven and enjoyed. It is a substantially original presentation (per the Marti Report) of what it was when new, but now with some upgrades added .
Although the paint is said to be 17 years old it looks like it could have been done very recently. In 2016 it won 2nd place at the World Of Wheels show in Houston Texas. It has been used very little since and remains an outstanding show/driver.
The paint is slick with that deep wet high gloss look. While not a mega dollar flawless paint job, it is much nicer than the average driver quality job.
The interior is show quality with no evidence of wear. The beautiful "brushed aluminum" trim was added to give it that show quality "killer look" unique to the 1967 deluxe interior model.
History / only 3,500 miles on motor
The following is the history relayed to me by the former owner.
The car was repainted and the Motor rebuilt approximately 17 years ago but driven ONLY 3,500 miles since that time …. so, there is very little wear on the paint or the motor (….. they both still look fresh). The car has been fussed over and stored indoors since its repaint and still looks great.
Some more recent mechanical freshen up was done within the last 4 years and is estimated to have less than 500 miles of usage.
Transmission was rebuilt
new Clutch installed
Rear End rebuilt with new gears and bearings.
front suspension rebuilt
entire brake system rebuilt
original shifter rebuilt
fresh exhaust installed
new stainless steel gas tank installed
new MSD ignition installed
The BF Goodrich TA radials appear to be new along with the Magnum 500 wheels.
The cars odometer is showing approximately 76,000 miles. I do not know what the actual miles are since new and because of the cars age, Texas law requires that it be sold as mileage exempt.
PERFORMANCE / some bolt on updates
The motor is stock and pulls strong and sounds great. The shifts are tight and crisp and the exhaust note is excellent. With all the mechanicals redone this is a GET IN AND GO car with many, many miles of enjoyment left in it.
MSD electronic ignition was added for better performance and reliability. It is hidden for a more stock appearing engine bay.
The carburetor was updated along with an aluminum intake to allow for better performance and reliability.
The exhaust manifolds remain STOCK.
Very RARE as built
1 of only 87 per "MARTI" report
If you ordered the "ELITE" Marti Report it will no doubt document this fastback to be "one of one" exactly as built.
The deluxe MARTI report indicates that out of 474,121 Mustangs built in 1967, only 87 came as Spring Time Yellow fastbacks with the factory Gray "paint treatment" in the rear cove (paint code #85) …… very, very cool. However, when this car was repainted they did not elect to paint the rear cove back to the factory gray.
In the world of Mustangs, this is a very rare car.
According to KEVIN MARTI's book Mustang by the numbers,
ONLY ……………..
1%   are Fastbacks equipped with 390 & 4-Speed & GT
1% are Fastbacks finished in Spring Time Yellow
.00018% are Fastbacks finished in Spring Time yellow WITH a "painted" Gray Rear Panel.
Sell Us Your Car!
We're always looking for high quality classic cars to buy.
Get our inventory update email!
If you're looking for a classic car and you're as particular as we are, it's our hope that we can be of some help in your search for a high quality KEEPER.