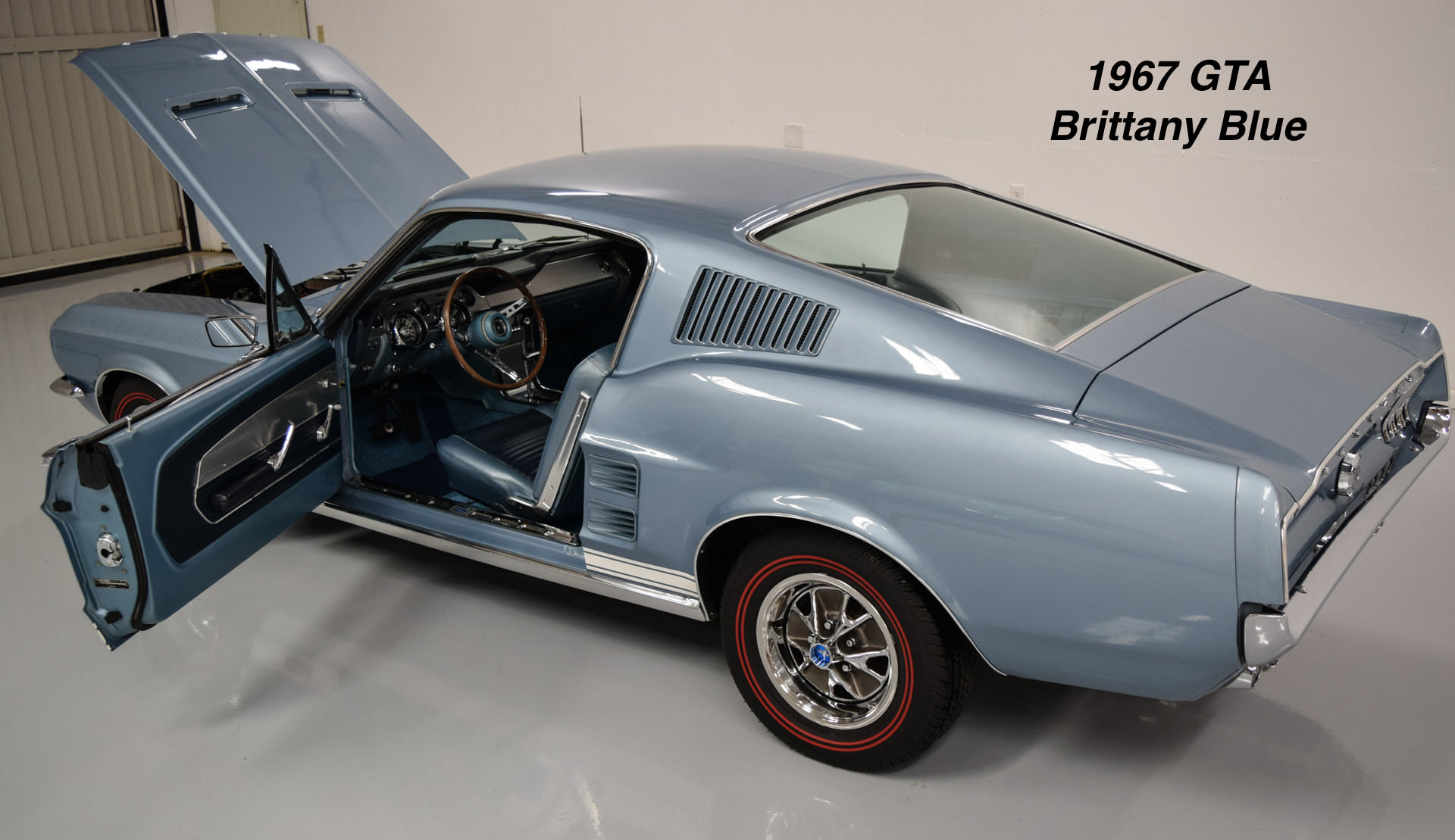 1967 Mustang GT Fastback
1967 Mustang GT Fastback
DOCUMENTED factory "GT"  
The MARTI REPORT documents that this is a factory GT.
(….or, "GTA" as designated in 1967 for the automatic GT)
In addition to the Marti Report, the car comes with two factory BUILD SHEETS that further document the car as the special car that it is.
Promotional car first 12 months of its life
The Marti Report also shows that this beautiful Brittany Blue GT was ordered by the dealer as a demo car to "promote" the all new 1967 Mustang. It was in this role for the entire first year of its existence. As beautiful as this car is I imagine it made selling Mustangs easy.
OVERALL CONDITION
In the world of vintage 50 year old Mustangs, this car is in excellent overall condition. It benefited from an all-over top to bottom restoration 25 years ago and has apparently lived a very pampered life from that time forward. While not a fresh perfect concurs example, it presents extremely well and in my opinion is far nicer than most show/drivers. It is certainly rarer.
Not only did it come from the factory in beautiful colors it is a fastback with ultra desirable "options", most notable the GT package. These options have a dramatic positive impact on the value and collectability of the car.
PAINT / BODY
The paint is super slick over a laser straight body. The body panel fit approximates what it would have been when new.
The paint could easily be mistaken for a more recent re-spray but it is actually 25 years old and as such, remarkable for its age. It is not flawless and there are some minor chips that where touched up but nothing that distracts from the overall presentation as a beautiful show/driver. I posted photos of the most notable of the chips.
Additionally the body appears very solid with no apparent rust issues that I can see. My guess is that any rust this car may have had was cut out and replaced with new metal during the restoration.
MECHANICAL
Please take time to WATCH the Test-Drive-Video.
In my test drive I did not notice any issues of any kind. The car performed as would be expected from a restored and well maintained 1967 Mustang. The car started easily, idled good, ran strong, shifted correctly and did not exhibit any overheating issues. Additionally it handled and stopped as would be expected exhibiting no apparent issues. Everything worked including the radio. The only exception was the lighting on the optional "convenience control panel" on the console which appears to only partially work.
Sell Us Your Car!
We're always looking for high quality classic cars to buy.
Get our inventory update email!
If you're looking for a classic car and you're as particular as we are, it's our hope that we can be of some help in your search for a high quality KEEPER.