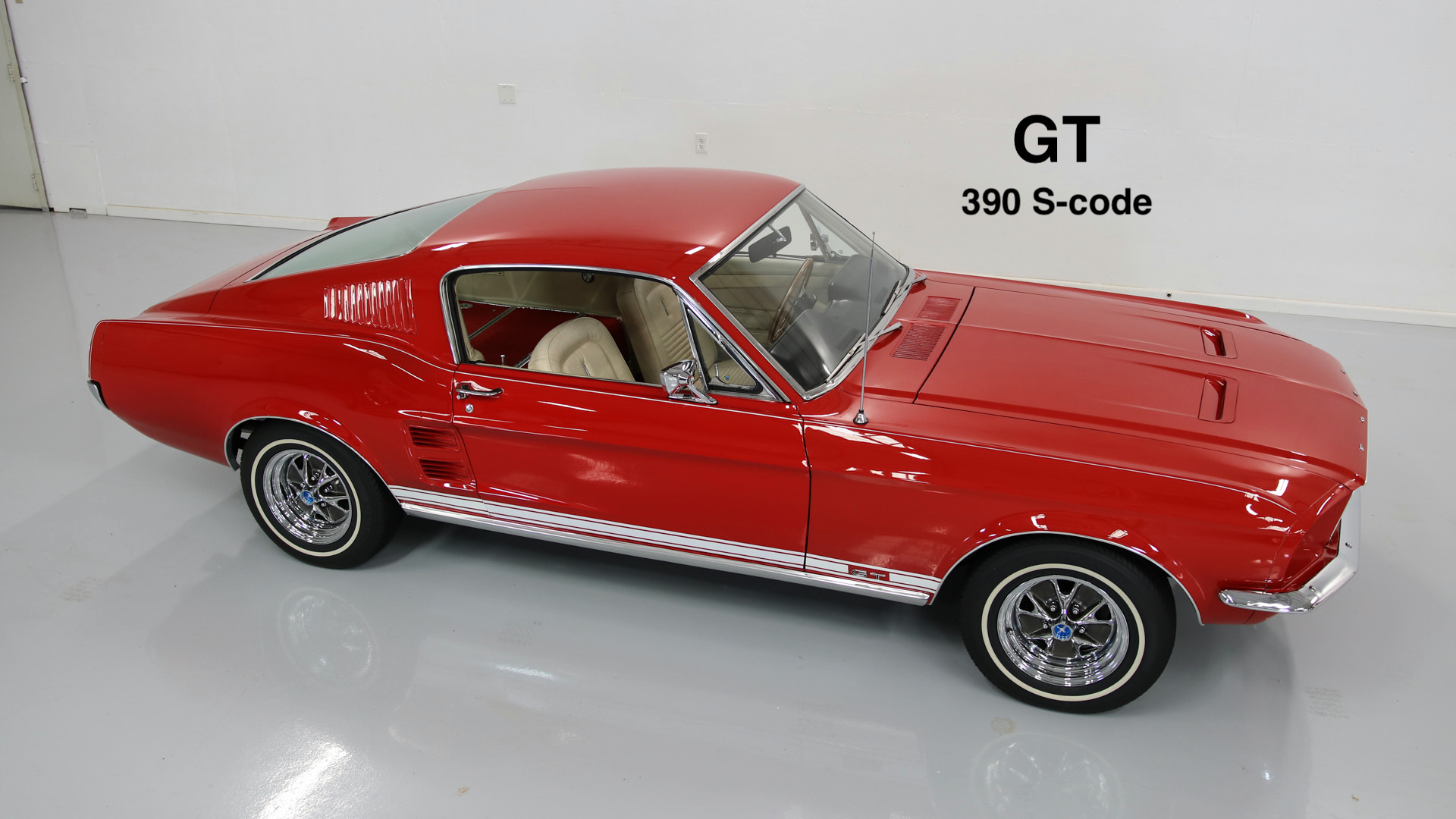 1967 Mustang GT S-code Fastback
1967 Mustang GT S-code Fastback


SOLD
– Factory GT
– S-code 390 big block
– Upgraded 5-SPEED manual trans
– Power steering & power DISC brakes
– Candy Apple Red with Parchment inteior
– Center console
We know everyone will be excited about this one. It is a REAL DEAL 1967 390 S-code GT fastback. It is a very nice example with all the fundamentals being good to excellent. HOWEVER, we will make EVEN NICER with select enhancements. The enhancement process has "already begun". The car is original with the exception of changing it from a C6 automatic to a 5-Speed manual (very cool) and a color change to Red. We know that most of our buyers will prefer the 5-speed manual to the automatic while probably being more of a "split decision" on the color change from Dark Moss Green to the Candy Apple Red. The bottom line is, it runs and drives excellent and it's eye-popping beautiful!
NOTE concerning $$ PRICE: The final price has yet to be set. The price will move upward as we invest both time and money in the planned enhancements. If you are interested in securing (buying) this one that can be done at anytime during our enhancement process. The base price is $60,000 and is projected to be $68,000 once all enhancements are complete. The earlier you are involved the more say you can have in the process.
While none of the enhancements below are necessarily needed, this is typical of the PROCESS my Son and I go though on our cars. We take a car that is already very nice and enhance it to an even higher level. Our goal is NOT concours perfect, rather our goal is to rationalize the car as needed to get it to the best presentation it can be without "breaking the bank".

Planned Enhancements
– upgrade the "standard" Camera Case dash components with the "deluxe" brushed aluminum components.
– upgrade the "standard" door panels with addition of the "deluxe" brushed aluminum accent panel
– upgrade the "standard" seats with the a set of fully restored original 1967 "DELUXE" seats (….these 1967 DELUXE seats are very expensive and when restored, sell for anywhere from $4,000 to $5,000 a pair if you can find them)
– Replace the carpet
– Restore the Fold Down seat and replace all the stainless
– Replace the Radio with a restored original Radio (and add new speaker)
– Paint correction as needed
– Engine bay detailing as needed
– New gas tank
– Full service
– Etc ,,, (I am sure I am forgetting something)
WHAT ELSE can we do (but not in the current PLAN) ?
– Add modern Air Conditioning, defrost & Heat
– Add a modern Sound System
– Convert Brake Lights to bright LED's
– Switch "Tire / Wheel" configuration to another choice
– Add insulation though out the cabin all the way through the trunk
– Switch to European specs:
– speedo from MPH to KMH
– update rear brake lights
– update head lights
– build RADIO upgrade to Euro Specs
Sell Us Your Car!
We're always looking for high quality classic cars to buy.
Get our inventory update email!
If you're looking for a classic car and you're as particular as we are, it's our hope that we can be of some help in your search for a high quality KEEPER.