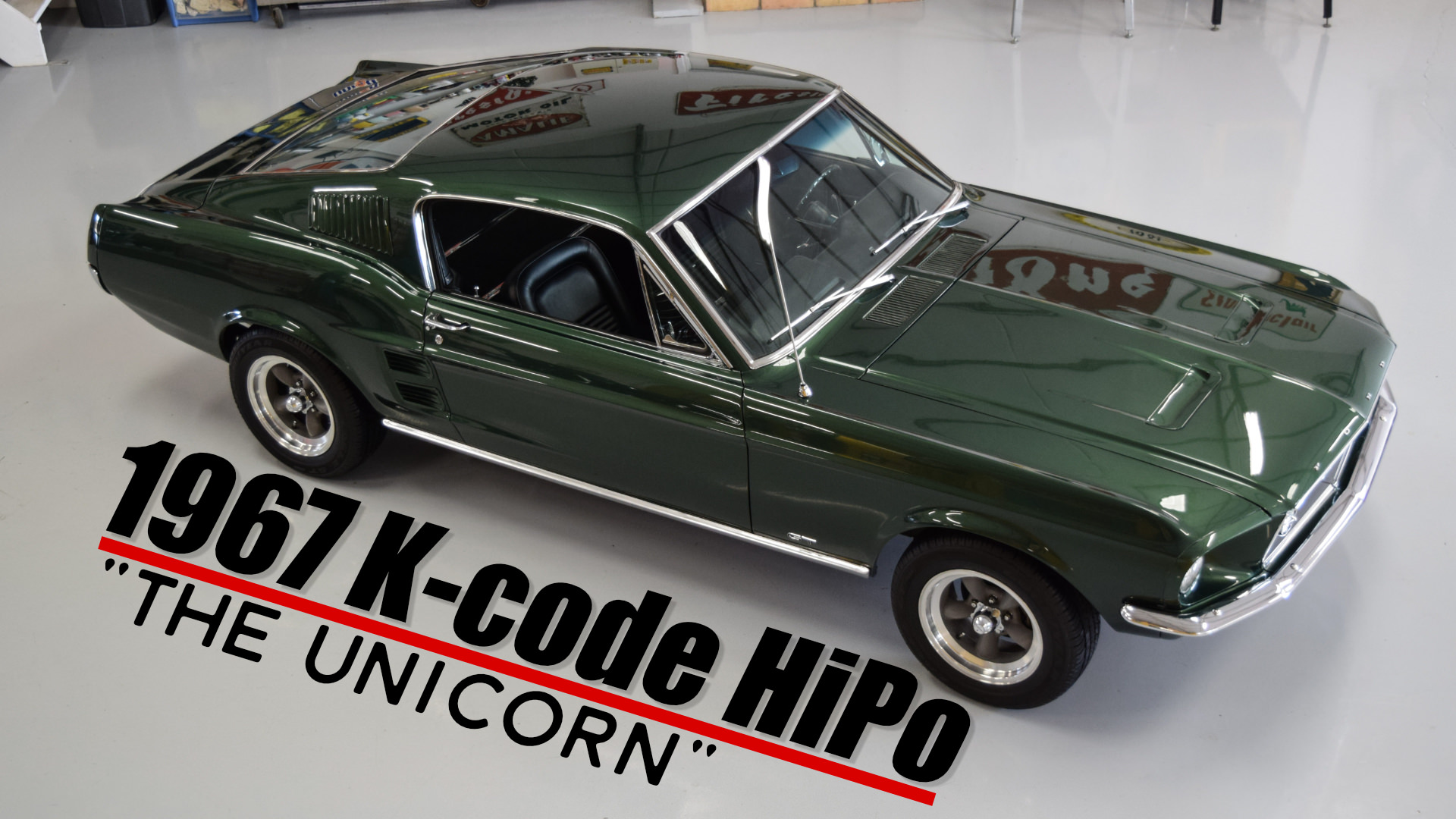 1967 Mustang K-code Fastback
1967 Mustang K-code Fastback
SOLD
The Unicorn of Mustangs
Of the millions of Mustang enthusiast world wide, very few have ever actually seen a 1967 non-Shelby HiPo in person.
Most of the 1967 K-code HiPo production went to Carroll Shelby for his 1967 Shelby GT350 conversions. The 67 HiPo is much rarer in the non-Shelby configuration you see here.
Simply put the 1967 K-code is the rarest of the rare K-codes. While 1965 and 1966 saw a total of 12,742 "K-codes" produced, 1967 represented the last year for the vaulted HiPo with a mere 489 built in a combination of coupes, convertibles & fastbacks.
Almost impossible to find, the 1967 K-code is the Unicorn of Mustangs.
HOW RARE is this one ?
In 1967 Ford built 472,209 Mustangs. Of that staggering amount, only 319 were non-Shelby K-code fastbacks like this one, and only 205 of those were "4-speed" cars and ONLY TWO of those had the ultra rare Competition Suspension and got painted Dark Moss Green.
This one is further documented to be one-of-one when the heavy duty battery option is factored in.
Special ordered to be Race Ready
The COMPETITION SUSPENSION option was more expensive than the Hi-Po option AND more expensive than the GT option – likely one of the reasons it was so rare. Only 195 non-Shelby Mustangs came factory equipped with this rarest of all 1967 performance options.
This was a race ready suspension that included 170mph rated tires mounted on 15 inch steel wheels with Galaxy style hubcaps, heavier duty springs, adjustable shocks and a larger front sway bar (not to be confused with the much more common option called "heavy duty suspension" that came with 14 inch wheels).
Competition Suspension really stiffens up the ride and when coupled with the high winding 289 Hi-Po package and top loader 4-speed you had what was FORD's formula for an off-the-shelf factory built racecar. YEP, this is not only an ultra rare and significant Mustang, it's a blast to drive as well.
Pure "eye candy"
This is truly a visually stunning American treasure.
A concurs level restoration was done sometime in the past on this car resulting in a show quality finish top to bottom. There is no evidence of wear on this restoration, it looks as if it could have been completed last week. The paint, interior, engine bay and undercarriage are all stunning. A restoration at this level could easily run between $70,000 to $100,000 and the work could take anywhere from a year to two years to complete. The risk money and time involved are all a moot point – this jewel is done and ready for immediate on demand driving enjoyment and car shows at the highest level.
Originality & Condition
Documented as an authentic K-code HiPo by Kevin Marty.
"The Marty Report" defines line item by line item the exact build ingredients that went into this HiPo fastback when built on 3-30-67 before being shipped to Handley Ford in Washington DC.
The major mechanical components appear to be correct including the HiPo engine block which has the correct casting ( # C5AE-6015E / date 6M8) and believed to be original to the car. While the casting is K-code correct, the block does not have a vin stamped on it where some of these would – HOWEVER, it is well documented that not all of them do. This fact is documented by the two most respected and authoritative sources on HiPo Mustangs. This includes Tony Gregory's book "The 289 High Performance Mustang", 4th addition page 6 (see photo above) ….and, this same situation is further documented in the Shelby Registrar with the 1967 Shelby GT 350's which NOT ALL of them had the engine block stamped with a vin #. Generally vin stamped engines were far more consistent with the 1965 and 1966 K-code cars.
Has "Day Two" Shelby performance updates
Currently installed is the type of carburetor AND intake used by Carroll Shelby on his 1967 GT350 conversions. The better performing LeMans style 715 CFM Holley carburetor (List 3259-1) had a superior float bowl design to the HiPo carb. Shelby deemed the HiPo carb as unacceptable for road racing where gas level in the carb was critical in maintaining acceleration through the turns so he replaced them with Lemans style carbs.
Along with the Shelby carb, the Shelby high rise aluminum intake was installed further adding to the race DNA of this HiPo and making it a fierce competitor back in the day.
Performance
The performance is BEYOND stock K-code level and easily at the Shelby level. Unfortunately I do not have the details on any internals but I can tell you as a prior and current owner of K-code Mustangs, this one have been given the "secret sauce" that takes it up a notch.
Test Drive VIDEO
Please take time to watch the TEST DRIVE VIDEO above.
This is a truly legendary engine that even after 52 years of advancement it still provides a thrill that I can only describe as pure vintage mechanical bliss. Unlike the high tech harnessed power of todays' performance cars this thing has a very raw almost primitive visceral experience that really draws you in. Not especially fast by modern standards but back it the day it was considered a giant killer.
From the second the solid lifter HiPo engine ignites you car tell this thing wants to run. There is an unmistakable sound from a fresh Hi-Po engine with a tuned performance exhaust. The "exhaust note" at idle, or under load is pure motor head music ….. you can hear it growl in the test-drive-video.
No bad habits
For all its racing pedigree it has a surprising LACK of bad habits. It starts easily, idles beautifully, does not run hot and does not object to pump gas. Fortunately this K was ordered with the 3:50 rear gear, which makes it more driver friendly than the more aggressive gearing options. I found the shifts to be nice and tight the clutch performed flawlessly and the brakes stopped with confidence.
History of K220244
K220244 has long been held in private hands and was last sold by Stephen Becker, a nationally known and leading collector and broker of vintage Shelby Cobras and Shelby Mustangs (owner of Stephen Becker Automotive Group). Mr. Becker is considered one of the most prolific and often quoted experts on genuine Shelby's and has been hired by leading companies and renowned collectors around the world to help with purchasing, appraising and authenticating these rare Ford performance cars. Mr. Becker sold this car to a private collector in Washington before it came to me in Texas.
Condition
 Body ….
In the world of 52 year old Mustang bodies, this is a FREAK !
From the best I can tell, it appears to have its factory original metal including its original floors and original rear quarter panels with the only exception I found being the lowest part of the left rear quarter and the area next to the battery – common issues even in the best of Mustangs. The front end and the rear end show no evidence of ever having been hit. The correct factory wields remain in-tact at the radiator core support and the trunk rear panel.
Finding ANY 50 plus year old Mustang with a body this nice is rare, finding it in an ultra rare "race configuration" Hi-Po has to be what dreams are made of.
Interior ……
The interior is simply stunning. It is in show quality condition from the headliner to the carpet. The deluxe brushed aluminum interior accents unique to 1967 were added along with the console for that extra visual sizzle. The original Ford made camera case dash components are boxed up and come with the car as well as a set of the 15" HiPo style Galaxie hubcaps. .
Mechanical ……
With the 50 year old technology of the day, it seems to be is as perfect as man can make it. It is the easiest car to start in my building and it has yet to exhibit any issues during my test drives.
Sell Us Your Car!
We're always looking for high quality classic cars to buy.
Get our inventory update email!
If you're looking for a classic car and you're as particular as we are, it's our hope that we can be of some help in your search for a high quality KEEPER.