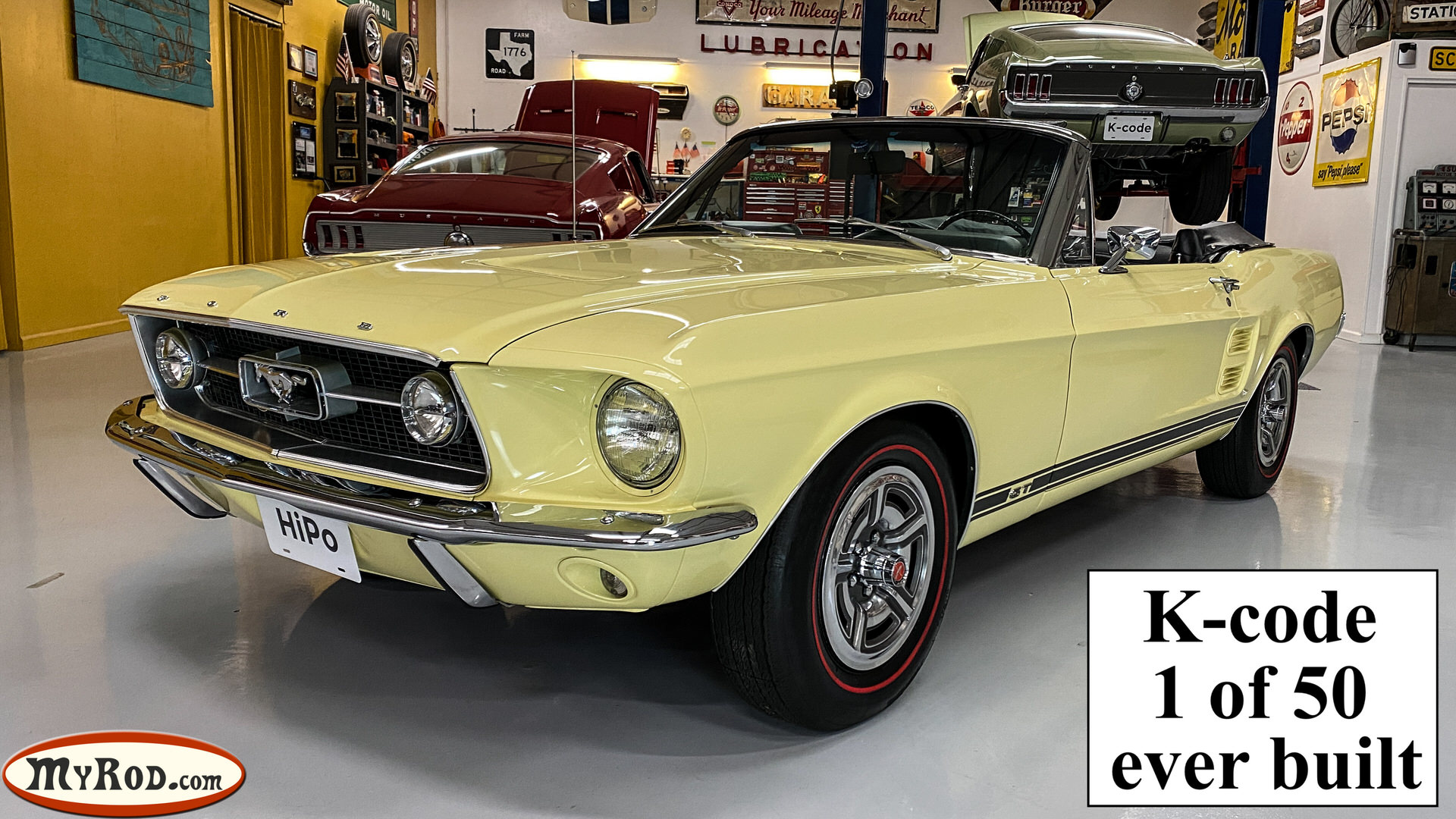 1967 Mustang K-code HiPo Convertible
1967 Mustang K-code HiPo Convertible
SOLD
You are looking at what is unquestionably one of the RAREST vintage Mustangs ever built.
In terms of rare options that "really matter" it is likely the one of the RAREST 1967's in existence today and in the eyes of many one of the most desirable

HOW RARE?
Well out of 472,209 Mustangs built in 1967 only 50 K-code HiPo CONVERTIBLES were built. 1967 K-codes are GHOST and this is especially true of the convertible.
Of this ultra-rare group of 50 only 21 were also ordered with rarest and most expensive Mustang option you could order in 1967, that being the "Special Competition Suspension".  This suspension is effectively the same used on the 1967 Shelbys.
 Factor in the "4-speed" to the HiPo convertible mix and ONLY xx of those were built.
Add to the above performance options an "over counter" Paxton Supercharger purchased by the same guy who Special Ordered this jewel new and you have the Crème de la crème ….the ultimate Hall of Famer ….. the working mans "Super Car" of the day.
"Out-of-the-Box" factory Street Racer
When you add the Special Competition Suspension to the special HiPo drivetrain equipped with a Top Loader 4-Speed you have Fords "out-of-the-box" street race car.
The thing is, Shelby did NOT offer a convertible in 1967 so this jewel had to be "special ordered" by a very knowledgeable performance enthusiast who knew all of Fords secret sauce ingredients to then combine with over the counter Paxton Supercharger to get this ultimate sleeper …… can you imagine the fun this guy had when he pulled up to the red light with this innocent looking "hub-capped" Yellow convertible.
WHY were so few Hi-Po convertibles built?
There are likely several reasons why so very few of these were built. Likely at the top of the list is cost. It's important to know that unlike previous years, in 1967 if you ordered a K-code (HiPo) you were forced to pay for the GT option upgrade as well. Yep, the GT option was mandatory in 1967 on every K-code HiPo built. Add to this the single most expensive option offered in 1967, the Competition Suspension and you were well on your way to running the price up to significantly beyond that of a base model Mustang. And then of course there is the additional expense of the supercharger.
As optioned, this was an very expensive Mustang in 1967. Only a very particular type of buyer would possess both the performance component knowledge and the actual funds to special order such a gem.
Ownership history / only 3 from new
From new this car has had a mere 3 owners, all of them are identified. Names of ALL three owners will be made available to the buyer along with the phone number of the last owner who oversaw the restoration of the car during his ownership. He himself is also a MCA Gold Card Judge.
Awarded the prestigious MCA GOLD award
This car is jewelry. It is as perfect as man can make it …. which of course means it is likely not perfect but man-o-man is it close.  Work was preformed by skilled craftsmen including a well known concours Mustang restoration specialist with many national award winning restorations in the MCA and AACA. This was a Michigan car requiring substantial metal replacement. Any and all existing rust was removed resulting in a laser straight rot free high integrity body.
In 2018 it was awarded the prestigious MCA GOLD award at a national MCA event.
In 2015 it was awarded the coveted AACA National First prize.
The mechanicals are excellent on this car (please watch the Test-Drive-Video). Everything works as it should. There is no notable evidence of use or wear either mechanically or cosmetically. Basically, it would be very much like going back in time and buying it off the show room floor.
BLUE CHIP investment (1 of 1 in things that really matter)
In terms of American iron, few marks strike a cord with buyers 'worldwide' as does the vintage Mustang. And in the world of vintage Mustangs, for many around the globe the vaulted K-code HiPo is considered the ultimate.
As originally optioned, this 1967 HiPo convertible is likely the rarest K-code HiPo ever built and unquestionably an unequaled 1 of 1 "in things that really matter". What really matters in an investment grade car is condition, originality, rarity, provenance, documentation, desirability and pure fun factor. This jewel has it all.
Simply put – a car like this has to exist before you can buy it.
Of the only 50 ever built I have never seen another one …. Although there are likely some in existence I am personally not aware of one example in this condition and if it did it exist it would almost certainty not be a documented 4-speed – Competition Suspension – Paxton Supercharger car.
In my 40 year focus on the collector car market I can tell you for a fact that this is truly a once in a lifetime opportunity to buy an American automotive treasure. Pay close attention investors, collectors, enthusiasts and FORD (as this thing is worthy of a museum for the world to see).
Provenance / The "Jackpot"
In addition to the national level awards mentioned above, the provenance includes irrefutable original dealer documentation, living history and names of former owners, Marti Report, letter of "vin identification and confirmation" from Ford Motor Company, letters and various original documents from Paxton Supercharger Products to the original owner along with some photos of the restoration process. ALL are included in plastic sleeved pages in a "documentation binder" (the kind of stuff investors and collectors dream of)!
Sell Us Your Car!
We're always looking for high quality classic cars to buy.
Get our inventory update email!
If you're looking for a classic car and you're as particular as we are, it's our hope that we can be of some help in your search for a high quality KEEPER.