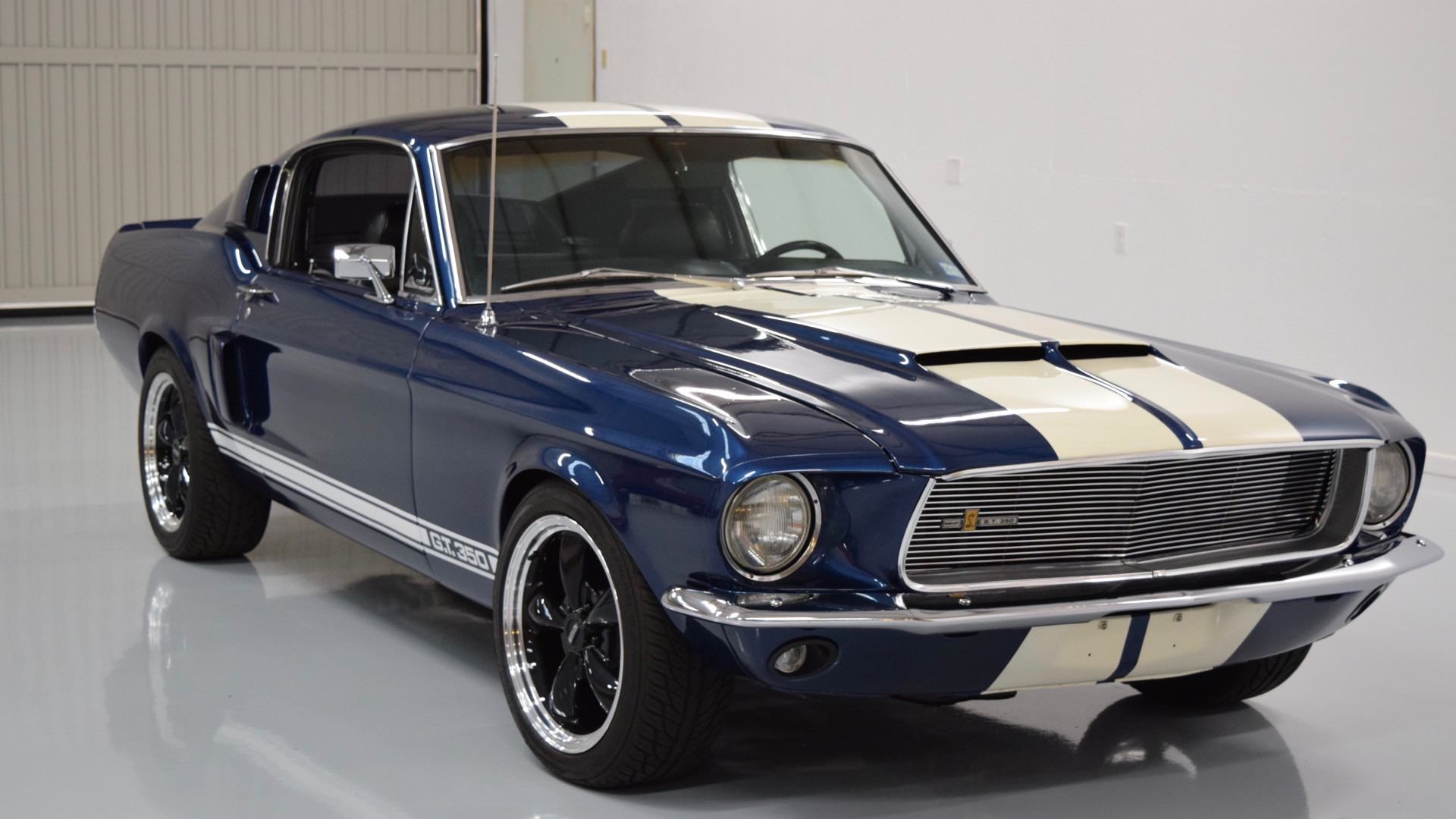 1967 Mustang Restomod Fastback
1967 Mustang Restomod Fastback
A true drivers car with the right amount of "vintage authenticity" blended with the right amount of modern upgrades. Built from a QUALITY original 1967 "A-code" fastback Mustang.
– Vintage correct 302 V8 / pro-built & balanced motor (1969 block).
– 5 Speed manual transmission (T-5, with correct application Hurst shift handle )
– 4-wheel DISC BRAKES (i.e. front & rear)
– Independent Rear Suspension with 3.27 gear !! (IRS is out of 2001 Ford Cobra Mustang)
– Coil Over Struts – Front & Rear (Ridetech Technologies in the front and QA1 in the rear, / both systems are adjustable)
– Rebuilt Front End along with REBUILT Power Steering system including steering box – (rebuilt by the best in the business, Chockostang)
– Rebuilt original factory Gauges / Tachometer (all gauges restored by Kens Mustang Cluster)
– 17" – Wheels by American Muscle mounted with rotational General G-Max tires (German made) – fronts are 225/45 ZR -17 and rears 245/45 ZR 17 with little to NO wear.
– Factory Console
– Show quality INTERIOR with deluxe brushed aluminum
– Shelby body accents with superior fit and finish. Hood and deck lid are the premium ones with metal underbracing
– LED rear Tail Lights (…. brighter, thus safer)
– Long tube hedders with Magnaflow mufflers and professional installed pipes exiting thru GT rear panel cut outs – LOOKS FANTASTIC and sounds great.

NOTE: Factory Air car – now updated
This car came from the factory with Air Conditioning. However, we updated the original AC & heat system with modern components form Classic Auto Air's "perfect fit system" while retaining the beautiful factory chrome AC controls and factory chrome Air Vents that are unique to the 1967 factory air cars. You can drive this car YEAR ROUND in comfort.

PERFORMANCE / a true DRIVERS car
It goes without saying that the 5-speed transmission, 4-wheel Disc brakes and updated Suspension ADD substantially to the real world drivability and enjoyment of this iconic 1967 fastback.

Refined suspension
The suspension modifications of Ride Technologies front Coil Over Springs and the Mustang COBRA Independent Rear Suspension bring a refinement that is not possible with the original 50-year-old technology. In addition to the upgraded suspension, the front end has been rebuilt along with original Steering Box and Power Assist Actuator, which were sent to CHOCKOSTANG for a complete rebuild.

Paint & body
The color is beautiful and I would say close to the original Nightmist Blue offered by Ford in 1967 but with a little more flake. The Body is very straight and the Shelby body components were expertly applied with a superior fit and finish to most. The fiberglass hood and deck lid are the good ones with metal reinforcement on the back side.
Unlike the vast majority of Resto-mod fastbacks, this resto-mod started out as a "quality body" original car BEFORE any modifications were done. In my examination of the body I noted a very straight and solid car that appears to be ALL original Ford metal with the exception of expertly replaced rear quarter panels. Even the FLOOR pans appear to be original which is most impressive for a 50 year old Mustang. This car has clearly been well cared for.
Sell Us Your Car!
We're always looking for high quality classic cars to buy.
Get our inventory update email!
If you're looking for a classic car and you're as particular as we are, it's our hope that we can be of some help in your search for a high quality KEEPER.