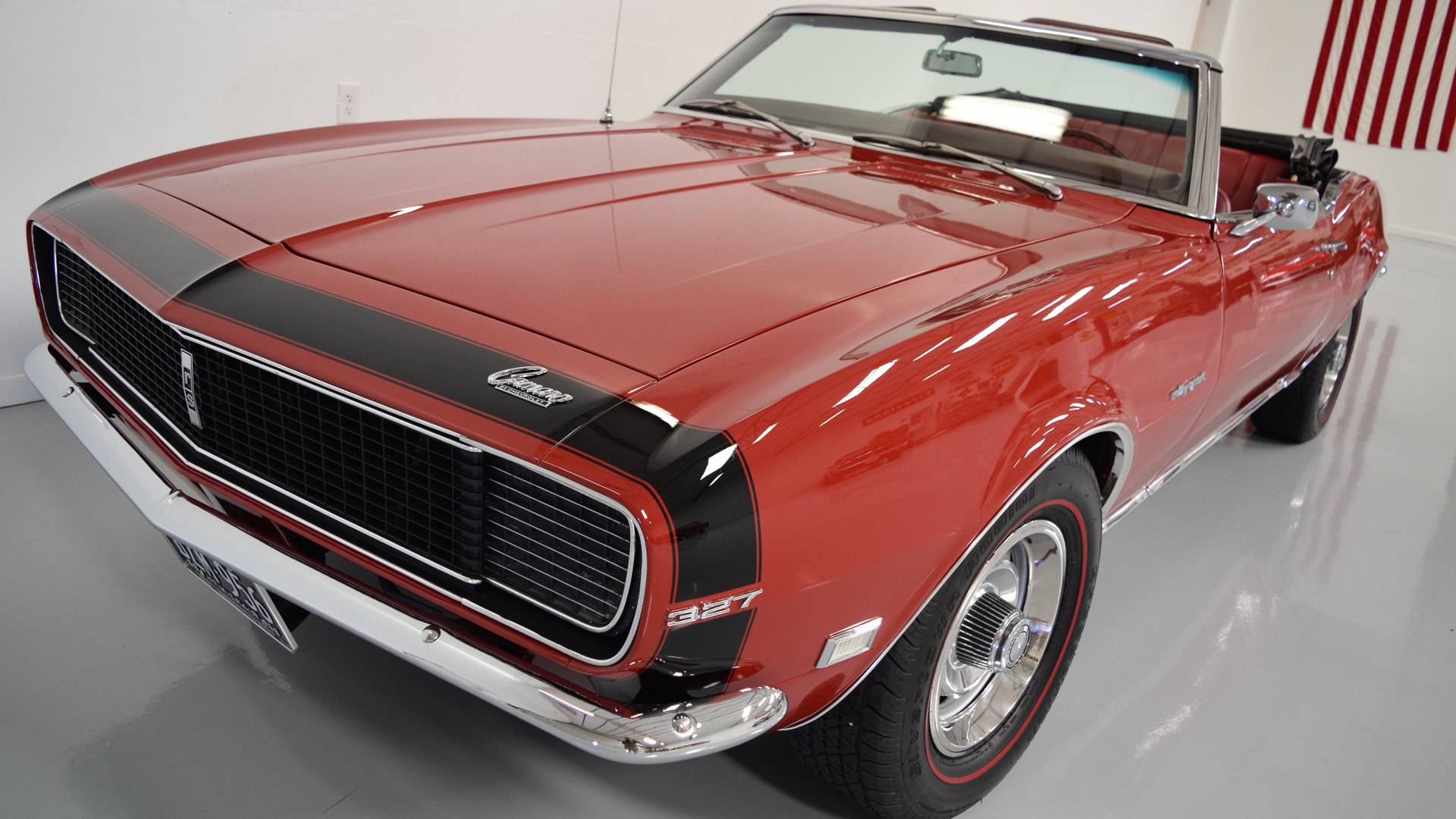 1968 Camaro RS Convertible
1968 Camaro Rally Sport Convertible
This is "the ONE"
– Original ….. (substantially unaltered from factory build)
– Numbers Matching.. (motor, tranny, & Trim Tag)
– Fully Documented … (3 build sheets, Protect-O-Plate)
– Low Mileage …. 80k miles since new, with approx.. 3000 since complete rebuilt
– Few Owners since new
 – FRAME OFF …. combo of original & restored
– LOADED with "deluxe" Luxury Options
– it's the highly sought after RALLY SPORT Convertible
– in Excellent "eye popping" condition
If nothing short of a super desirable "ORIGINAL factory example" will do, them this may well be the 1st Gen Camaro you have been long waiting for. It is special in every way that really counts – the type of car that rarely comes up for sale.
SPECIAL in every way that "counts"
Seasoned collectors and investors know that there is a huge difference between a car of this pedigree and the typical 50 year old Camaro.
This 1968 Camaro RS is the "safe-money" investment grade car that not only continues to appreciate, but it trills you visually every time you walk into your garage and only gets better when you get behind the wheel. It's that perfect combination of being modern enough for comfortable, reliable long distance drives and stunning enough for any show (sure to turn the heads all that see it).
Provenance Documentation ALBUM
Comes with a Provenance Documentation Album that includes:
– Title with Original Owners name listed
– Body Broadcast Sheet #1
– Body Broadcast Sheet #2
– Chassis Broadcast Sheet #3
– Protect-O-Plate, still in its original factory booklet
– original Owners Manual
– original Top Operation Manual
– a DVD & CD of the all the photos in this presentation, the detailed write up as well as the Video all further "documenting the cars provenance".
INVESTMENT Grade "RS" Convertible
Documented / Numbers Matching / Desirable Options
For those who seek an original Camaro with DOCUMENTATION and all NUMBERS MATCHING the search can be exhausting. Simply put, after 50 years, finding a 1st Gen Camaro with a numbers matching driveline AND factory documentation is a long shot…..
…..now, ADD to that the additional requirements of a desirable "HIGH OPTION" example in excellent condition and eye-popping good looks and you have the darn-near-impossible to find rare treasure….. the tri-fecta – the triple crown winner. I know because I have been searching for exactly these type cars for 40 years.
This is THE ONE most purist only dream of finding.
Options, Options & more Options
* Rally Sport PACKAGE ( Hideaway Headlights, etc)
* Convertible
* 327 / 275hp 4bbl engine (correct EE engine suffix code)
* Automatic tranny
* Floor Console / Floor Shift
* Power Steering
* Power Brakes
* TILT Steering
* Tic-Tac-Toc (factory Tachometer)
* Stacked Console GAUGES
* Deluxe Interior
* Deluxe Steering Wheel
* Deluxe Seat Belts
* Deluxe Exterior Trim Package
* Rally Wheels
* Bumble Bee accent STRIPE
* Spoiler
* Rear Bumper Guards
* Am Radio
* Remote Mirror
Great History & Great Condition
When I purchased this '68 RS Camaro three years ago, only 79,650 miles had been put on it in 48 years. Almost all of these miles were out on it by one man – that man was the original owner Carlton D. Myers of Monroeville OH. Mr. Myers name is on the TITLE as well as the PRO-TECT-O Plate.
In late 1967 Mr. Myers special ordered this "Matador Red" Rally Sport convertible from DORR Chevrolet and took delivery on 11-18-67. For the next 48 years, this car remained in Mr. Myers HOME TOWN until approximately 3 years ago when I purchased it.
When I found out about this car (a few years back) I flew up and purchased it from the Camaro collector who lived in the same town as the original owner had lived. Incredibly, this car lived its entire life of 48 years in one place – the small town of Monroeville OH. It was fussed over and cared for by its original owner for most of its life until Mr. Myers passing at which time it was purchased by the neighbor/collector.
This man knew where all the good local cars where by virtue of the fact he owned the Snap On Tool franchise in that area. Over the years he amassed a nice collection of desirable Camaros and a few Firebirds and stored them in a large metal building. Once in his hands, all of these cars were treated to a quality professional "freshen up" whether they needed it or not. Many of them were low mileage cars like this one but were still treated to sympathetic restorations. They got their drivelines rebuilt and fresh show quality paint. Consequently this beautiful Camaro has a far BETTER than factory paint job and a motor with less than 4,000 miles on the rebuild. And, as far as I can tell any and everything that may have needed attention got it as this car needs nothing that I can find to be enjoyed immediately. Everything works including the original radio and the hide-away headlights.
Paint
Show quality finish on a laser straight body with better than typical fitting panels. The entire presentation is much nicer than factory finish. No wear on the paint – no dings, no scratches and no chips that I can find. The paint is a base coat clear coat in the factory code correct color of Matador Red with the proper black bumble bee stripe and the satin black lower body section separated by the deluxe trim.
Bright Work (chrome & Stainless)
All of the bright work has been professional polished or re-chromed as the case may be. It is all show quality and very complementary of the beautiful Matador Red paint.
MINT "original" Interior
Most of the interior including the seat covers is the original "factory installed" material and as such would be considered Mint Survivor quality – very impressive indeed, especially for a 50 year old convertible. The only interior items replaced where the carpet and the front door panels.
The dash pad is also original and excellent. All the dash instruments and components appear to be original and present very well. Even the interior "dash paint" is original and very nice with only the glove box paint suffering a little scuffing patina. Inside the glove box and inside the console you will find the original factory finishes in mint condition. The original deluxe steering wheel and console are typically the high wear areas yet they remain extremely nice for original. Even the window roller knobs are the original "color coded" factory RED ones and not the reproduction clear ones found in most cars. The interior courtesy lighting works as does all the lighting on the car.
Undercarriage
As good as when it left the factory. The floors appear to be 100% original and super clean. Only the trunk plan was replaced and it was done professionally and thus virtually undetectable.
FLOORS
It had the original 49-year-old carpet, which looked good, but due to a "come & go" odor, I elected to replace it. While I had the carpet out I removed the original underlayment and got to see the TOPSIDE of the bare floors ….. simply amazing condition, the best you could hope for with original red-oxide paint still visible and no scary rot out noted (I took PICTURES of the bare floors and they come with the DOCUMENTATION ALBUM that comes with this car). Before replacing the carpet I installed the highest quality sound deadening insulation to give a quite ride.
Glass
Windshield is new and crystal clear. The side glass is mint original with the "ASTRO Ventilation" etching in windows
Engine Bay
Very correct factory appearance. Not over restored.
Trunk
Correctly refinished and very nice with correct splatter paint, correct mat and tire cover.
Top
New with new pads and new well liner and new clear back plastic window. includes NEW red boot to cover for the convertible top when down.
Tires & Wheels
The car has been upgraded to 15" Rally wheels for a better ride over the 14" wheels. The BFG TA radial tires are close to new with approximately 3,000 miles.
Mechanical
All the mechanical components have been freshened up and are in excellent condition. Everything works – this is a "get in and go car that needs NOTHING. The car has smooth on demand power from its 327/275 4bbl engine, which is the sought after "optional" higher horsepower unit. The car currently has a purpose built Turbo 350 to "amp up" the performance BUT comes with the original VIN numbers matching tranny.
The original tranny, just like the motor, is the original VIN #'s matching unit. It is a 2–speed powerglide that works perfectly. However the original powerglides impeded the "potential" performance of the high winding 327 thus it was UPDATED to the Turbo 350.
Driving Experience / some nice "TWEAKS"
Expect the experience to be much like going back in time and driving the car right off the "showroom" floor – with some modern improvements (tweaks) for enhanced performance and a more refined ride. For the most part all the tweaks are invisible to the eye preserving the car in a very stock appearance to all but the most trained eye.
updated Steering Box to the later model Quick Ratio for better steering
updated the 14" wheels to 15" wheels for better ride
updated the 2-speed powerglide tranny to a purpose built 3-speed Turbo 350 (specs ava.) along with updating the "shifter selector indicator" to reflect the 3 speeds
rebuilt the "original" radio to be updated for iPod compatibility and FM stations
updated the single leaf rear springs to a Multi leafs and installed new Front Springs
updated front Sway Bar to wider 1 & 1/18 inch
updated center convertible floor brace with Hotchkis X brace to add rigidity to body
upgraded exhaust to 2.25 with true duals
With optional Power Steering and Power Brakes, this 1968 Rally Sport Camaro a great boulevard cruiser that can provide hours of enjoyment with no urge to return it to your garage. It truly a pleasure to drive and with the top down it gets more respect than most $200k super cars.
Sell Us Your Car!
We're always looking for high quality classic cars to buy.
Get our inventory update email!
If you're looking for a classic car and you're as particular as we are, it's our hope that we can be of some help in your search for a high quality KEEPER.