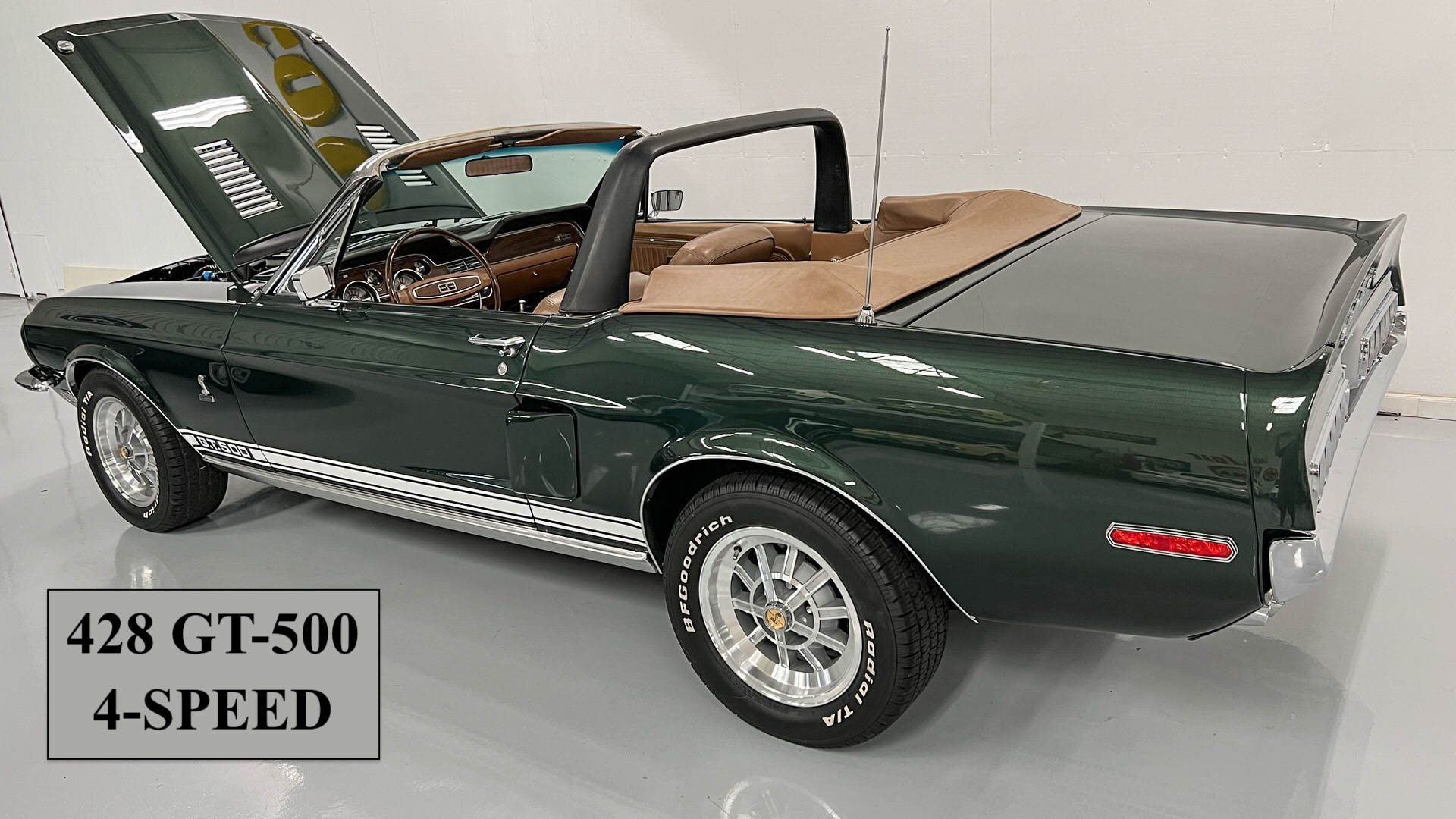 1968 GT 500 Shelby Convertible
Real Deal GT-500 4-Speed convertible
documented the Shelby American World Registry (pg 967)
documented with deluxe/framed Marti Report
documented with a copy of the BUILD SHEET
Rare factory 4-speed
Highly sought after factory 'color combination'
Some upgrades including Air Conditioning, Dual carb set up and rear Disc Brakes
Bare metal rotisserie restoration
By a top shop to MCA Gold standards. This was NOT a budget restricted restoration. Untold man hours were invested with the goal of bringing this car to top form. The final fit and finish are unquestionably better than when new.
Body
This is likely one of the finest ORIGINAL 1968 Shelby bodies out there. My son and I call Mustangs with this kind of body integrity "freaks" as it is freakishly rare to find a 55 year Mustang with original metal this nice. The only metal replacement on the car was the NOS dr-side front fender that still has the Ford part number showing underneath. Even the floors are 100% original metal. When refinishing the floors great care was taken to PRESERVE the original tell-tell 'primer drips' we purist love to find.
Drivetrain
The original 428 engine was replaced with a period-correct 428 Cobra Jet topped off with a dual 4-bbl set up. WOW …. you immediately feel the extra power from this hall-of-fame powerplant and the sound when both barrels are open is 'simply intoxicating'. To be clear, this is not the standard 428 Police Interceptor that came in the car but the much more desirable higher horsepower 428CJ unit like that came in the GT-500KR.
Interior
I am told much of the interior is original and as such is very well preserved with a light patina. the top and carpet are new.
Test-Drive-Video
Please take time to watch the test-drive-video …. it's a blast to drive. It has two personalities, one being a mild mannered cruiser and the other being an all out street brawler – you get to decide. To WATCH the Test-Drive-Video CLICK the above photo with the RED arrow in the center.
Sell Us Your Car!
We're always looking for high quality classic cars to buy.
Get our inventory update email!
If you're looking for a classic car and you're as particular as we are, it's our hope that we can be of some help in your search for a high quality KEEPER.