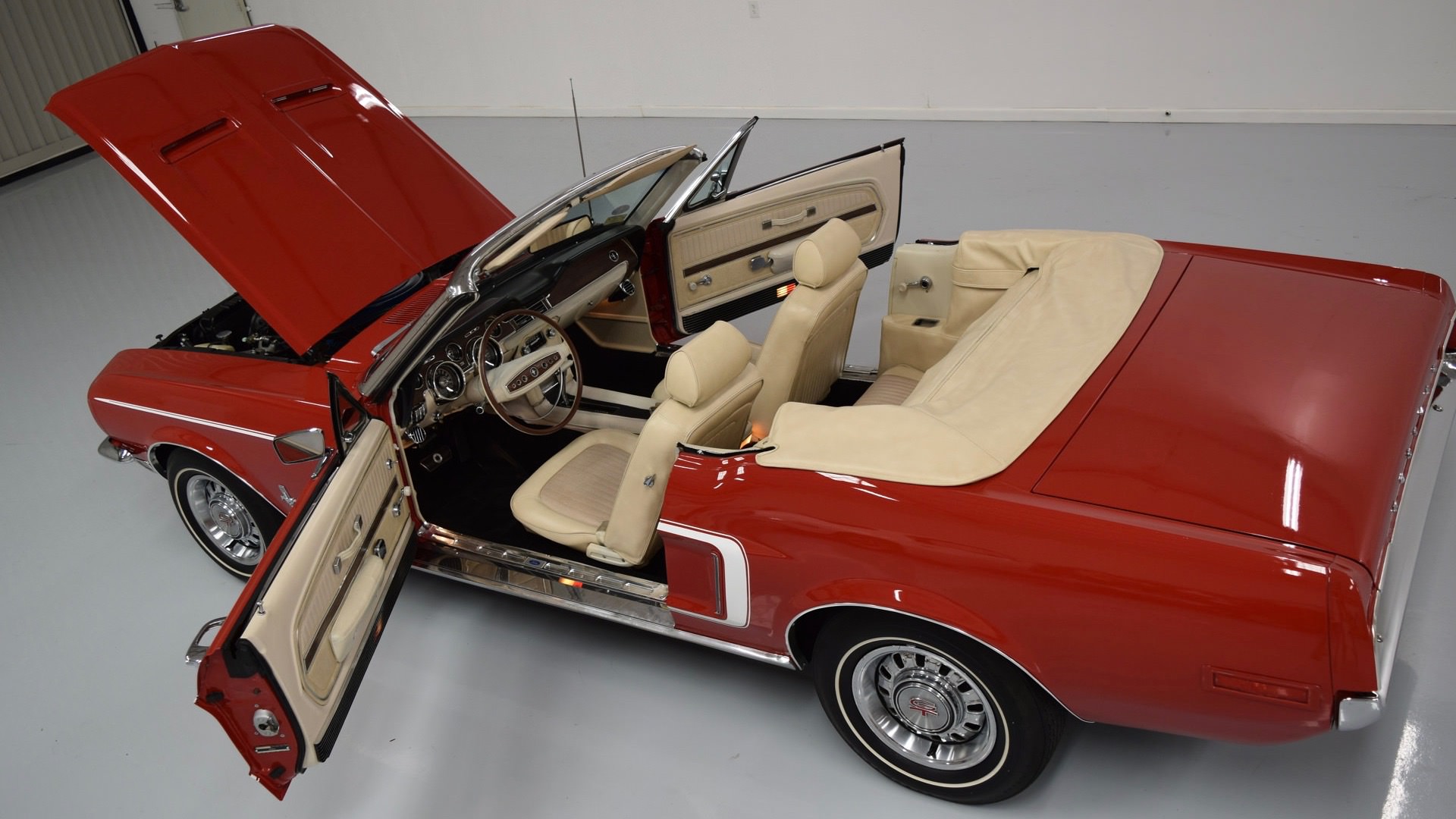 1968 High Option Mustang Convertible
1968 high option Mustang convertible
Sold
Mechanically EXCELLENT
The condition of this over 20 year old restoration is truly a testimony that it has been given the best of care by its prior owner of 37 years which also happens to be a "certified national level" Mustang Club of America "JUDGE" (….. I call him Preacher). Preacher is not only a fine gentleman of 90 years of age and a knowledgeable MCA Judge, he also once wrote a technical article for the magazine publication Mustang Monthly. The bottom line is, this car has been in very good hands for the past 37 years and it comes with a binder full of receipts documenting its care. In reviewing some of the receipts I found it interesting to note many parts used in the restoration where NOS Ford parts with Ford part numbers purchased from existing Ford dealerships back in the day.
Over time every mechanical component on this car has been rebuilt or replaced as needed. It remains to this day a no issues, get in and go car. It runs and drives great exhibiting no bad habits. Amazingly, EVERYTHING on this car still works and that is saying a lot with all the rare options including the insanely rare CRUISE CONTROL. Very rarely do you get a chance to buy a 50 year old Mustang so well equipped and so well sorted out. The only item that I noted as requiring any attention is the TILT AWAY steering wheel which works, but not automatically as designed (this is minor and effect nothing).
EVERY factory available option in 1968
Power Top
Power Steering
Power "DISC" Brakes
Air Conditioning
C-code 289V8
C4 Automatic
Console
Console "Convenience light indicators" (Low Fuel, Seat Belts, Door Ajar, Parking Brake)
Tachometer
Clock
Head Rest Seats
Deluxe Parchment interior
Deluxe wood grained steering wheel
AM/FM Radio with stereo speakers (doors & dash)
Tilt-a-Way Steering Wheel (like Thunderbird!)
Blinker Hood
Correct Style Steel Wheels
Correct factory type white line TIRES
Deluxe Wheel Well molding
Glass folding rear window in convertible top
Remote driver's door mirror
Matching Passenger side mirror
GT fog lights,   GT caps,   GT DUAL Exhaust Tips,   GT pop-open gas cap. The GT options, as well as some of the other options were added by Preacher as were the below ENHANCEMENTS
Petrinox Ignition
Sequential LED Tail lights
Clock converted to Quartz movement
ELECTRIC  DOOR WINDOWS!! – activated by original handle!
Parade Horn
HISTORY: owned for 37 years by former MCA Judge
This very special Mustang is well known in the San Antonio Texas area having been in the local Mustang Club and having been to countless local car shows and parades. I had the pleasure of purchasing it from its 90-year-old Texas owner and certified national level Mustang Club of America "JUDGE" who loving preserved and enhanced it over the last 37 years. It was restored over 20 years ago to be a reliable and comfortable on-demand driver, not a mega dollar trailer queen or a MCA judged vehicle. It has been maintained in full operational condition over the decades for parades, car shows and special drives with family and friends. Although it has won its share of trophies from local car shows the paint was done to the standards of the day and is now over 20 years of age and accordingly has flaws detectable under close examination, the most notable of which is a touched up rock chip on the hood. It is unquestionably prefect for a daily driver and local car shows. During Preachers long-term ownership he not only restored it, he continuously "improved it with upgrades" like Pertronix ignition, sequential LED blinker lights and really cool "electric windows" for the front passengers that operate from the original window cranks – check out the video. During the restoration Preacher changed the interior and exterior colors and added some GT design elements and other rare factory options making it a very impressive full option one-of-a-kind luxury example.
The body appears very solid with no evidence of rot or collision anywhere that I have found. All 6 of the original Ford body stamps remain in place (see photos above). According to Preacher it required very little metal work with only the lower rear quarter drops and lower floor pans requiring new metal. NOTE comment in photos concerning tires.
Sell Us Your Car!
We're always looking for high quality classic cars to buy.
Get our inventory update email!
If you're looking for a classic car and you're as particular as we are, it's our hope that we can be of some help in your search for a high quality KEEPER.