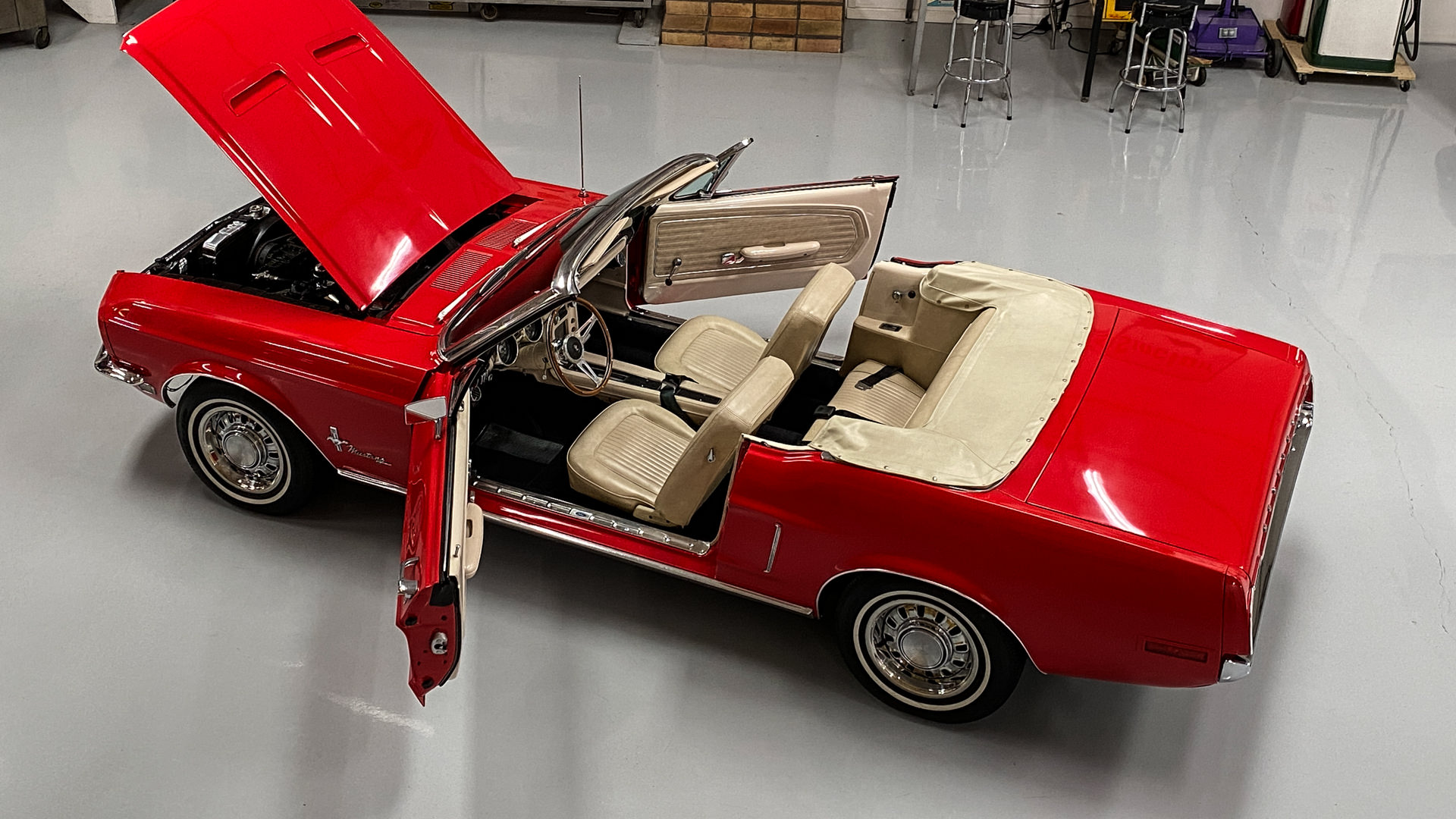 1968 Mustang Convertible
1968 Mustang Convertible – loaded with options!
SOLD
Professional "all apart", BARE metal repaint.
A  paint job like this would cost $30,000 if done today. The work included a complete disassembly of the car where every "body panel" and part was individually stripped, body worded, primed and painted. The car was properly blocked to be laser straight before applying color and the final coat of clear was properly buffed to a super slick high gloss. This is a very time-consuming process and consequently when done by professionals it is also very EXPENSIVE to do what was done to this car. Although restored approximately 15 years ago the paint and body remain in stunning condition with very little evidence of wear.
The owner who restored this Mustang convertible approximately 15 years ago left it to his daughter when he died. She rarely ever drove it. Other than approximately 200 miles of "road time" it has sat in her garage for 13 years until she finally decided to sell Dad's convertible. It is now undergoing a MAJOR "full exhaustive" service to make sure it is ready for reliable on demand enjoyment. Receipts documenting this work will go with the car.
Call me if you want to SECURE this car. We are still in the process of doing our "enhancements" which include completing the full Major Mechanical Service, AND we are doing a light modification of the interior by replacing the existing steering wheel, dash pad and carpet.
302 4bbl  (C-code updated to A-code performance)
C4 Automatic tranny
Power Steering
Power DISC brakes
Power Top
Air Conditioning (it works)
Console / with ultra rare light package
GT Fog Lights
GT rear Exhaust Panel
True Dual Exhaust (sounds fantastic)
Blinker Hood
Style Steel Wheels (deluxe chrome versions)
Sell Us Your Car!
We're always looking for high quality classic cars to buy.
Get our inventory update email!
If you're looking for a classic car and you're as particular as we are, it's our hope that we can be of some help in your search for a high quality KEEPER.