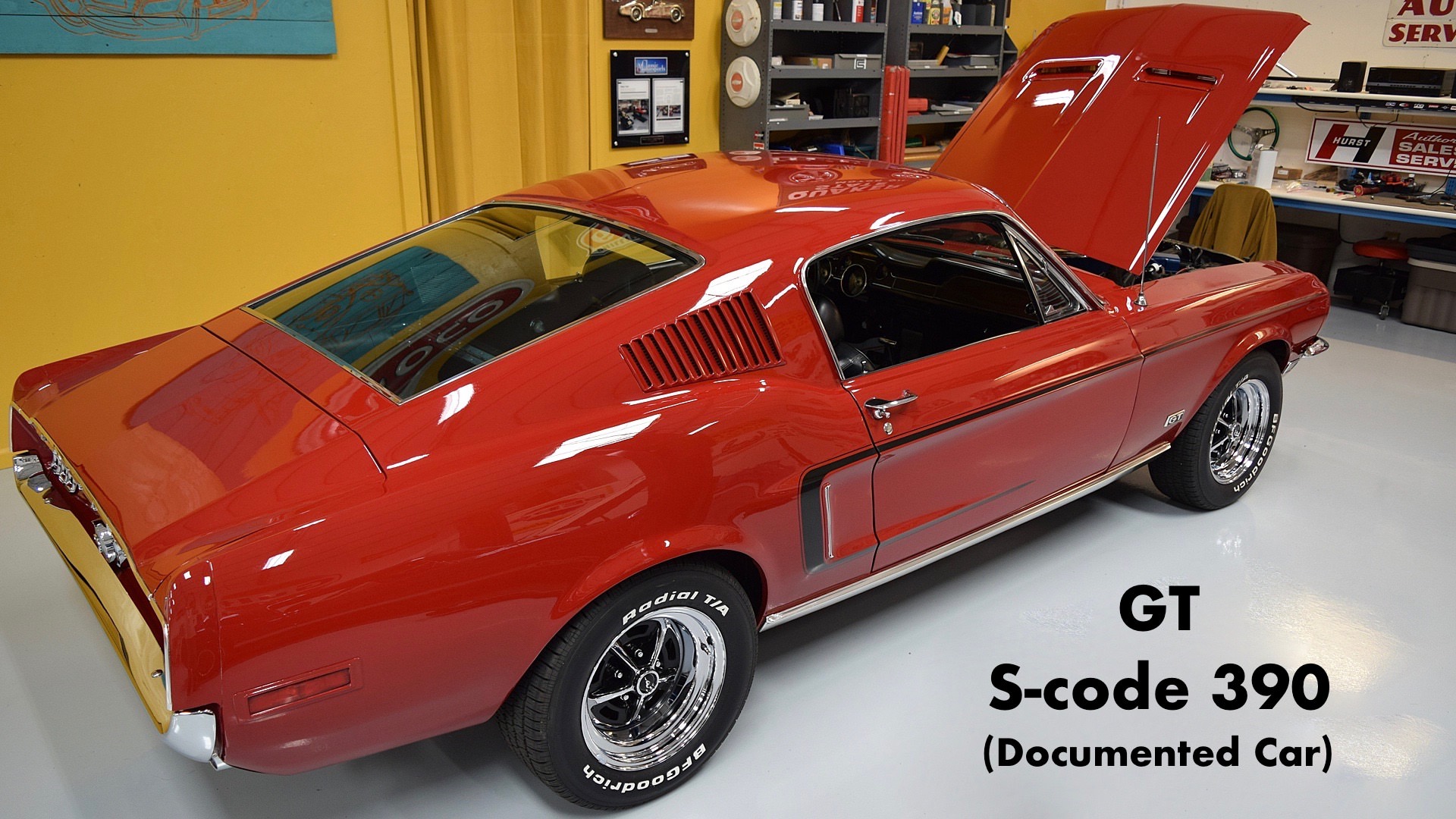 1968 Mustang Fastback GT 390 S-code – DOCUMENTED
SOLD
1968 Mustang Fastback GT S-code
This big block S-code Mustang "PULLS STRONG" ….. please watch the TEST DRIVE video !!
* 390/4bbl motor  / 9 inch rear axle 3:25 GEAR
* C6 automatic transmission
 * GT Performance Package
* Power Steering
* Power DISC Brakes
* Deluxe black interior
* Headrest Seats
* Floor Console
* Upper Console
* Fold-Down Rear Seat
* Shoulder Belts
* Magnum 500 Wheels / BF Goodrich radials
This car has a very nice "factory type appearance". It comes with a MARTI Report which documents it to be a true, real deal GT and a big block 390 S-code. It is a nice combination of original and restored. The older gentleman I purchased the car from purchased it some years back from a well-known dealer but did not get any history for me to pass on. It is obvious that restoration dollars were spent on it at some point and that it's been well cared for since as it still appears fresh.
It has no bad habits ….. it starts easily, runs GREAT, drives and steers nice. In terms of performance, it has the secret sauce!
Very Rare Interior appointments:
This car not only has the DELUXE interior with the deluxe wood grain accents, but ALSO has every other interior UPGRADE offered in 1968 ….. it's very rare to find one this well equipped! The condition of the interior is very nice. It has either been restored or is a combination of very good original and restored.
PAINT & Body
This rare fastback is not only a great driver but also nice enough to show and win trophies. The paint has a beautiful high gloss, deep wet look. It was obviously an expensive professional re-spray. The body was blocked out straight and the overall panel fit is at or better than typical 1967 factory Mustang specs. It came from the factory another color but was stripped and repainted in the factory 1967 Mustang color of "Candy Apple Red". I do not know how old the paint is, but with the exception of a few light scratches (two on hood and one on drivers quarter), it has very little to no evidence of usage or wear.
Potential changes & enhancements we can do to this car
Want to make some enhancements or changes to this car before we ship it to you?
My son and I offer certain enhancements that may be of interest to you. Below are the most common enhancements requested by our previous buyers.
For $3,500 …… we can do a professional installation of a modern version of factory style "in-dash" Air Conditioning and Heating using the perfect fit system from Classic Auto Air. This is a labor-intensive undertaking that requires a several week delay in delivery of the car.
For $650 ….. we can remove the interior and ADD premium quality sound deadener and insulation throughout the car, including the doors and the entire floor surface all the way through the trunk.
Different WHEELS and even different tires are also a potential change we can make.
NOTE …. prior to making ANY changes to the car, the INITIAL PURCHASE PRICE of the car must be paid in full along with a 50% deposit of the cost of the requested enhancement changes. The remaining cost of the enhancement changes are due as soon as we document to you via video that all the enhancements are complete. We will not ship the car or title until 100% of the funds have been collected.
Sell Us Your Car!
We're always looking for high quality classic cars to buy.
Get our inventory update email!
If you're looking for a classic car and you're as particular as we are, it's our hope that we can be of some help in your search for a high quality KEEPER.