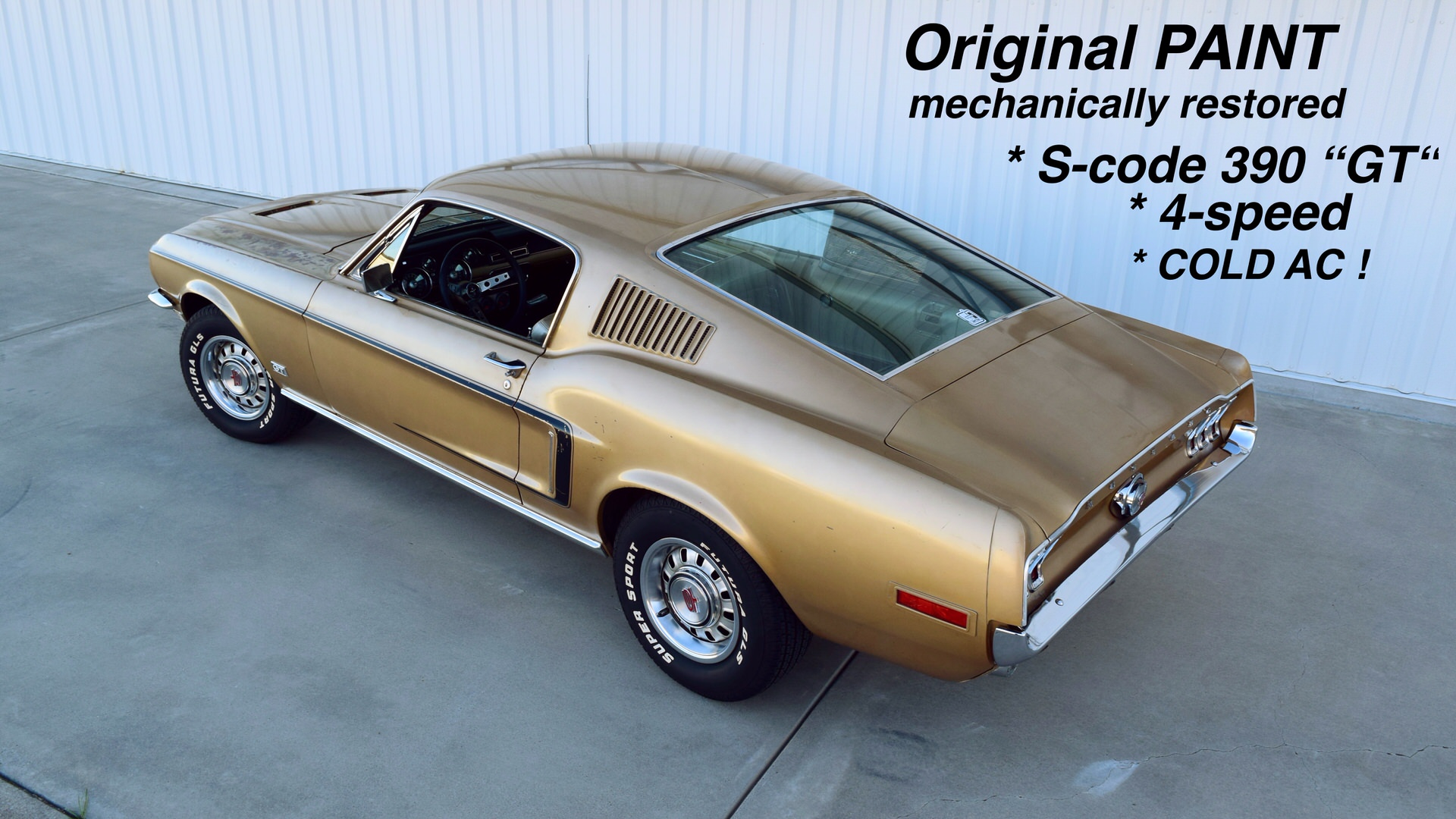 1968 Mustang Fastback GT S-code "Goldie"
1968 Mustang Fastback GT S-code "Goldie"
Documented real 1968 Mustang GT "S-code" 390.
This Mustang Fastback remains substantially as built by the factory with 100% of its original body and key mechanical components. Most of the paint is original, with some color dusted in on the front of the hood and trunk lid by a former preservation minded owner. It also looks as if some clear may have been applied to top surfaces at some point to further protect the fading paint.
– correct date coded 390 motor was rebuilt just prior to my friends purchase 3 years ago along with front suspension and new exhaust system. Eddie has driven it approx.. 5,000 miles over the last 3 years and enjoyed it thoroughly. Would not have come up for sale except to fund the house he is building.
– outstanding driveline from the Motor to the Rear End … a real performer that needs absolutely nothing …. Registered and licensed, it is a "get in and go car". No bad habits. Easy to start, idles beautifully runs extremely strong and does not run hot. Super tight body. Please take time to watch the TEST DRIVE VIDEO
– outstanding body, top to bottom with all its original panels (a true freak)
– spent most of its life in the dry Midland/Odessa TX area
– very original car with many of the factory chalk marks still visible on undercarriage components
– UPGRADED with modern Air Conditioning & Heat …. $3,000 upgrade (….year round drivability)
– The following ALL new in last 3 years
* new Rear Springs
* Transmission rebuilt
* new Clutch
* new U-Joints
* new Pinion Bearings
* Shifter updated to HURST, original shifter comes with the car
* new Brakes, master cly & correct rebuilt Power Booster
* Radiator new, original style
* new Fuel sending unit
* new Font & rear Bumpers
– In the last 3 years the Interior was replaced as needed and it looks very nice
Things that could be done to make it a "show driver";
repaint body (…..very little body work and what it has is very minor – painters dream & huge savings for you on cost). The front valance has some damage where it hit something low. I have a new front valance in the box that goes with the car.
detail engine bay
change out rear "exhaust tips" to correct splitters with rolled edges (I have already purchased and they come with the car)
re-detail the wheels / tires appear to have good life in them, only 3 yrs old
factory console "could be" reinstalled if desired (… it comes with the car)
Tach is disconnected due to conversion in ignition to Mallory
Sell Us Your Car!
We're always looking for high quality classic cars to buy.
Get our inventory update email!
If you're looking for a classic car and you're as particular as we are, it's our hope that we can be of some help in your search for a high quality KEEPER.