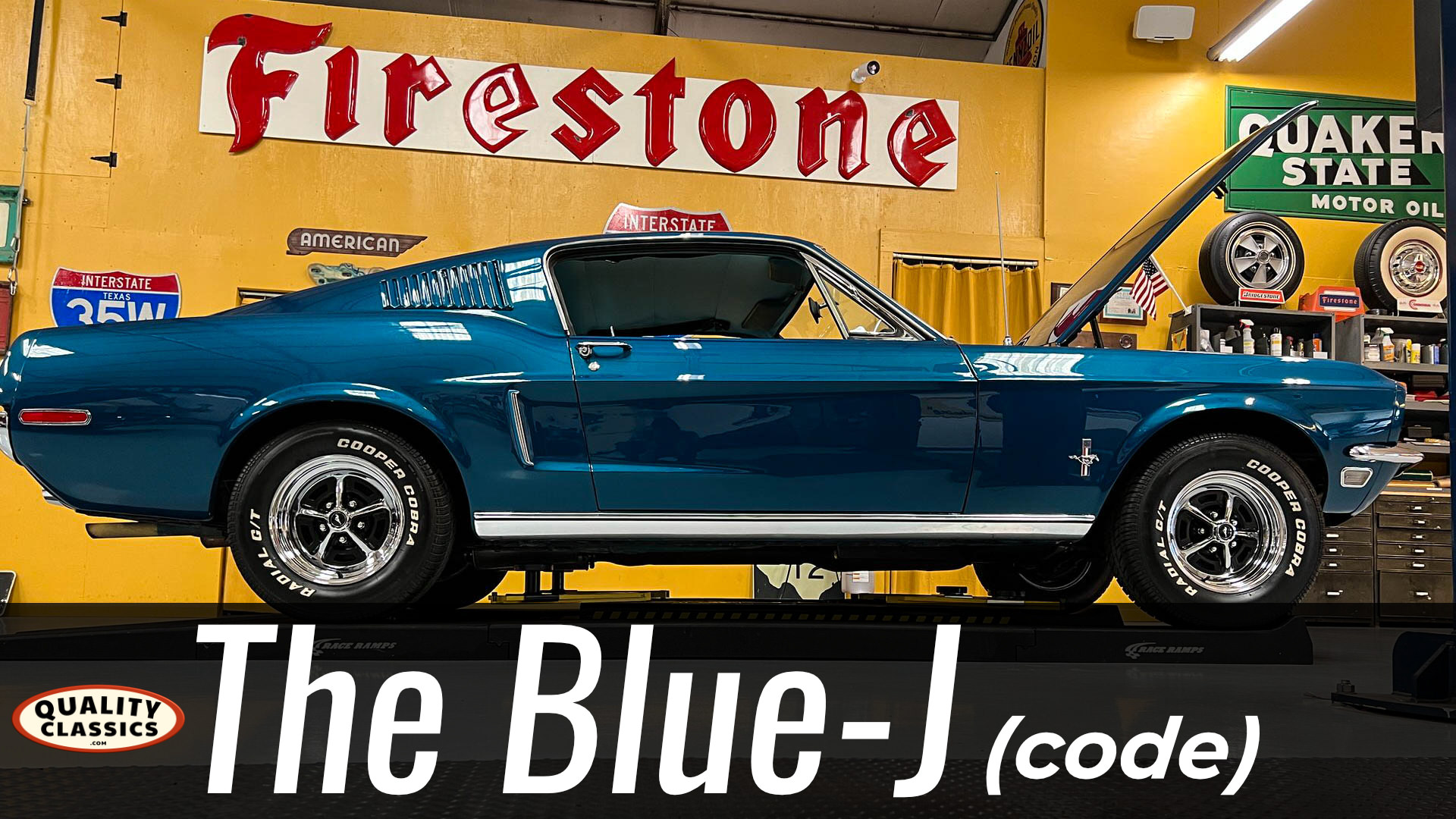 1968 Mustang J-code 4-Speed Fastback
Major sorting just completed
To take this already high integrity fastback to an even higher level we just invested a massive amount of our time, money and experience into making it safer, more reliable, more enjoyable, more impressive looking and of course MORE VALUABLE. Along the way we addressed any notable issue found as well as made various enhancements and upgrades. It is turn and key ready to enjoy.
Hard to find and very desirable J-code, 4-SPEED fastback with its original ENGINE, original BODY, original VIN stamped Inner Fender, and original Door TRIM TAG. The car remains substantially as factory built with the exceptions of the color change from Wimbledon White to Blue and the UPGRADES noted below.
Upgrades include
• Pertronix electronic ignition
• Electric Choke Carburetor
• Flaming River steering box
• real Wood Steering wheel (the original steering wheel also comes with the car)
• Magnum Wheels
• True Dual Exhaust
• SAFTY UPDATE ….. included brighter LED light conversions for the Brake lights, Running lights, Blinkers, Backup lights as well as substantially louder horns (all to be HEARD & SEEN when its most important).
Engine
The car retains its ORIGINAL factory installed "J-code" 302 engine with the correct stamped 'Assembly Date' perfectly in proper preceding sequence to the Build Date of the car. Copy of the Marti Report is posted with the photos.
In 1968 the 302 4bbl J-code was the same platform used by Carroll Shelby in his GT350 Mustangs. They are famously reliable engines and they make good power even in stock form. They also can be modified to gain significantly more horsepower if desired. The engine in this car appears to have been rebuilt to stock form. We pulled the valve covers to find what appeared to be a fresh super clean engine (see pictures). Additionally, the engine has very good compression, pulls hard and sounds fantastic. Please take time to watch the Test-Drive-Video and experience this very happy J-code 302-V8 (Video coming soon).
The Body
Not only does it still have its ORIGINAL ENGINE, it appears to have all of its ORIGINAL BODY PANELS including its untouched rock solid Floors, Quarter Panels and even the lower inner QTR Drops. It is in the "FREAK" category where 55 year old Mustang bodies are concerned. From all that I can tell, this one has never been wrecked and has never suffered the common body rot that plagues these cars. In fact this one is so nice that the factory welds are visible all over this car along with factory stampings … in short, this car is the exact opposite of the vast majority of 67/68 fastbacks that have replacement panels, patched panels and hidden body work issues.
The PAINT
The paint is very impressive. It has that deep wet, highly reflective mirror look over a laser straight body. Show quality paint jobs like this are very expensive. While maybe not 100% flawless, it is as nice as you would ever want on a car you planned to drive. I have not found any dings or scratches and maybe only one or two tiny touched up chips. It definitely has the WOW factor.
Interested in OTHER POSSIBLE UPGRADES ???
Many of your buyers have requested the following UPGRADEs before we ship the cars;
1) Air Conditioning (from Vintage Air)
2) Power Steering (from Borgeson)
3) Suspension Upgrade / enhanced OEM design from Open Tracker
4) Sound system update to Factory like appearance with Blue Tooth and 'hands free' calls
5) …. Other ??
Sell Us Your Car!
We're always looking for high quality classic cars to buy.
Get our inventory update email!
If you're looking for a classic car and you're as particular as we are, it's our hope that we can be of some help in your search for a high quality KEEPER.