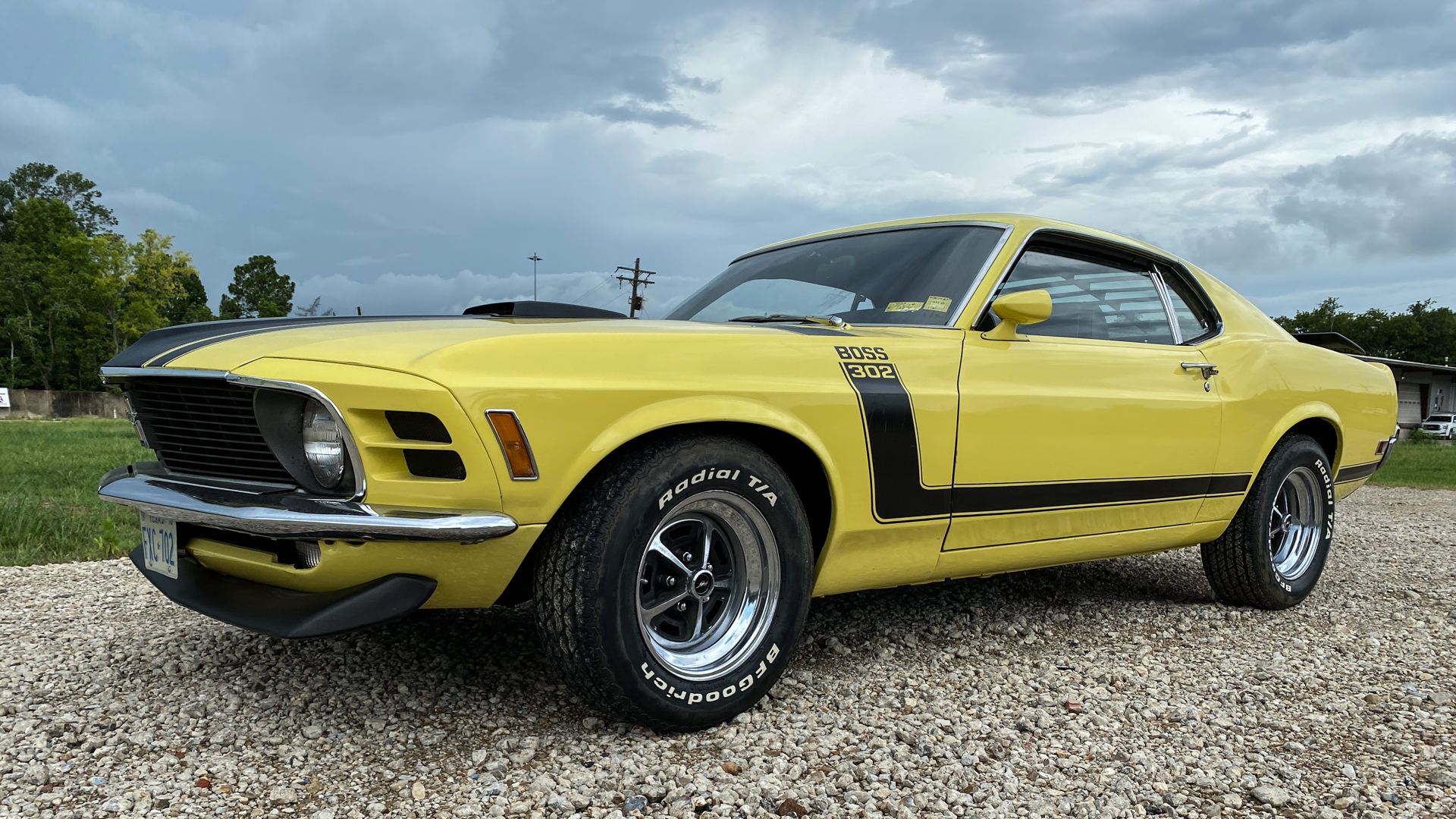 1970 Boss 302 Mustang
1970 Boss 302 Mustang
SOLD
Matching Numbers VIN stamped original engine block with correct casting, correct screw in freeze plugs, and correct 8-screw valve covers. The carburetor is the correct Holley List # "4653" 780cfm Service Replacement for the BOSS 302 with the same Holley List number as the original stamped on it.
The car comes with Warranty Identification Card Owner Card, the Marti Report, and some owner notations, one of which says ……. "original Boss 302 engine rebuilt, standard strong engine, higher compression"………. While I cannot tell you how many miles are on the engine, I can tell you the engine sounds great and pulls very STRONG like a good healthy 302 Boss should
At the writing of this ad, the odometer is showing only 41,999 miles and the Inspection Sticker on the windshield is DATED 1982 . I purchased this car from the estate of the deceased owner though his wife. She indicated the owner prior to her husband had drag raced the car. Based on that and the inspection sticker, I would say it is plausible that it is a low miles car. However I have no way of knowing if this is actual miles and I am not making a claim as to miles. Given that the car is over 25 years old, I am required by the State of Texas to document the the miles as Exempt.
DOCUMENTED with ……..
– Marti Report
– Original Owner "Warranty Card"
– Some owner history documentation including verbal (see below)
Well EQUIPPED with following ……….
4-Speed Top Loader / Wide ratio
3.50 reared nine-inch 3rd member
Tachometer
Am/8-Track Radio (currently boxed up in trunk)
Rear Deck Spoiler
Console
Slats
Power Steering / BORGESON !! (see UPDATES below)
Fold Down Rear Seat
Magnum 500 Wheels
UPDATED with ………
All new Wiring front to back
Pertronix Ignition for reliability
Borgeson Power Steering (…. one of my favorite upgrades usually $2,000 plus, google it)
Modern Stereo from Retro Sound with HIDDEN Antenna
Major Service – Based on what I can see this car has benefited from a major service bordering on a light restoration (i.e., new electrical wiring front the back, new exhaust, new shocks, rebuilt 3rd member, complete tune including new distributor, coil, plugs, wires, radiator flush, belts, hoses, battery, battery terminals, brake booster, brake master cylinder, leaf spring bushings, new brake lines, new sound system installation, etc…….)
HISTORY ………
This history was given to me by the wife of the deceased former owner "HJ".
On February 26, 1970, Mr. "HJ" purchased new (not this car) from Morristown Motor Sales in New Jersey his code D – Bright Yellow Boss 302 vin# OTO2G152739 ….. HJ kept his original Window Sticker and his original Dealer Purchase Contract, copies of which will come with this car.
Less than a year after purchasing his Yellow Boss, HJ was sent to Viet Nam after joining the military and ended up selling his beloved Boss to a high school friend. The car eventually changed hands again and, consequently, HJ lost track of the car but never forgot how much he loved driving it. Later in life and now living in Texas, it became his goal to find his Boss again. As luck would have it, in 2013 another old high school friend from back home, now a contractor, contacted him after spotting a Yellow Boss 302 stashed in the garage of a home he had been hired to perform repairs on. Both believed HJ's car had been found.
The car had been hidden away in that garage since 1982. Unfortunately, the Yellow Boss 302 turned out to be a different car but was very similar only lacking a few of the options HJ had specked in his Boss 43 years earlier. It also had some modifications for drag racing and had not been in service for 31 years. However, it was otherwise substantially original (including its vin matching motor), had a good body with good to go paint, and, of course, it was Bright Yellow.
HJ was now faced with a decision to either buy the car sitting in front of him which would need a lot of work to get to daily driver condition or continue his "likely futile search" for his very car. Given how hard it is to find a numbers matching car that was Yellow and in this good of condition, he decided to purchase the car and fix what ever needed to be fixed. He also set out to "add the options" it lacked to be more like his original Boss as well as make it more comfortable by adding modern power steering and Air Conditioning – yep. Unfortunately, HJ's health, which had been poor for some time, gave out and he was unable to wrap up the last few remaining goals for the car which were to ADD Air Conditioning and install new tires and start driving.
Sell Us Your Car!
We're always looking for high quality classic cars to buy.
Get our inventory update email!
If you're looking for a classic car and you're as particular as we are, it's our hope that we can be of some help in your search for a high quality KEEPER.