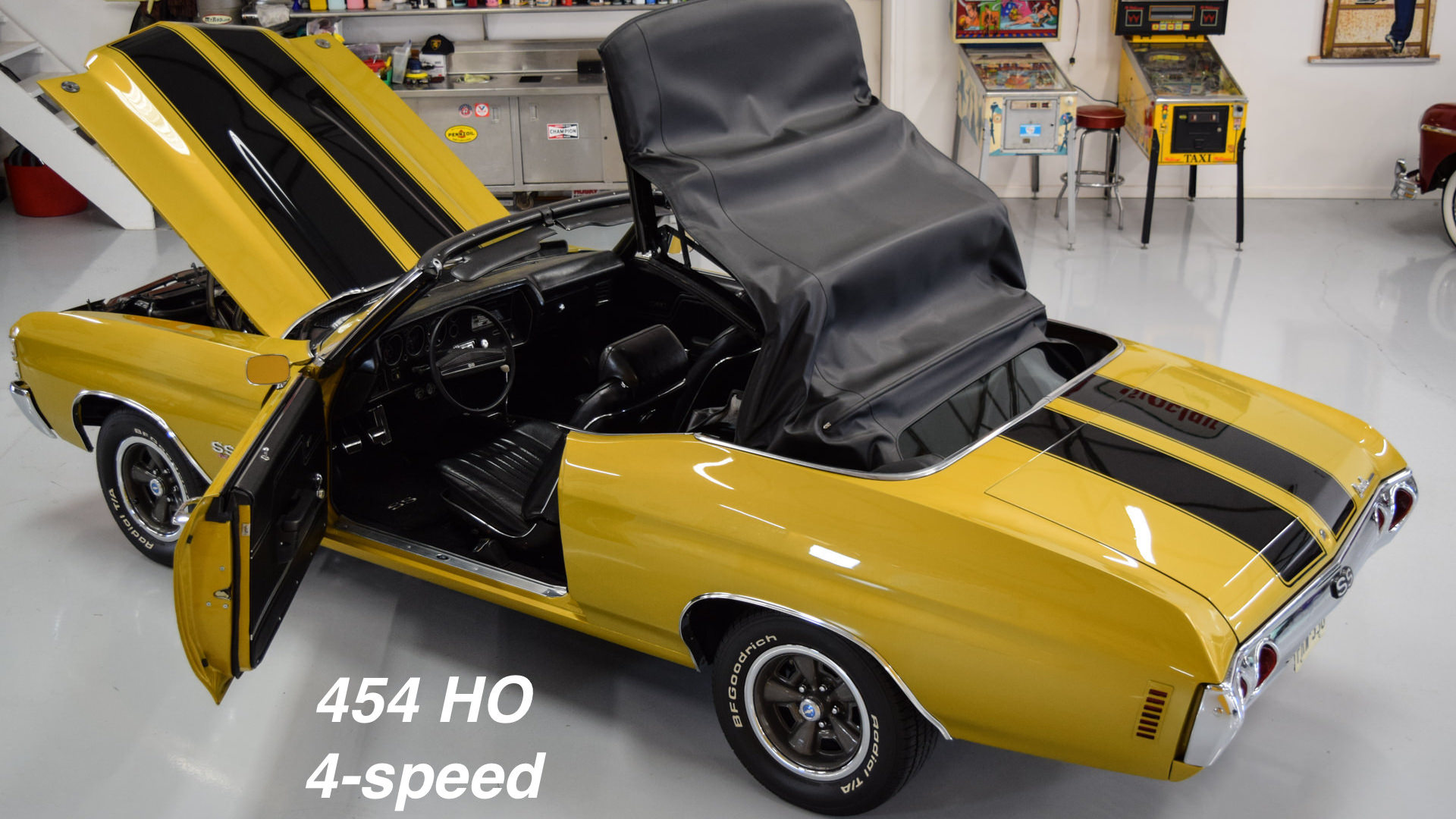 1971 Chevelle SS 454 HO Convertible (4-Speed)
1971 Chevelle Super Sport Convertible:
454 HO factory Chevrolet crate engine (FRESH)
4-Speed transmission (FRESH)
12 bolt positive track rear end (331 gear)
Exillerating performance with A-body comfort
RARE code 53 Placer Gold
Black bucket seat interior
Black convertible top
Frame off restoration
Will absolutely FLY! This will be the most fun you will ever have in a vintage muscle car… it's gorgeous to look at and it's comfortable like a Cadillac.
Sold
Please take time to watch the TEST-DRIVE VIDEO
"Big Block / Drop Top" experience at its best
This may be the most satisfying car of this vintage that I have ever driven. It has excellent road manners and thrilling on-demand power.
According to the Chevrolet marketing department, the crate 454 "HO" installed in this Chevelle has the same 500 ft lbs of TORQUE as the legendary 1970 LS6 454. But the good news is, this new GenVI 454 HO is built to run on today's PUMP gas and its construction is greatly advanced in its design and componentry since the now 50 year old LS6 454 made its debut.
This incredible engine was purchased directly from Chevrolet and still less than1,000 miles since its install. The invoice for the purchase of this engine comes with the car showing a list price of $6,734. Fully dressed out with the rest of the components now on it, plus the cost to install by a shop, and you would be closer to a $10,000 upgrade. A very nice upgrade indeed.
Options / well equipped Super Sport
– 454 HO / 438hp / 500 ft lb TORQUE @ 3,500rpm
– Muncie 4-Speed transmission
– 12-bolt Posi-track rear end with (I believe) a 3.31:1 gear
– Super Sport Performance Suspension
– Power Steering
– Power Disc Brakes (front)
– Power Top
– Tilt Steering Column (….so sweet to have this option)
– Bucket Seat / Console option
– Tachometer
– AM/FM stereo radio … modern version designed for this exact application … no cutting on original dash

Frame-Off Restoration $$$$
Needless to say, this car has had significant money, time and talent invested in it.
The cost of a frame off restoration of a convertible similarly equipped from this era can easily hit $100k. Even though the restoration on this car is right at 15 years old, it still looks fantastic from top to bottom with very little evidence of use ….. better still is the fact that the crate engine was recently installed and the transmission rebuilt at that time to insure it could handle the torque. BOTH currently have less than 1,000 miles of use.
The paint is beautiful
Code 53 Placer Gold – eye popping beautiful (& unusual)
The paint on this car is super slick with a deep wet-looking high gloss over a very straight body. While not flawless, it has little evidence of wear or exposure to the elements. Easily one of the most impressive 15 year old paint jobs I have seen and probably nicer than the majority of show "drivers" out there.
Even the undercarriage remains very impressive.
The Performance & driving experience
In one word …. WOW !!!
Everything except the clock seems to be working fine including the power top. I look for excuses to drive this car and you will too.
It's beautiful, comfortable, fun and can be absolutely thrilling. You can drive it old man style through the neighborhood with your grandkids and it's a sweet well-mannered boulevard cruiser, OR you can feel the thrill of the on-demand-torque in any gear you choose, any time you choose, and, if the occasion arises, be an all out street brawler capable of taking on all challengers.
About the ENGINE
The 454 HO crate engine in this car is based on a GenVI block and features an all-forged rotating assembly for great strength and durability along with four bolt mains. It also uses a smooth hydraulic roller camshaft for excellent drivability and a broad performance range. The heads are cast iron with rectangular ports. The compression ratio is 8.75:1 and it is built to run on today's PUMP GAS.
Google part# 12568774 to learn more about this awesome crate motor or watch the GM video by clicking this link.
In addition to the engine, it appears that every other mechanical component on this car was replaced or restored during the restoration, including the suspension. It has many years and many miles left on it and it's ready for immediate enjoyment.
PRICE & a little HISTORY
First, let me get this out of the way …. this is not a documented number's matching car (most are not). Naturally, if it were a "number's matching 454 / 4-speed convertible" with paper documentation and in this condition, it would be close to double the price. Priced very realistically and an excellent value.
The fellow I purchased this car from owns several "new car dealerships" including a Chevrolet dealership. He is also a real car guy with a nice collection of cool vintage rides and owned this beautiful Chevelle for the last 10 years prior to my purchase. This was his personal car registered in his name. He indicated that the car had already been restored approximately 5 years prior to his purchase (i.e. 15 years ago). When purchased, it had a non-number's matching 396 that he kept in it until 2017 when the Chevrolet dealership he owned ordered and installed the new crate 454 HO now in the car (receipt for purchase of this is included with the car). He indicated that he had the Muncie 4-speed transmission rebuilt prior to installing the 454 to insure it was torque monster ready. He said that the motor and transmission had less than 500 miles at the time he sold it to me. I have driven it less than 200 miles, so it still has less than 1,000 miles since being installed (motor & tranny).
Sell Us Your Car!
We're always looking for high quality classic cars to buy.
Get our inventory update email!
If you're looking for a classic car and you're as particular as we are, it's our hope that we can be of some help in your search for a high quality KEEPER.