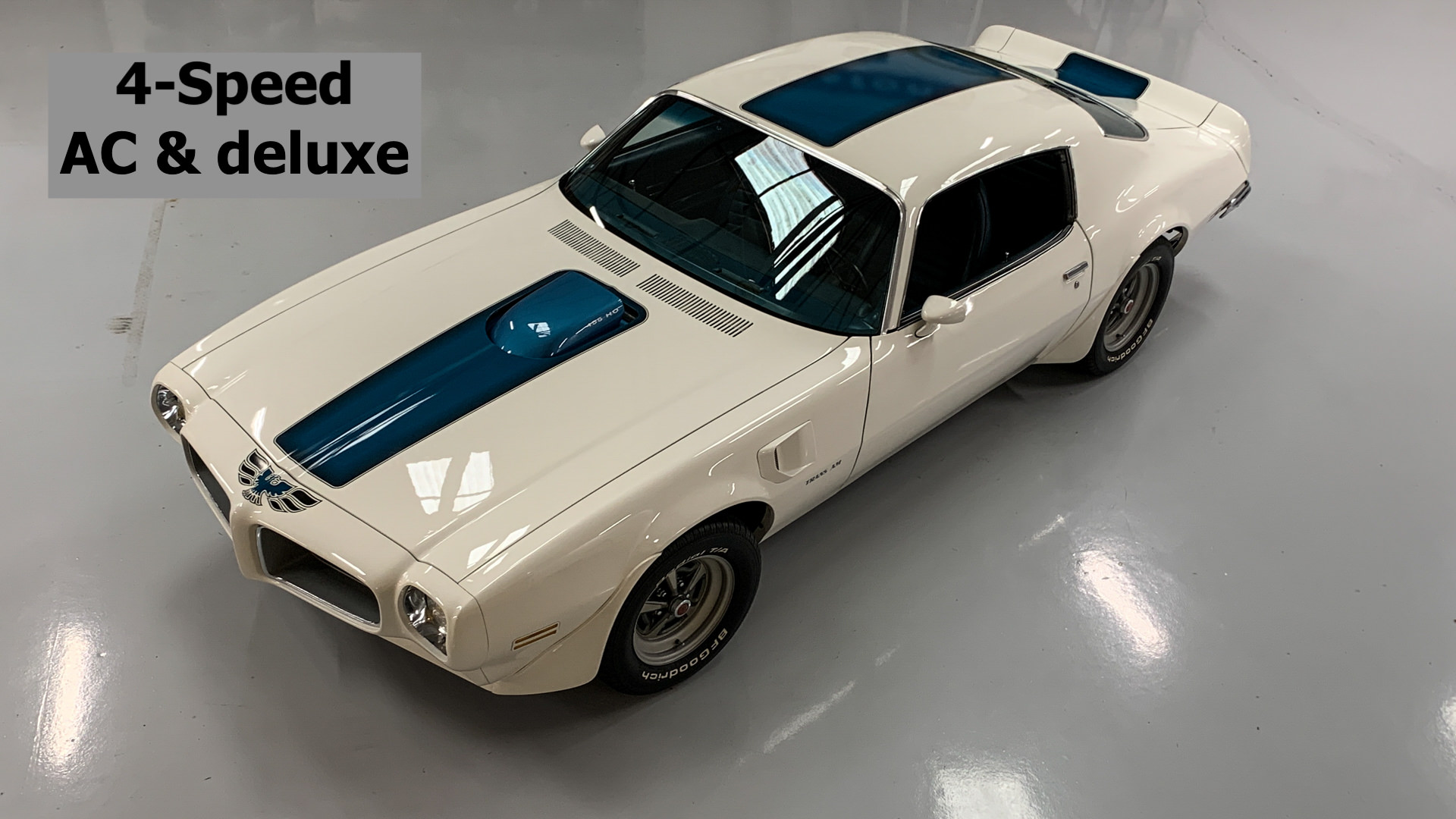 1971 Trans Am 455 HO
1971 Trans Am 455 H.O.
SOLD
Documented

  

& Numbers Matching
DOCUMENTED with PHS docs and original partial Build sheet
This is a complete "VIN MATCHING" original car (motor, transmission, car, PHS documents, Build Sheet & Texas title). 
Additionally, all the rare major mechanical components unique to the 1971 Trans Am are still on the car making it an ultra rare find of an already very rare car. 
Sold new in California it has always been in a dry climate and always garaged.
M22 Rock Crusher / Air conditioning / Deluxe
Factory equipped with the most sought after and hardest to find "OPTION COMBINATION" for 1971  …. The big 3 combo  (i.e., the trifecta package)
* 4-SPEED / M22 "Rock Crusher" transmission
* Air Conditioning – it works
* Deluxe Interior

ALSO …  factory equipped with
* AM/FM Radio – it works
* Console
* Roof drip rail Molding
* Custom Trim Group
* Floor Mats
Very Rare

  

& very well PRESERVED
In 1971, only  855  HO-455 Trans Ams were built with the M22 "Rock-Crusher" 4-speed.  The 4-speed examples are easily the most sought after and the ultimate find is the 4-speed with Air Conditioning combination. 
RARE when new and given that manual shifting 455HO's were likely one of the most abused cars of the 1970's, finding a quality "substantially original example" 50 years later is nearly impossible.
This one has been lovingly cared for by preservation minded owners and as a result survives today with its original interior, 99% of its original body and ALL of its original major mechanical components.
While some might prefer totally restored cars with all the reproduction stuff necessary to look new, there are many discerning folks who seek the much harder to find high integrity original car with as many original factory parts as possible (even if that means living with a little patina). I too am of the belief when you are lucky enough to get one in this condition you should preserve as much of the originality as possible.
Simply put, this one has never needed a total restoration and is likely one of the better preserved 4-speed/AC examples you could hope to find. It lived its entire life in California and Texas and apparently was stored mostly indoors as evidenced by its  outstanding 49 year old original interior.
1971 is FASTEST of all early TA's

  

/ except …. 
The 1971 455 H.O. is documented to be one of the TOP THREE fastest of the early TA's with only the very rarely seen 1970 RA IV, or 1973 SD being only slightly quicker. Both of those ultra rare models are now well out of reach price wise and the 1971 455/HO 4-speed is constantly going up. Several have recently been offered for north of $100k.
When equipped with the 4-speed, ANY of one the three from this trio of "fastest early Trans Ams" are not only a great investment, they are unmatched fun going through the gears.
Critical rare 71 Trans Am parts in place
The parts below are near impossible to find if missing and very expensive even in poor condition. They have never left this car and they are in excellent fully functional condition.
Carburetor ….. numbers correct for manual HO – 1971
Intake …………. casting correct HO intake
Heads ………….. casting correct HO heads
Exhaust manifolds …… casting correct
Engine block … vin matching HO block
Transmission … vin matching M22 "rock-crusher"
Shifter …………. Original Hurst unit
3rd member …… numbers correct
15×7 Trans Am ONLY Rally wheels ….. code correct "JW" set
Shaker Intake ….. original and fully functional flapper
(NOTE: the original distributor has been replaced with a modern technology PerTronix D1200 Flame-Thrower HEI 455 Black Cap … it is dramatically superior to the original including twice the energy to the spark plugs)
Known History 

  

/ see pictures in LINK below
Built in the Norwood California plant, it was sold new by Art Zier Pontiac in Sacramento California where it lived the first part of its life. It eventually made its way to Texas where I found it stashed in a barn (YEP) along with some other rare Muscle Cars (….see picture LINK below….). It was covered in dust other than the driver's side, which had been wiped down by the seller in order for me to see the condition of the paint.
We stuck a battery in it, primed the carb and, in spite of the very smelly gas, it started and sounded great.  I drove it out of the barn and straight onto my trailer. From there I took it to an outdoor lift for a long over due bath (….see picture LINK below….). We have since done a major service on this car, which included a full font to back restoration on the Fuel System, so the gas issue is totally solved.  It was during this process in which we removed the original gas tank that I found the remains of the BUILD SHEET sitting on top of the tank (….see picture LINK above….).
The history I got from the Texas collector I purchased the car from was that the engine and front end had already been rebuilt prior to his purchase and that it had a mild cam and ran strong (which proved to be true).  He also indicated that the car was still wearing its original paint when he bought it and that it had a near perfect body other than some rust bubbling on the lowest portion of the Driver's side rear QTR and a very slight amount in the same location on the passenger side rear QTR.  He had the lower (approximate 6 inches) of each rear quarter replaced with new metal and then had the entire car repainted
He provided me with a video and a few pictures of it while still wearing its ORIGINAL PAINT and, from what I could see, it was a very nice survivor. The video was on my old PC which crashed, but I still have the photos showing the car prior to repaint. These "before photos" along with many more are in a documentation album that come with this car showing the day I pulled it out of his barn, the day I dropped the tank and found the roasted Build Sheet,  the PHS documents,  and photos of some of some of the work I performed during my ownership (….see picture LINK above….).
Rebuilt engine & front end
The exact miles since the engine rebuild are unknown but are said to be less than 5,000. The odometer is showing 19,135 which I would assume is 119,135 true miles on the body – everything about the interior including the LACK of any significant fatigue in the seats, door panels, carpet and pedals seems to support the relatively low miles for a 49 year old car.
$10,000 "Major Service" performed in 2019
Given that exact maintenance history was unknown and the fact the car had been stored for a while, I had a "major service" performed over the last year at a cost of approximately $10,000. The major service included the following:
Fuel system
– sent original carb off for rebuild
– replaced the accelerator cable
– replaced ALL the gas metal lines (fuel & vapor)
– replaced the gas tank
– replaced the fuel pump
Exhaust system
– replaced the exhaust with an "OEM style" system from PIPES  including the correct exhaust tips. The factory original headers are still in use.
Brake System
– replaced ALL the metal brake lines
– replaced the booster
– replaced the master cylinder
tuning system
– new ignition distributor (HEI, original distributor is gone)
– new plugs
new plug wires

new air filter
– new Starter
– new oil sender
– rebuilt the alternator
Cooling system
Flushed the Radiator (which is original)
Replaced all belts & hoses
Oil system
– changed oil (Z-Rod 10w30 Synthetic)
– changed oil filter
Suspension
new KYB gas shocks

the entire front suspension was rebuilt prior to my purchase

Complete refresh of the AC system
When I purchased this car some of the AC components under the hood where missing. Originally I had no intention of fixing the AC but given that I have recently decided to sell some of my personal cars including this one, I located the missing components and brought the AC back to working condition.
Current Condition
Mechanical
This rare beast has been properly sorted and it's a get in and go car that's a blast to drive.
The famous 455HO torque is immediately available for on demand fun. The shifts are tight and crisp and it has that signature sound from the M22 Rock Crusher tranny as well as an intoxicating exhaust note  – LOVE it. There is NO whine from the 3rd member, no over heating, no smoking, no bad habits of any kind exhibited (like many 50 year old cars, it does have a few drips). The car tracks straight and the steering, suspension and braking perform like a well sorted 1971 Trans Am should – very good.
The engine bay, like the undercarriage is clean and original looking, much like you would expect a low miles and garaged California/Texas  car to look. There has been no attempt to freshen up these areas, rather preservation seemed to be the goal of all former owners – HARD TO FIND like this and the preference for many savvy seasoned collectors and for good reasons.
Most importantly, ALL the rare EXPENSIVE major mechanical Trans AM components are in place with correct castings, codes and stamps (only notable exception would be the high wear items like distributor and alternator).
Body & recent history
The body is laser straight with only one repaint. The fit and body panel alinement are excellent and the paint is slick with a high gloss.
The body is totally original less the last six inches of the lower rear quarters (most common issue with these cars). The floors are totally original, untouched and very clean. The trunk pan is also original and outstanding as are the rear quarters, less the repairs to the last 6 inches. Additionally the nose, spoilers and wheel well flares are original and without damage. 
After the repairs to the lowest part of the rear QTR's the former owner elected to have the car repainted as opposed to blending in the repair.  Since my ownership of the last 3 years I have driven it less than 500 miles, consequently there is no road wear on this paint job.  No dings, dents or notable scratches.
Original factory installed 49 year old Interior
It is super rare to find a 1971 Trans Am with its' factory ORIGINAL interior let alone near mint interior (from the carpet to headliner). Simply put, the materials used in these cars interiors were very vulnerable to UV damage especially the deluxe door panels and the rear interior plastic components.
This car has its original interior from the headliner to the carpet and still has all its original plastic.  While not show quality fresh like a "reproduction" interior would be, it is ORIGINAL and as such it is very impressive to be close to 50 years old years. Unquestionably proof this car was garaged and well cared for by preservation minded owners.
In the documentation album you will Note the pictures where I removed the interior for a good cleaning. I was amazed at the 50 year old carpet which had no notable wear and no notable fading. The most noticeable interior flaw is where the seams have released at the turn up point on the rear seat next to the package tray (see photo). The foam still looks good and the flaw is far too minor to give up on the value and uniqueness of an original interior.
Sell Us Your Car!
We're always looking for high quality classic cars to buy.
Get our inventory update email!
If you're looking for a classic car and you're as particular as we are, it's our hope that we can be of some help in your search for a high quality KEEPER.