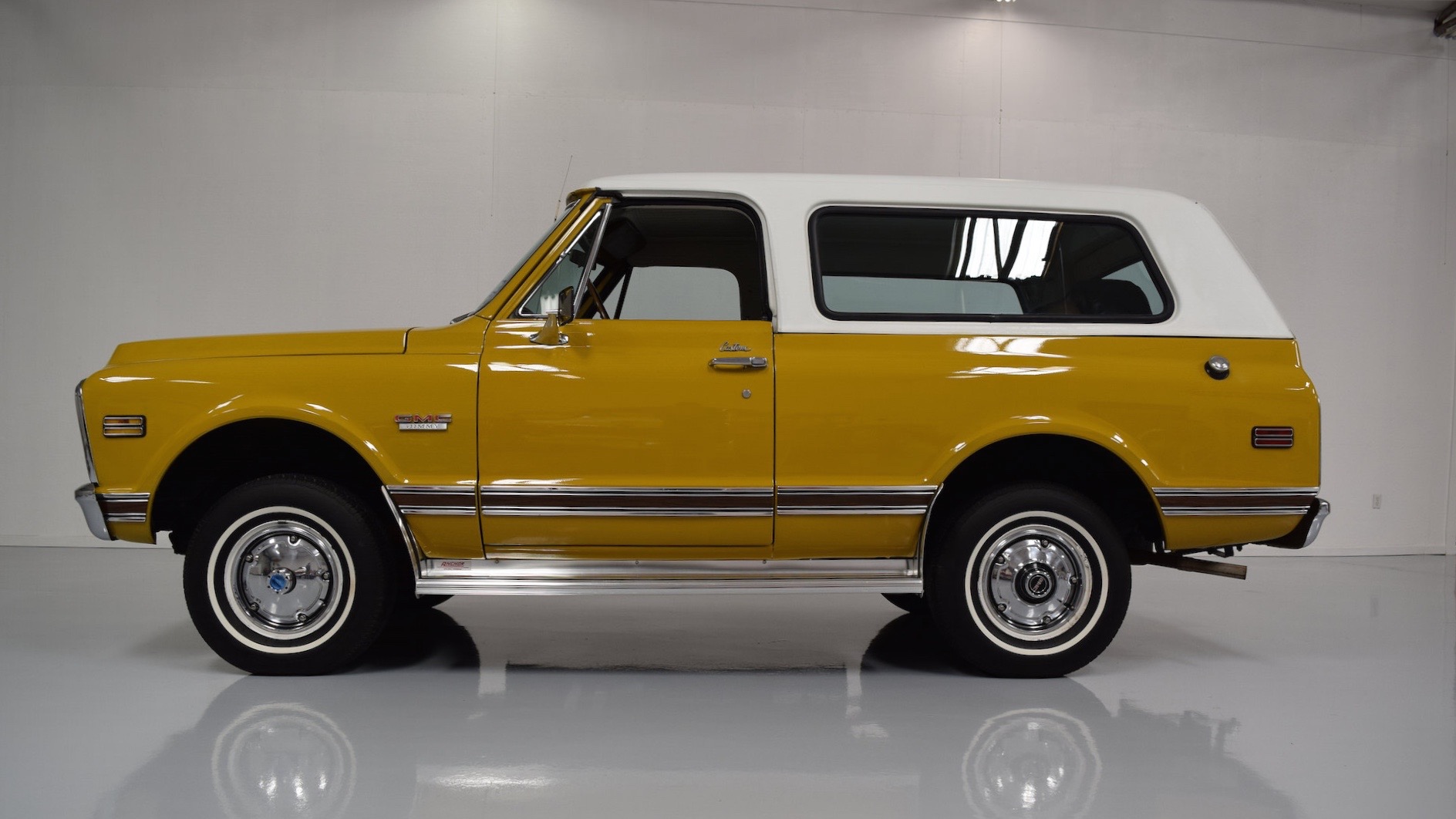 1972 GMC Jimmy CST
1972 GMC Jimmy CST
A TIME CAPSULE from 1972
A True Survivor in the "strictest sense"
ORIGINAL Paint, Interior & Driveline
Low mileage, fully functional and beautiful

Please TAKE TIME to;
– read all the details listed below
– watch the TEST DRIVE video

K5 Blazers & Jimmys
There are plenty of vintage K5's out there but NONE like this one.
This may be the finest UNrestored, original paint SURVIVOR in existence.
It also happens to be a "top of the line" equipped Jimmy (much rarer than its twin the Blazer) in what is considered by collectors to be the BEST model year – 1972.
Based on my 40 years of being immersed in the world of classic cars, it is my opinion that everything about this vehicle screams well preserved low mileage time capsule survivor. It has clearly been owned by preservation minded owners since new – see more HISTORY below.
The paint has been professionally buffed to bring out its former luster. The paint, the bright work, the weatherstrip and the interior down to the original 44 year old carpet all have very little evidence of wear or evidence of exposure to the elements. Overall it has that "very light fine patina" of a well preserved classic. Even the thin white paint on the wheels and thin black paint on the wheel hub are original and as such very impressive.

Unrestored ORIGINAL PAINT Survivor
In order to appreciate how special this vehicle is; you must first realize that you are looking at a low mileage "unrestored" Original paint, Original interior, and Original driveline vehicle…..,i.e. a true survivor. The only evidence of paint work I could find was the lower edges of the body where apparently they repaired rock chips and then ADDED the step rails to protect it from future chips.
Then, it is helpful to understand that this survivor is from a special class of vehicles in which there are very few "survivors", at least not in "mint original condition" like this one. The VAST majority of 44 year old dual purpose "4-Wheel Drive" vehicles lived a hard, if not abused life.
Vintage "dual purpose" vehicles like the K5's have really become popular in the last 5 years. With ever increasing values some of these have been brought back to life – but most of those efforts have included substantial repairs and major modifications with aftermarket parts like "lift kits" and oversize tire/wheels combinations. Not this K5, while NOT 100% original, it is it is the most original one I have ever seen.
You can only be original ONCE. In the world of collector cars, a true "survivor" is very hard to find and fast becoming the holy grail of collector cars.

HISTORY Garaged & fussed over since new
I have owned this Jimmy for a few years now – it is part of my personal collection and titled in my name. Prior to me it was in a private collection of an attorney from Oklahoma who advertised it as having never been 4-wheeled, never had the top off, and never stored out doors. He indicated it had been his favorite vehicle in his collection and stated that the 78k miles are original – in my opinion it looks like it has 28k miles. While not a flawless show car, it is perhaps one of the finest unrestored 44 year old vehicles I have ever seen. The patina it does have is more evidence of age than ware – this is the kind of vehicle seasoned collectors dream of owning.

Vastly superior to Bronco & FJ Cruiser
Unquestionably more comfortable, more powerful and more practical for "real world driving" than the competition, not to mention much greater parts availability.
In 1967, rather than develop an all-new platform to compete with the Ford Bronco, Toyota FJ-Cruiser and International Scout, GM went with its already popular and proven pickup truck platform. This enabled GM to offer a larger more comfortable and "up scalable" vehicle that actually succeeded in being a true dual-purpose vehicle as opposed to being limited to an "occasional use" vehicle like that of the competition.

Broncos / FJ-Cruisers / Scouts
Today all of these vintage "dual-purpose" vehicles are coming on strong in the market place. The key to picking the right one is a realistic understanding of the limitations of each.
Buyers of Broncos, FJ-Cruisers and Scouts found themselves (then & even more so today) with vehicles that were far more limited in comfort and power thus making them far less suited for highway speeds or big city traffic. And naturally, some 45 years later parts availability greatly favors the GM K5 vehicles, which shares a majority of its parts with the truck line of the same era. Simply put, when it comes to the world of vintage dual purpose vehicles, the K4 vehicles built by GM are simply superior in every category
CST "deluxe" Cheyenne Package
1972 is the high watermark year for these vehicles and consequently is the most sought after. This particular Jimmy has the "top of the line luxury" package with the custom deluxe Cheyenne upgrade.
– Removable Top …. very cool
– 4-Wheel Drive
– Cheyenne Equipment
– Center Console
– Gauge Package
– Bucket Seats
– Removable Rear Seat
– 350 / 4bbl V8
– Turbo- Hyda-matic Transmission (turbo350)
– Power Steering
– Power Disc Brakes
– Air Conditioning – blows COLD
– Period correct   CB / Radio combination
….. original AmFm radio comes with the vehicle
Sell Us Your Car!
We're always looking for high quality classic cars to buy.
Get our inventory update email!
If you're looking for a classic car and you're as particular as we are, it's our hope that we can be of some help in your search for a high quality KEEPER.