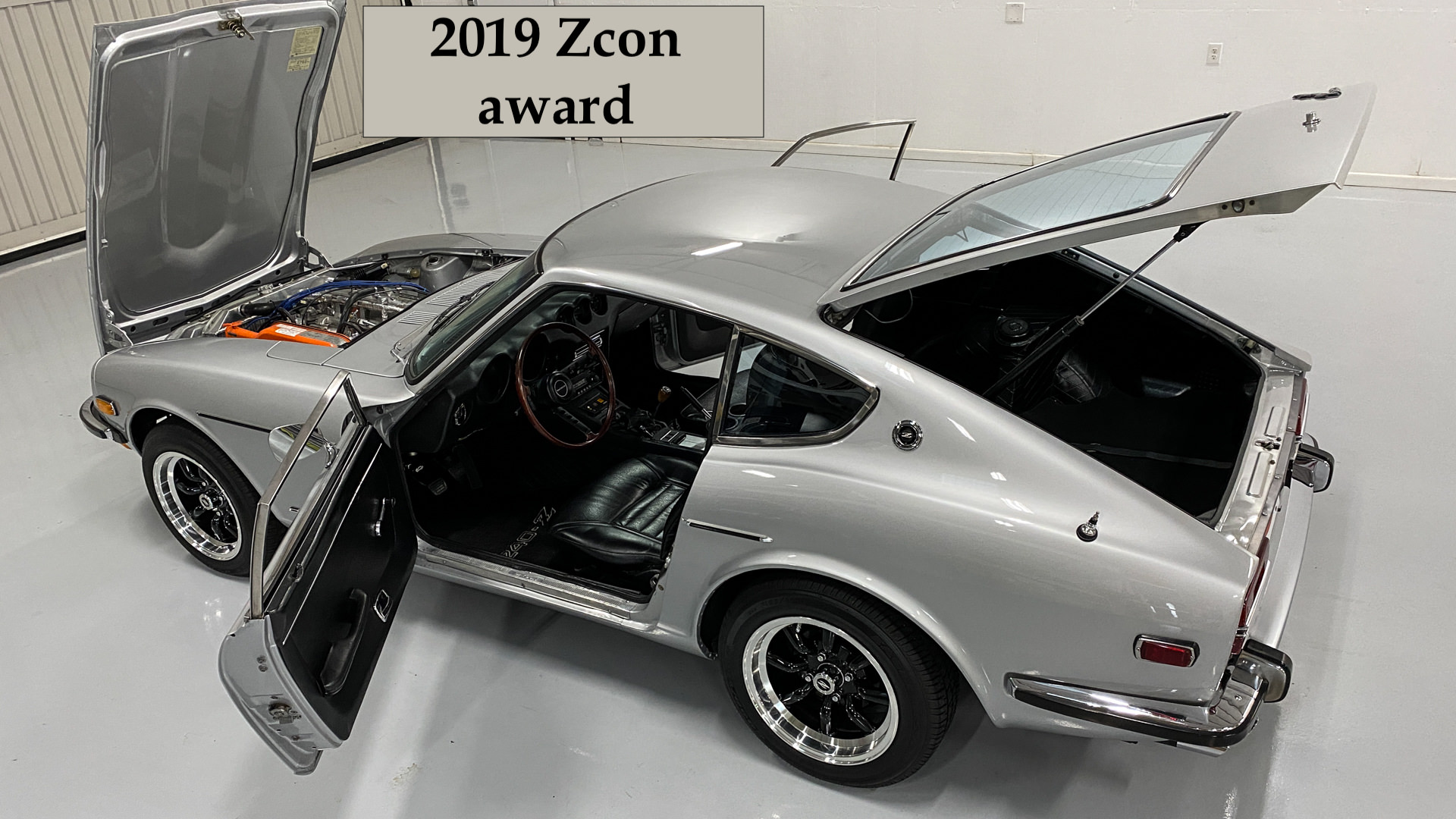 1973 Datsun 240Z
1973 Datsun 240Z
2019 Zcon Award winner
This beautiful 240Z scored 293 out of 300 possible points for a 2nd place award at the 2019 national Zcon event, losing to 1st place by a single point . Zcon is the largest all Z-car event in the country and enjoys international competition and participation.
Original Numbers correct car
This 240Z is an original numbers  correct car… meaning that its major original factory installed components tie together correctly (i.e. the block stamp matches the inner fender tag and the inner fender tag vin number matches the vin# on the door data plate, dash pad and firewall). Additionally, the car color decal #901 reflects the original color as Silver Metallic.
The interior is 100% original from the headliner to the carpet including perfect uncracked dash. Visually, the interior is like a "time warp presentation" in that it looks new, even though it is now 48 years old.
Preservation minded Owner History
This 240z has been loved from day one and has unquestionably lived a better life than the VAST majority of early Z's, having benefited greatly by being owned (since new) by mature preservation minded owners. It has been loved, fussed over and always properly stored.
The history passed to me from the current owner (of the last 11 years) was that the car was purchased new in Oregon by a Colonel in the US Air Force for his wife who later sold it to a retired air traffic controller in Oregon who only drove it around 1,500 miles a year and only in dry conditions. He in turn sold it to the 3rd and current owner who is an avid Z-man and a two time "Zcon award winner" with 2 separate Z cars including this one.
The current owner is also a friend of mine and likely the best I have ever met at the concept of sympathetic restorations with the goal of being able to DRIVE with confidence. The enhancements listed below were all done during his ownership including a GLASS OUT repaint. "Preserve where possible, refresh only as needed, sort, sort, sort some more and then drive, drive, drive" is his mantra. This 240Z was driven from his home in Arkansas to the Zcon show in Branson, Missouri where it took 2nd place in its class. He drove another Z-car of his from Arkansas to Zcon in Canada where it took 3rd place. He has accomplished similar feats with a number of the cars in his collection, all of them sorted to the Nth degree and fully capable of on demand reliable use. Without a doubt, he is the kind of guy you want to buy your car from.
Period Correct "UPGRADES"  / & preventative maintenance
Over the past 11 years the current owner has put 5,332 miles on this car. There is a Car Log Book in the glove box showing the miles going from 83,257 to the current 88,589. That is just approximately 500 miles a year of selective driving, some of which included the drive from his home in Arkansas to the 2019 national Zcon show in Branson, Missouri where this car took 2nd place in its class.
Some notes from the owner concerning preventative maintenance on this vehicle point out the following: A compression check confirmed all cylinders to have like new compression and to be within minimum lbs./sq inch from each other. The car seems to prefer NGK plugs (BP6ES). Within the last 2 years the car had a major service which included an overhaul of the front brakes (rebuilt calipers, turned the rotors, new pads), new front wheel bearings, new clutch master cylinder, new slave cylinder, new fuel pump, and fresh fluids throughout including the transmission.
With the goal of better performance and better reliability, the UPGRADES listed below were made by this same current owner. Effort was made to keep the UPGRADES "period correct", much in the vein as a "day two" car would have been if updated when new.
The original 1973 flattop SU Carbs were replaced with the better performing 1972 240Z round top SU's. It starts easily hot or cold with NO vapor locking and no over-heating in warm/hot ambient temperatures.
Exhaust Manifold replaced with a Nissan factory authorized (& sold over the counter at Datsun) exhaust header made by "Interpart"
An NOS "Abarth" dual tip exhaust system made for the 240Z was installed (I love this, see pic)
Reproduction Koenig wheels (I have an original set of wheels and hub caps that can come with the car at EXTRA cost)
Aluminum Radiator (the ORIGINAL radiator and ORIGINAL fan shroud come with the car)
Zcon national level judging
If you are familiar with the national Zcon events and the judging process, you will be impressed with the 293 out of 300 possible points awarded to this car. It is interesting to note that if you have more than 3 modifications to your vehicle no matter how minor, including the period enhancements added when NEW by profit motivated Datsun dealers (i.e., spoilers, air conditioning, rear shade louver, non-hubcap wheels, etc), you are then judged in the "Street Modified class" at national Zcon events. Consequently, the Street Modified class is by far the largest grouping of cars at Zcon events and, of course, most representative of what you saw "on the street" when these cars were new.
At the 2019 national Zcon event Yoshihiko Matsuo the legendary designer of the 240Z not only signed this car, he admired it and asked to set in it …. An honor indeed.
Paint & Body
The body is laser straight and the paint is super slick with that wet high gloss look. The car was blown apart for an expensive "glass out" respray using high quality Sikkens materials.  The results are simply stunning. Additionally the bright work (stainless and chrome) is excellent as is the glass.
Seeing is believing –  fly in and  "inspect for yourself"
If you are the particular type and only have an appetite for the true gems, this car is worth of very serious consideration as 240Z's like this very rarely come along. You are invited to FLY IN to inspect it for yourself.
The following is my considered opinion as a seasoned  classic car guy and near 50 year owner/lover of the 240Zs. YOU CAN EXPECT THE FOLLOWING once you arrive…. The body integrity to be as good as it gets, the paint, fit and finish to be better than when new and the interior to be mint original Datsun installed components. The icing on the cake will be the fact that the experience behind the wheel will be much like going to the show room back in 1973 and buying it as a gently used floor demonstrator. It starts easily, idles great, runs, drives and stops much like it did when new. Simply put, it delivers an extremely satisfying experience with no bad habits. Please take time to WATCH the TEST DRIVE VIDEO above.
The car is located approximately 30 minutes from either of the Dallas Texas airports. Fly in for the drive home of a lifetime. …… or, if you have your own small airplane you can fly right up to my hangar located on a small private airport.
Additional DETAILS
Please note that there are additional details embedded in the photos ABOVE. Please review all photos with their details along with the Test-Drive-Video for a more complete understanding.
Sell Us Your Car!
We're always looking for high quality classic cars to buy.
Get our inventory update email!
If you're looking for a classic car and you're as particular as we are, it's our hope that we can be of some help in your search for a high quality KEEPER.