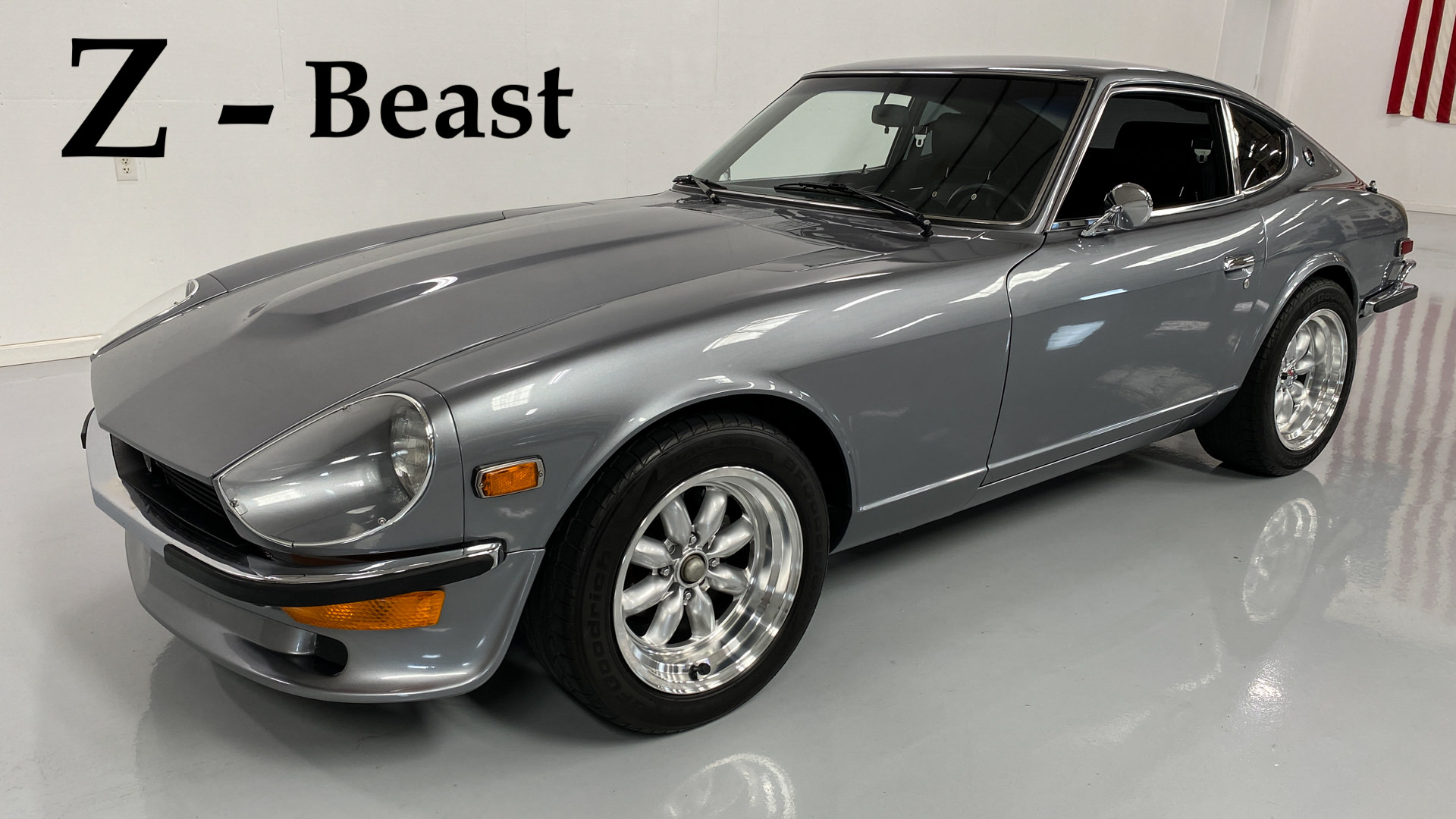 1973 240Z 6-Speed Restomod
SOLD
'73 240Z (restomod)
Please take time to WATCH the Test Drive Video (above) and READ all the details below.
The DRIVING EXPERIENCE
This car will not disappoint. It is a wonderful balance of grand touring car, daily commuter and all out street or track performer. Depending on your mood, you can pick your gear (out of 6) and instantly tap into "on demand power" of 330hp and 411ft lbs of Torque. This is a lot of power in this light chassis, making it instantly willing to hit warp speed in whatever gear you choose. The torque and exhaust note are intoxicating.
PAINT & BODY
This was a very expensive glass out repaint of an original California car that, according to the former owner, had no rust or rot anywhere. The car was then stripped down to bare metal and any small dents or dings were straightened. The doors, fenders, hood, hatch, and all glass were removed from the body before prep and paint. All the original welds are clearly visible on this high integrity body.
The car was finished using a BMW color called "Space Gray" which looks fantastic and really accents the beautiful lines of the 240Z. All new rubber gaskets and a new windshield was installed to seal the car. Additionally, the inner body was upgraded with modern sound deadening/heat resistant material prior to installing the interior.
The Z-Beast gets "extreme attention" at shows and even when placed among expensive late model high performance cars it still looks relevant. Simply put it is stunning and easily recognizable as a car done right. Best of all, it has NOT been highly altered visually and thus retains much of that vintage classic 240Z vibe.
It is very important to know that there is a big difference "in quality" in these cars one from another. 95% of the builds out there are budget restricted, often start with poor bodies and from there cut corners in the finish to save money. This car was NOT a budget restricted build. It started with a very high-quality un-hit, un-rusted and un-cut car and was given a high-quality finish with the dual goal of having an impressive presentation along with a long-lasting results.
The end result is a car that performs fantastic, looks fantastic and retains much of that classic original vibe we all originally fell in love with. Even at car shows when among expensive modern cars it still looks relevant and draws significant attention. The original factory seats are in fantastic condition and come with the car as well as the currently installed retro-sport racing seats (which are like new with the exception that some of the medallions have come loose). The car was also updated with comfortable fitting after-market shoulder belts.
MECHANICALS  /  411 ft lbs of TORQUE !
This was a very well thought out cohesive build using quality components.
There are low miles on the build, estimated to be at approximately 4,500. Everything looks and feels fresh. With the modern Fuel Injection it starts easily and behaves beautifully. The car has two distinct personalities, one being a long legged, "mild mannered high speed touring car" and the other being an all-out street light to street light brawler or track car.
The mechanical details below were provided by the former owner/builder and are included in the binder that comes with the car.
ENGINE:
Dyno results of 330hp at 4700 RPM with an IMPRESSIVE 411 ft lbs of Torque at 3,600 RPM.  The 350 engine is a crate 1969 LT1 bored out .30 over to a 355.
Chevy LT1 350-355 (crate engine, never before in a car)
EFI – Holley Sniper Fuel Injection
Complete MSD ignition system
Edelbrock Performer Air-Gap Intake Manifold
Edelbrock Victor Series Water Pump
Chevy bowtie angle heads 64cc
2.02 intake valve
Port and Polished heads
Bowel Blended
Motor bored .030 over, fil cut rings
Keith Black Pistons 10:1
LT1 forged steel crank & rods
Balanced
1.6 Roller rockers for intake & exhaust
Hydraulic Lifters & 256 comp cam (Extreme Energy)
110 lobe separation
Fluid dampener
SPEC Billet Aluminum 168-tooth flywheel (SPEC # SC86A)
SPEC Stage 3 Clutch (SPEC# SC203)
Patriot Hooker Headers / heat wrapped
Etc.,
TRANSMISSION  /  rear DIFFERENTIAL  /  SUSPENSION /  BRAKES
The transmission is a Tremec 6 speed  LS / T56 (rated up to 700 ft.lb. of torque)
Pro 5.0 shifter
The rear differential is a R200 with a 3.70 gear with all new bearings.
The Rear Half Shafts have been "upgraded" to the newer 300ZX Turbo half shafts with Modern Motorsport adapters.
All suspension bushings have been replaced.
Tokico 5-way adjustable Struts
H&R Springs
Front and rear wheel bearings have all been replaced.
Front brakes were "upgraded" to Toyota 2 puck calipers for better stopping. New rear brake shoes.
Why – a 350-Z resto-mod?
The robust unibody chassis of the 240Z is well suited for the 350 upgrade. This build was in the spirit of the 240Z "Scarabs" built by Brian Marrow in the mid-seventies. Marrow (a California builder) was already famous for his high-performance boats (also called Scarabs) when he took that knowledge and started building high performance Datsun 240Z's. The original Scarabs are now highly sought after and have their own classification at Zcon.
This build, while giving a "nod" to the famous Scarabs of the past, incorporates among other things modern Electronic Fuel Injection, a modern 6-speed, as well as takes advantage of some superior 300ZX components. There may be more exotic engines for resto-mod'ing a 240Z but very few that would be faster, easier to maintain, or cheaper to maintain than the venerable 350. There is a reason that the vast majority of hot rods are built using the "tried and true" hall of fame engine.
The critical DNA ingredients on this build are known (and substantially listed above). This is valuable information for future owners and giving them a leg-up should maintenance or repairs be needed.
Buying the "Z-Beast" from me
Conveniently located only 30 minutes from DFW International Airport. If you choose to you can fly in for the drive home of a lifetime ….. OR, we can coordinate shipping anywhere in the world. The buying process is simple and every step from the first to the last when the car arrives at your door is on a Punch List that is updated for you each time a step is completed. We are licensed and bonded dealer so the entire transaction is properly "documented" and the car will be tagged with a legal to use "temporary PLATE" reflecting you as the owner and me as the seller. BEFORE any money is paid, we document the transaction with a Purchase Sell agreement that identifies you, me, the vehicle (including copy of title – front & back) along with the exact terms of the transaction including funding instructions. My son and I are easy to talk to and welcome your call with any questions.
Sell Us Your Car!
We're always looking for high quality classic cars to buy.
Get our inventory update email!
If you're looking for a classic car and you're as particular as we are, it's our hope that we can be of some help in your search for a high quality KEEPER.