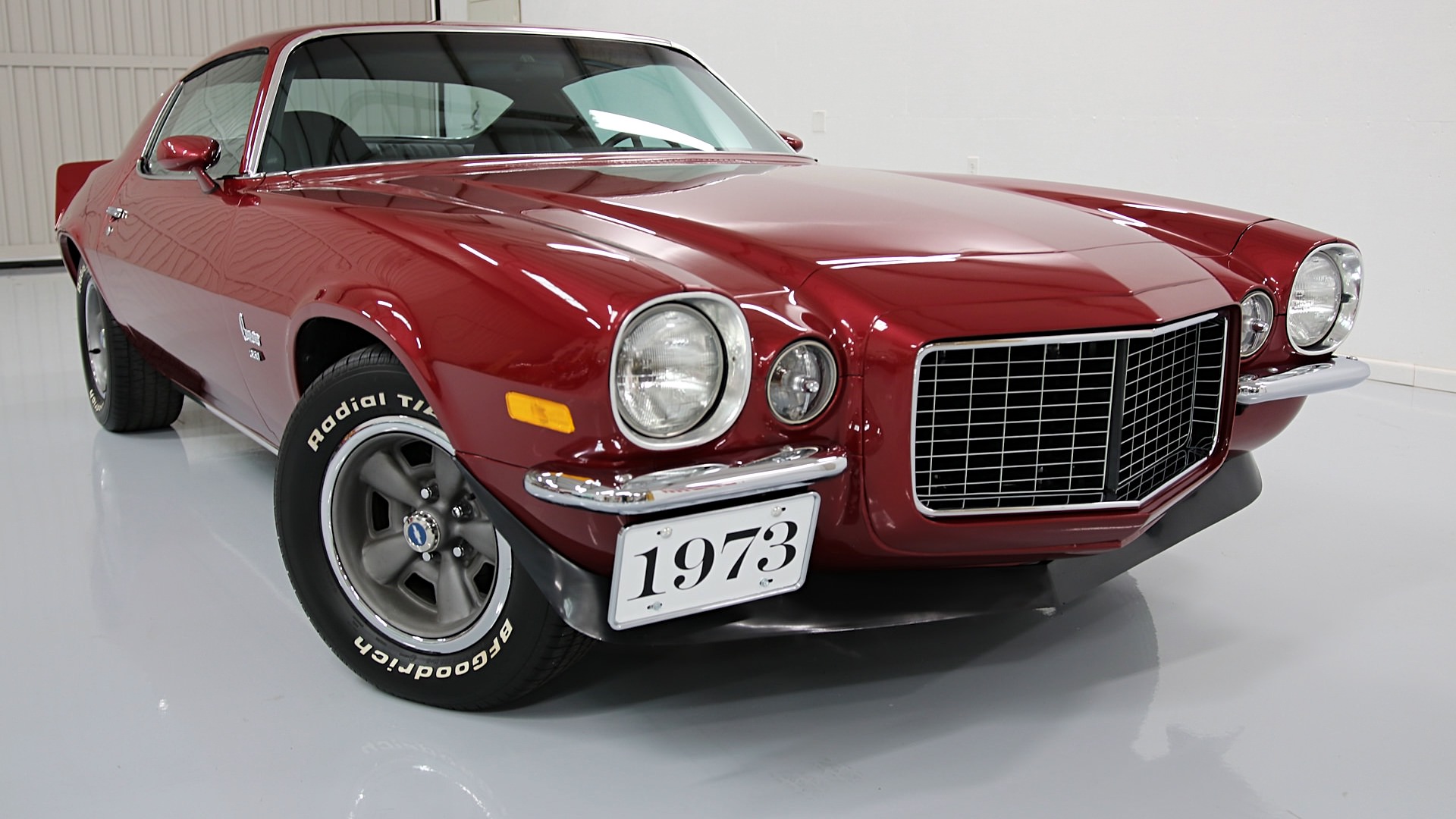 1973 Camaro Rally Sport LT
1973 Camaro Rally Sport LT 4-Speed
– RALLY SPORT option
– 4-Speed option
– Z-28 components added ….. (it will get it!)
– Only approximately 300 miles on restoration
– Outstanding Body and Paint
California Survivor
Complete cosmetic and light mechanical restoration on a high quality California "survivor". This car did not require an extensive nut and bolt restoration to bring it back to its current "show / driver condition".
Unlike many 45 to 48 year old 2nd Gen Camaros this one has never been wrecked, never rusty and never modified or hot-rodded. It is incredibly hard to find one this desirable and in this condition. Please take time to look at the PHOTOS and the VIDEO. This is not your typical 2nd Gen Camaro.
Only approximately 300 miles on restoration
This Camaro is stunning. The look and feel is very close to what it would have been when new. Unlike the vast majority of 2nd Gens, the doors do NOT drop when you open them and windows do not have the deep scratches as so commonly seen. Everything works except the original AmFm radio.
Paint & Body
From what I have been told and based on my personal examination, this is a no-hit California car with a high integrity original body including excellent original floors – see photos of undercarriage.
Beautiful repaint in one of the most sought after 1973 colors, code # 74 Dark Red Metallic (original factory color to this car). The paint has that deep "wet" high gloss look over a laser straight original body. While not totally flawless, it is far nicer than it was when new and far nicer than the vast majority of show/driver paint jobs out there.
Interior
Included in the restoration was all new DELUXE interior from the headliner to the carpet. This is not a cheap step on a LT "deluxe interior" car. The results are a beautiful and comfortable cabin with beefed up factory insulation and sound deadener unique to the LT.
Engine Bay  /  Trunk  /  Undercarriage
The engine bay (including motor), was cleaned and detailed and presents well. The trunk floor pan is original and was refinished to factory specs and appears as new. The undercarriage was cleaned and painted with the red-oxide paint similar to the factory to protect the surfaces. It was not done to concurs level but it is impressive just the same to see a 45 year old Camaro with floors this good.
Very Special Camaro
Simply put, the vast majority of the 1973 Camaros came with an automatic transmission and without the LT or the Rally Sport option. This car came with all three.
A true factory RS / LT combination, coupled  with a 350 / 4-speed is ultra hard to find, and this one is in beautiful Dark Red metallic.
The LT model is the confirmed by the "S" in the 2nd  digit of the vin#. Only Camaros with an "S" in the 2nd digit are Luxury Touring types.
The upgrades that came on a LT model included
* deluxe seats with extra padding and special material
* deluxe interior door panels finish  / wood grain accents
* full instrument TACH & gauge cluster / wood grain accents
* extra stainless trim on outer body
* extra sound deadening insulation throughout
* special LT emblems on exterior of car
* mandatory 350 V8
* dual Sport Mirrors
* Rally Wheels
* Special Tires
* Variable Ratio Power Steering
* Front Disc brakes
* Left and right SPORT mirrors
* LT emblem on 4-spoke steering wheel
Z-28 design elements "added"
Some bolt on Z-28 "design elements" were added to give it that extra visual sizzle (Z-28 wheels & under hood Z-28 air cleaner and valve covers) and all that remains to complete the Z28 "LOOK" would be the external Z-28 emblems. Also, as noted below (and clear in the TEST DRIVE VIDEO) the motor is close to close to identical in horsepower and performance to the Z28. So if you wanted to complete the Z-28 "LOOK", it is only two emblems away. Restraint was used when painting the car by not adding stripes, which were optionally available on the Z-28.
Mechanical  /  now has Z28 performance
The car is in excellent mechanical condition and it is a pleasure to drive. It is not an over built hot rod, rather a great comfortable stock like cruiser that is completely mild mannered …. however it will "get it" if you want.
The motor is super smooth and pulls STRONG. The exhaust note is prefect ….. not too loud, just that perfect tone that a good 350 Chevy can have at idle and when you bring it alive.
It has a mild Lunati Cam with the same duration and lift as the Z28. The 350/250hp – 4bbl motor is a factory crate motor installed prior to the recent major service and cosmetic restoration of the car. The former owner did not keep tack of miles so the exact mileage on the motor since its install is unknown but believed to have very little wear. It starts easily, idles perfectly, sounds fantastic, runs very strong. It does not over heat, does not smoke or have any strange noises. It purrs or roars, which ever you prefer.
The 4-speed tranny is the original vin# matching unit that came in the car. Prior to my purchase the former owner had already rebuilt the transmission and preplaced the clutch. The tranny shifts are tight and direct.
As far as the typical "high wear" items go, it appears that anything that needed to be refreshed was refreshed, including but not limited to new brakes all around, new master cylinder, new booster, new heavy duty radiator, new correct factory exhaust front to back, new gas tank, new battery, new shocks, new power steering pump, new alternator, repacked wheel bearings, rebuilt the transmission, replaced the clutch, serviced the Air Conditioner, replaced the hoses, and installed new Tires.
The original factory California SMOG equipment was removed and boxed up. It comes with the car.
Tires
The BF Goodrich raised white letter tires are NEW with less than 200 miles on them and along with the new Z28 wheels really set the car off.
LAST  of the "chrome bumper" Camaros
1973 is the last and most refined of the chrome bumper Camaros. I love every year of the 1st and 2nd Gen cars and have owned dozens of examples. Simply put the level of refinement in the 1973 is noticeable over prior years and to me represents the ultimate chrome bumper "drivers Camaro".
Sell Us Your Car!
We're always looking for high quality classic cars to buy.
Get our inventory update email!
If you're looking for a classic car and you're as particular as we are, it's our hope that we can be of some help in your search for a high quality KEEPER.