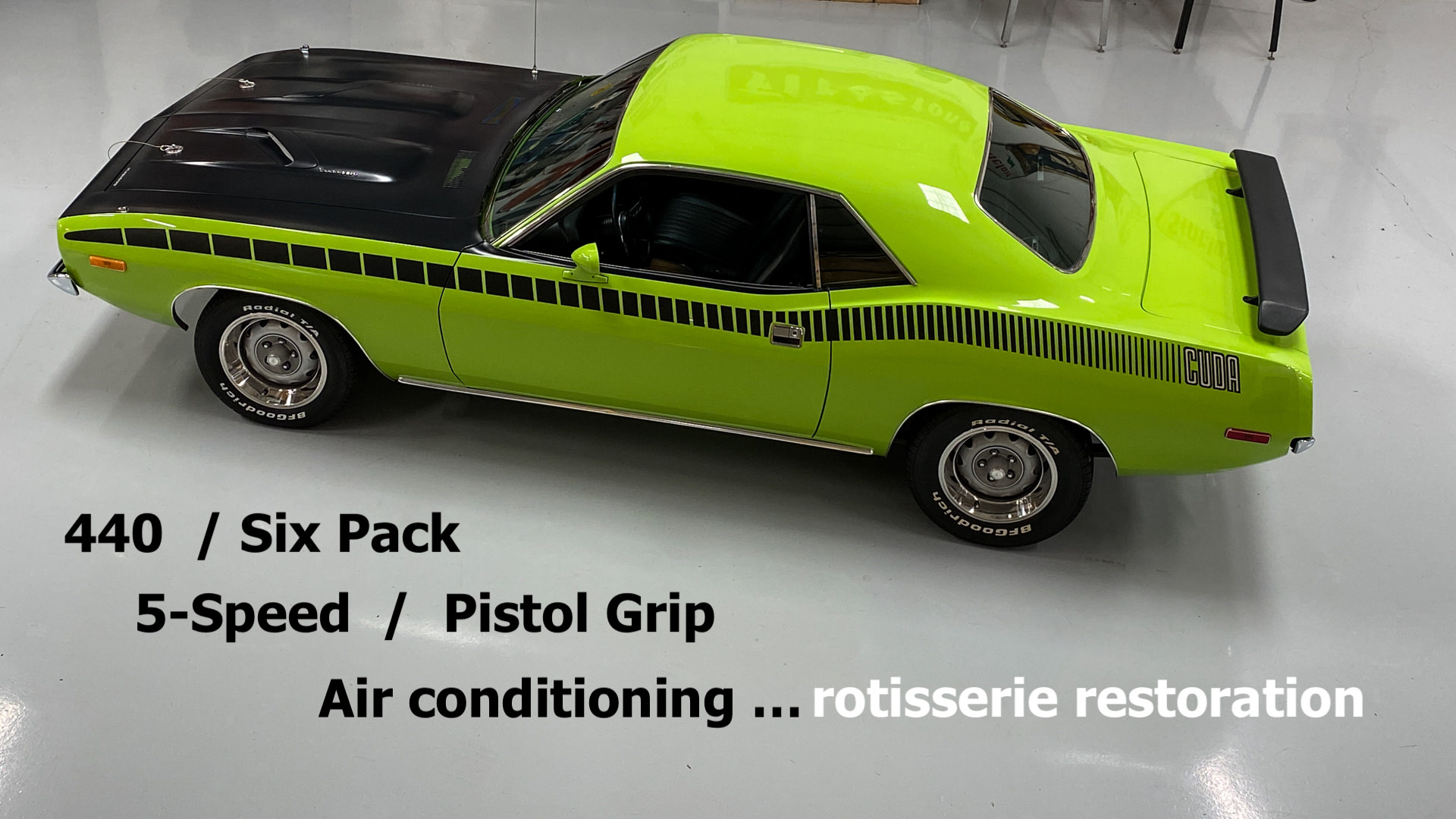 1973 Cuda Tribute 440 Six Pack
1973 Cuda Tribute 440 Six Pack
SOLD
This stunning "rotisserie built" Cuda is the perfect blend of period correct enhancements with a few modern updates that combined greatly enhance both the "performance fun factor" as well as real world drivability. The 5th gear overdrive is great for highway speeds. Then lift the hood at the car shows to show off that hall-of-fame 440/Six Pack. Since its restoration/build the former owner has put approximately 8,000 miles while preserving in show quality condition.
Built to be a reliable Show/Driver it has been driven approximately 8,000 miles since completion including a long round trip to the "Cruising The Coast" event. While it has been beautifully maintained in eye-popping condition (you could eat off of these floors) there are a few minor negatives that may require more sorting. The tach is not working, with the installation of the 5-speed transmission – the speedo now reads 10mph slower than you are actually going and there is a slight vibration at approximately 60mph .
440 / Six Pack
5-Speed transmission (Keisler)
Pistol Grip shifter  /  floor console
Rally Dash
Air Conditioning (modern system classic auto air) / blowing strong FREEZING COLD
Electronic Ignition
15×7 Rally Wheels
8.75 Sure Grip 3rd member  / 3.73 gear
971 oil pan (police car)
Windage tray
Steel Crank
Sell Us Your Car!
We're always looking for high quality classic cars to buy.
Get our inventory update email!
If you're looking for a classic car and you're as particular as we are, it's our hope that we can be of some help in your search for a high quality KEEPER.