I have always enjoyed the "multiple cars, short-term ownership" approach to classic cars. But really, my favorite thing is the hunt and the initial honeymoon of getting familiar with my new ride. Once acquired and once I get it the way I like it, the new soon wears off, and I start looking for the next thrill. This approach has allowed me to experience many makes and models and allows me to pursue my "current appetite", which seems to change from time to time. Thirty plus years ago I started out crazy about British sports cars, which changed to Chevelles, then Vettes, then Camaros and so on. Now, I no longer have an intense passion for one particular marquee; I seem to love them all. But, no matter what the "new flavor" of the day was, I have always preferred classic iron over new automobiles.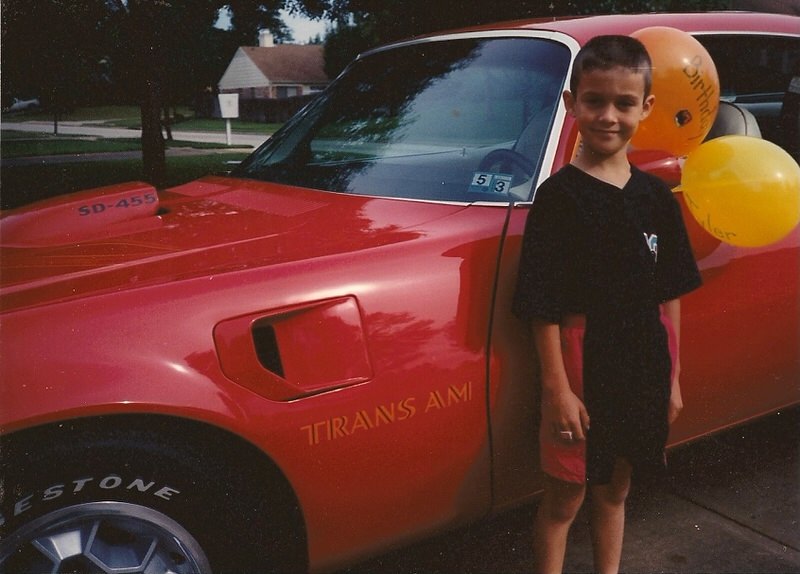 The one exception was the Pontiac Trans Am. Having graduated in 1977, right in the heyday of the Trans Am, I was crazy about these cars. Unfortunately, they were very expensive cars and had to be enjoyed from afar. When I graduated from college in the early eighties, the first thing I bought was a well-preserved '77 "Bandit" Trans Am. The purchase of this first Trans Am led from one TA to another, each one getting more rare and expensive than the previous until, ultimately, I purchased the holy grail of TA's, the 1973 "SUPER DUTY" Trans Am.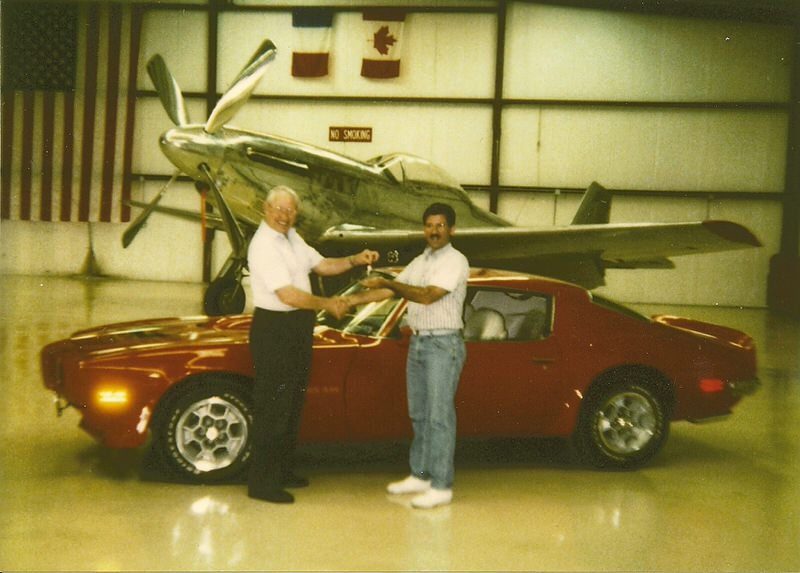 With this purchase I not only got "King Kong" of the Trans Am's, but I also had the very good fortune of meeting a most unforgettable family. Pictured above is me with the original owner of my Super Duty, who is well known for many things including his Salt Flat days of the early 50's in which he set a land speed record. Behind us is nothing other than a P51 Mustang, one of several WWII planes in this fellow's collection. I will never forget the day I met his son and his son's family. We became friends and, even though there was over 300 miles between us, we managed to get the families together on several occasions. Although we have lost touch with them, I still consider them to be kindred souls. Another thing I lost touch with was the Super Duty. It, like many "keepers" of the past, became victim to my changing tastes that were migrating towards first generation Camaros.
Six years after purchasing the "SD", I sold it to finance the purchase of a 1969 RS/SS Camaro convertible. Dreaming about rides with the top down in that beautiful "hugger orange" convertible caused me to lose site of the irreplaceable car sitting in my garage. If only I had the power to go back and "look forward", I would know that the Super Duty's future value would approach $100,000. This is not my only "if only….", just one of the more memorable.