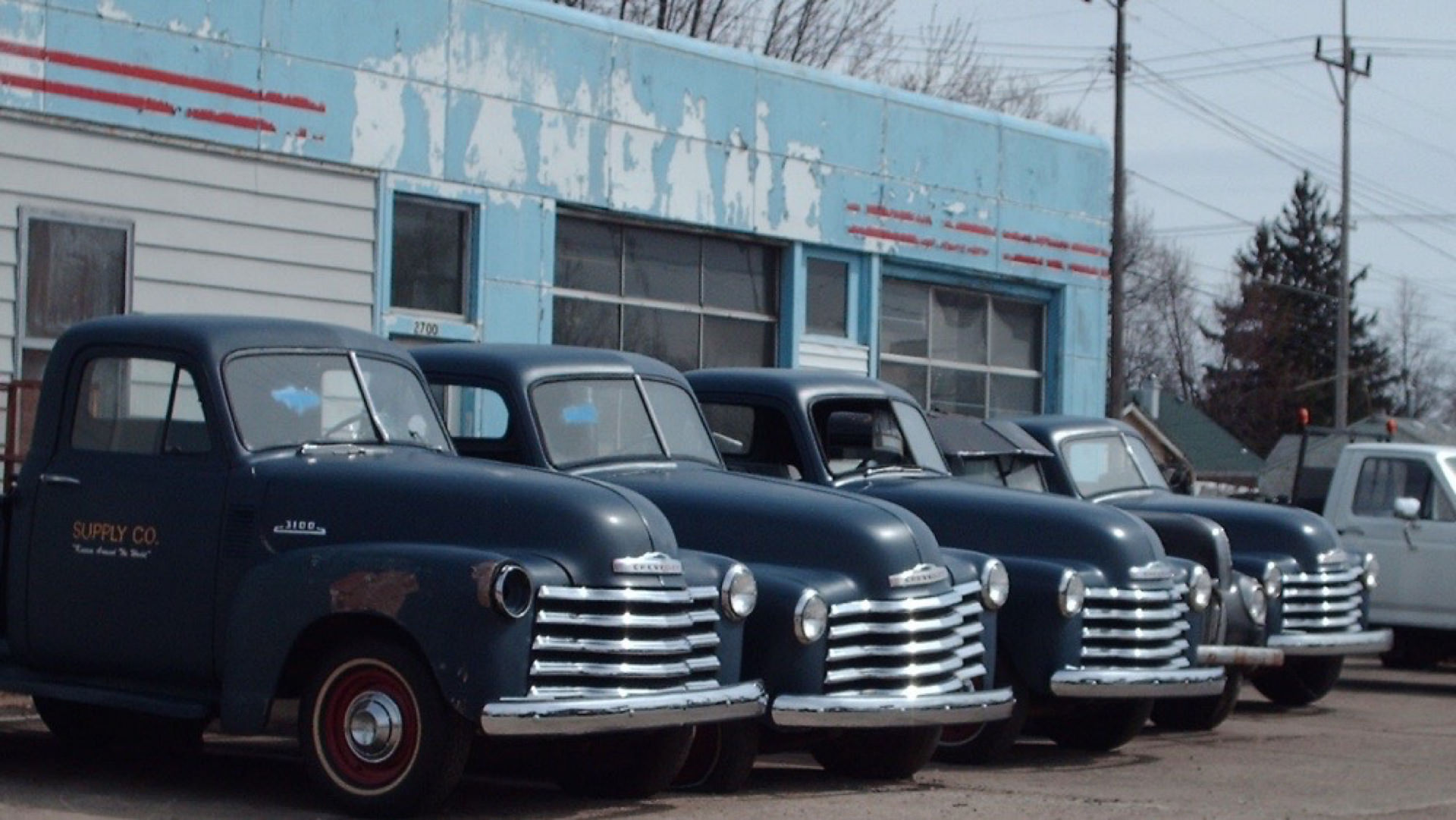 My search for the perfect "fat fender" hot rod truck.
Of course, there is no such thing as the perfect car or truck. That is to say, universally perfect. Each of us has our own particular taste and preference. That's one of the best things about this hobby, seeing what others do in building their rides. The colors, driveline combinations and interesting innovations are a feast for the eye and a credit to good old hot rod engineering.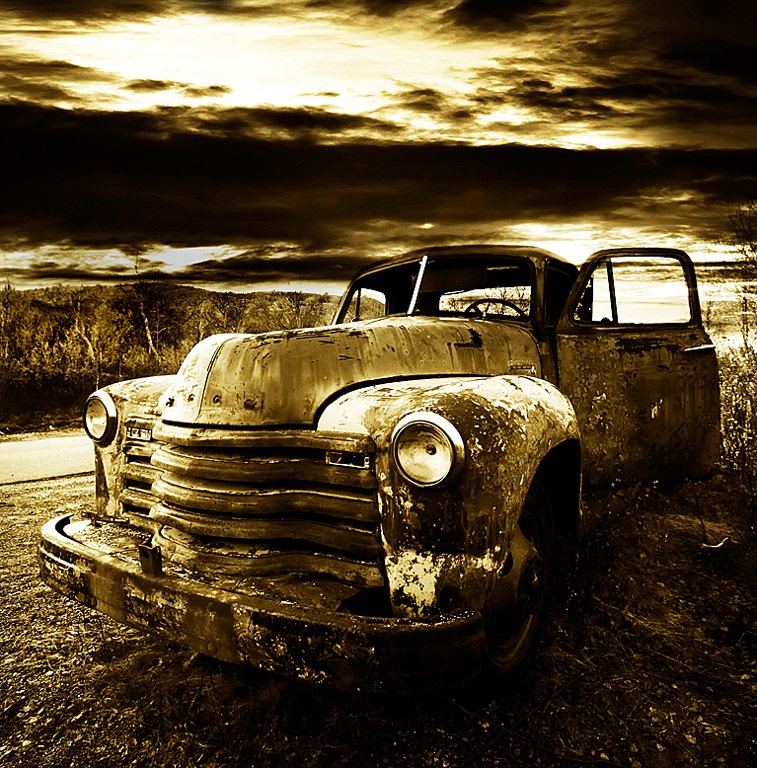 My tastes have always run more towards originality, at least originality in "appearance". But when it comes to vintage trucks (Chevy being my favorite) the mechanical components almost have to be substantially updated to make the vehicle enjoyable and safe for today's real world driving. Having grown up in Abilene, Texas in the 70's, I saw countless trucks from the '50's and '60's still doing daily duty. They became familiar to me and provided sort of a visual transition between the old and the new. It seemed as if creatures of habit, they had their predictable routes. I knew of a few old timers who went everywhere in their old weather washed trucks. Both seemed stuck in a "time gone by" and both seemed to be an actual extension of each other. Somehow it seemed to me that when the old fella passed, it would only be proper to bury the truck with him.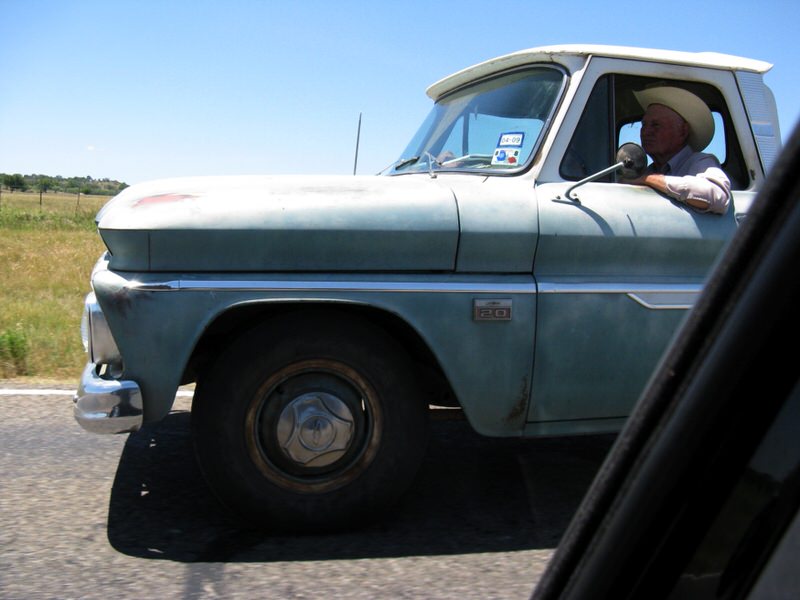 Personally, I always loved the rounded lines of the '48 to early '55's. Over the years I have owned more than a few of these. The purchase of each one has been well spaced to allow me time to forget that they look like more fun than they actually are. Driving them in their original state is like a mild work out. Even so, they are hard to resist. The fact is America was built on the backs of these iron workhorses. Millions of people can still relate to them in some way or another and this makes them one of the most popular tuck body styles of all time.
With a few years under my belt since my last "rounded body" truck, I began to look for another. This time, however, I would target a substantially finished truck–one with an updated modern driveline and would minimally include modern suspension, brakes and COLD air, one that would only require "minor tweaking" to suit me. Having tackled a full-scale "resto-mod" build of a '65 Chevy C-10 (pictured below), I had no desire to repeat the process. The memory of the money and time invested were too fresh. This time I would do it the easy way – come behind the next guy who had his countless hours and cold cash buried in it like lost treasure with no clear map to recover it.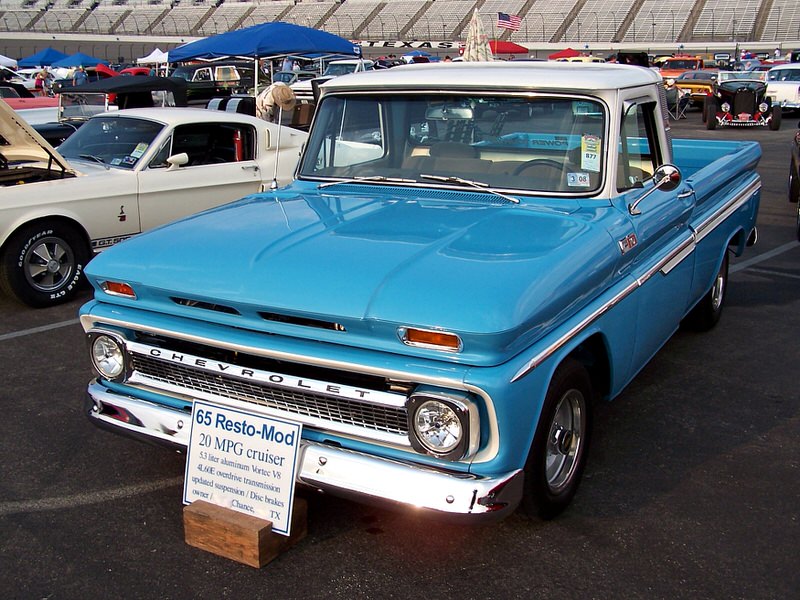 As luck would have it, I spotted my dream truck a full 2 years before I would own it. I was attending the 2006 Goodguys show in Texas when I came upon the coolest 5-window 1952 truck I had ever seen. 'It had a high quality, but very "understated look" to it. With suede black paint (sometimes called "satin black," or "hot rod black") and a tasteful "old school" theme. Complete with salt flat mags and pin striping it was visually perfect. Like most stuff I want, it was not for sale. I hung around long enough to meet the owner and I took the picture below to remind me should the owner ever call; and, yes, I tried to buy it on the spot.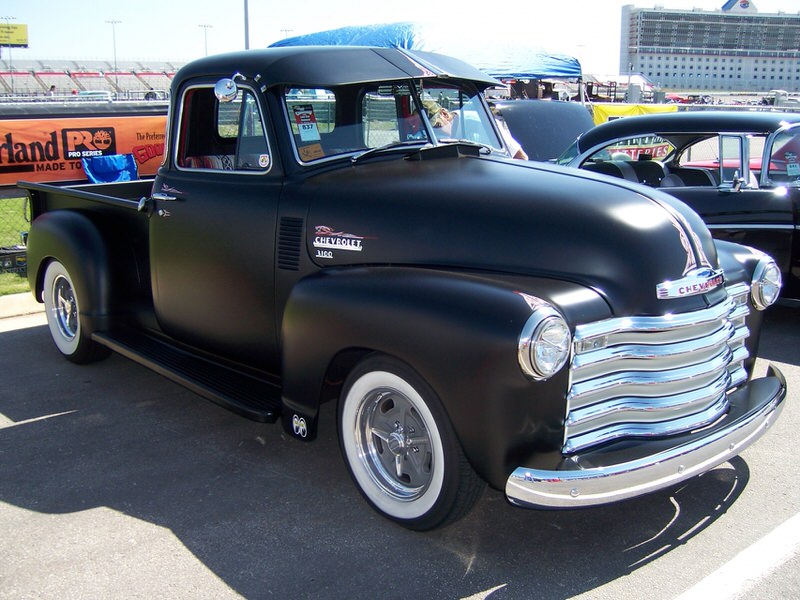 Not having a "For Sale" sign has never been a deterrance to me making an offer. I have learned that things change and cars not currently for sale can become for sale at any given point. It is always good to be on the short list of potential buyers. What really made me want this truck was the double confirmation I got from both my Dad and my son, BOTH of whom saw it independent of me (and each other) and concluded it was the bomb! Little did I know that it would be in my hangar two years later.
After some give and take, mostly give on my part, I became the new owner. Like most long pursued prizes there are always some disappointments once you finally make it yours. Unfortunately, this was true with my dream truck. While the cosmetics, including paint, are as good as man can make them, the driveline was not on par with the rest of the truck. It tuned out that the cosmetics on this truck were done by one of the best-known restoration shops in Texas, a place called Hatfield's Restorations. Their restorations go all over the world and have won coveted acclaim at many high level shows. Unfortunately, the mechanical work had been performed by a former owner who installed a tired driveline from a 70's Camaro. It took time and, of course, money to sort it all out, but once all improvements were made this thing was just peachy. I replaced the tired 350 with a slightly warmed up IROC Camaro 305, that turned out to be the perfect power plant for my intended use.
The final step was to make it my own with a few visual changes. I have always liked bed rails in these old trucks but wanted something different from the typical wood planks. I designed some simple rails using exhaust pipe the same diameter as the factory holes in the bed. A local fabricator built them using a swan neck design for mounting into the existing postholes. For a durable finish I had them powder coated to match my salt flat mags and finished them off by installing L.E.D brake lights in the holes.
My wife and I had some really great road trips in it. Everywhere we went people admired the satin black paint and the custom bed rails. Probably my favorite thing about the truck was the heavily insulated cabin and the hidden AC. I live in Texas where AC is a must and I am of an age where a quite comfortable cabin is the preferred way to travel.
The more road time you log in one of these vintage vehicles the more dialed in you become on what works best for you. I thought I had finally found the perfect fat fendered Chevy truck. However, the lesson I learned with this truck was that "satin black paint", while very pleasing visually, is hard to keep clean. My next dream truck will require less cleaning.
Here is a brief update to the many Quality Classics friends who have asked how we are doing. We're dealing…

An illustrated guide with 22 clues! Video: After watching this video you'll have a pretty good understanding on what makes…

We share some classic car buying tips, and use this authentic 66 GT Mustang as an example on how we…
Get our inventory update email!
If you're looking for a classic car and you're as particular as we are, it's our hope that we can be of some help in your search for a high quality KEEPER.