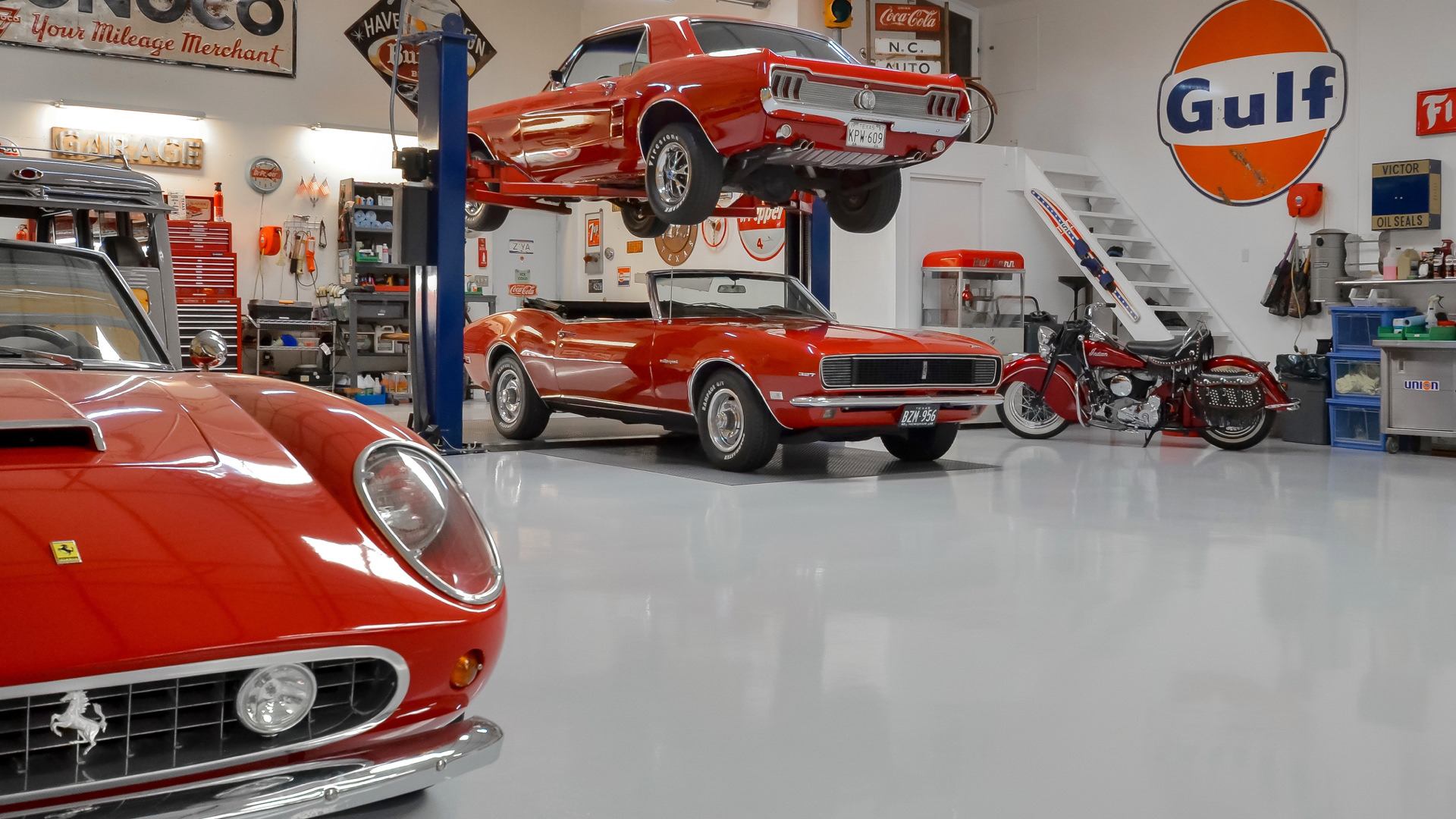 The shops we've had… and the shop we now call home!
Over the years we've been blessed to have several different shop environments to work in and we've enjoyed each one of them with it's own unique qualities and quirks. As we advance into this new year of 2015 it's very interesting to look back on where we started out and where we find ourselves now in our classic car journey.
We started in a small, blue metal building in a residential area with no running water and no bathroom facilities. In fact there for a little while we didn't even have an air compressor or a car lift! This was a small, no frills shop with zero amenities but we got the job done. Concrete floors, metal walls, tools and muscle cars that was our world. Our first shop definitely had some unique things we enjoyed about it though. For instance we had the feel of being in the country while at the same time being in the heart of a small but vibrant town which was growing and adding new restaurants and shops daily. Occasionally our next door neighbor, Mr. Smith, would ride over on his John Deer tractor and give us a sack full of freshly picked onions from his garden (so long as he was happy with us and our yard was being mowed and maintained up to his standards of course).
Then came our next shop. Much bigger, and much nicer in many ways although still low on the amenities scale (no bathroom es no bueno). This shop was our first airplane hangar and sat atop a beautiful hill in a small private airport / neighborhood. We were able to handle quite a few more cars in this building and finally had enough storage space for all the "car part debris" that tends to collect around you as you travel along this road of buying, restoring, and selling classic cars. We made a few cool friends in the neighborhood and enjoyed some of the most phenomenal Texas sunsets you've ever seen in your life from our hilltop view.
And finally we moved into our new and current airplane hangar / shop! For our family classic cars are not just machines or a "thing" to flip and sell for money, it's a lifestyle revolving around our shared passion for beautiful automobiles and the joy they bring to us as well as others. We love the hangar we work in and our friends and family love it too. It's incredibly convenient and the amenities scale I keep mentioning has gone through the roof!
We have plenty of space to work on our projects, stunning floors, and even finally have room to display all of our vintage car memorabilia we've been collecting over the years.
We're in a more rural area now with lots of beautiful Texas land around the private airport where we're located. We've met so many wonderful people here and have on several occasions gotten to go flying in some of our neighbors' vintage aircraft (I'm starting to catch the "flying bug" already). It's been an incredible journey and we can't wait to see what's next!
– Tyler
Here is a brief update to the many Quality Classics friends who have asked how we are doing. We're dealing…

An illustrated guide with 22 clues! Video: After watching this video you'll have a pretty good understanding on what makes…

We share some classic car buying tips, and use this authentic 66 GT Mustang as an example on how we…
Get our inventory update email!
If you're looking for a classic car and you're as particular as we are, it's our hope that we can be of some help in your search for a high quality KEEPER.